by Bonnie Butcher
On Thursday, January 14, the University of West Georgia Center for Diversity and Inclusion hosted the seventh annual Dr. Martin Luther King program themed, "Justice Rolling like Mighty Water." The event was organized to celebrate MLK's legacy and reiterate our duty to carry on his progress. The keynote speaker was Judge Steven L. Reed, Montgomery County Probate Judge.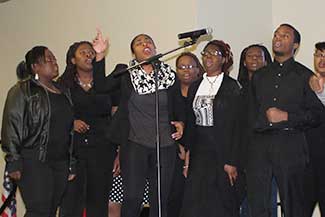 Born and raised in Montgomery, Judge Reed's life has been greatly influenced by Dr. King. Judge Reed spoke to UWG about the importance of living out Dr. King's legacy of leadership, equality, and community welfare.

"We should view him as a prophet," Judge Reed said. "He was someone who was persistent about inequality and sought relief for the most susceptible in our society. We have to pick up the baton of this drum major for justice and lead the band of humanity today."

Among many of Dr. King's accomplishments discussed, Judge Reed spoke about his influential "I Have a Dream" speech.

"My improvisation is that what he meant by this speech was, 'This is what I pray you look like. You aren't there yet. But, maybe if you keep working, America, you can look as good as I know you can.'"

Judge Reed's connection to MLK goes back to his days as a boy growing up in Montgomery. In the late '80s Coretta Scott King stayed with his family. Judge Reed remembers the event vividly to this day. He joked of how he wanted to take Mrs. King to school that day and show her off to his classmates.

In relation to the university, Judge Reed highlighted three of the eight values that guide the mission and daily operations of UWG.

"Caring, inclusiveness, and wisdom," he said. "These are three powerful values of this university that can be attributed to the man we're celebrating tonight.

"When I'm looking at the different colors and hues in this room, it's a vast rainbow," said Judge Reed. "Just being in this room tonight is something we owe to Dr. King and those who fought alongside him. It is not just to call out economic inequality, but it is to do something about it."

Judge Reed focused on the importance of not leaving these issues latent and taking up responsibility for action.

"What we must do is not just sit here and listen," he said. "We have to take the message and disperse and act. We must believe in doing something above one's self."

The program also included several UWG students and faculty members who spoke briefly on MLK's work in relation to the university.
"Here at the University of West Georgia, we are a very diverse student body, and we have students from all different walks of life," said senior Dejuan Gale, MC of the night. "I urge my fellow students as well as the faculty and staff to embrace, rather than erase, people's different backgrounds."

In addition to speakers, the United Voices Gospel Choir gave a powerful vocal performance.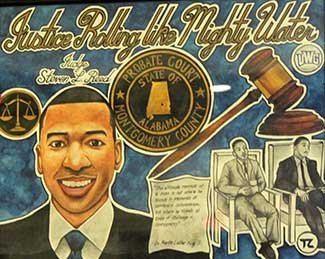 UWG alum Trey Zorns '13 created a work of art for Judge Reed. The piece was presented to Judge Reed at the end of the evening as a surprise.

The event was filled with stories of Dr. King's journeys and momentous influence on society and humanity. The evening was persistent in emphasizing the importance of not just speaking about Dr. King's legacy, but taking it up every day.

"Regardless of what it is or how much, it's up to you what you put into this life," said Judge Reed. "That will be what reverberates back to you."

The event concluded with a question and answer session with Judge Reed from students.
Posted on