by Rebecca Hightower
On March 25, students from all UWG colleges participated in Research Day, which gave undergraduates a chance to showcase their recent research and have it judged within their own college. First-place winners from last month's Research Day will be presenting during Big Night at 7 p.m. Tuesday, April 14, in the Campus Center Ballroom.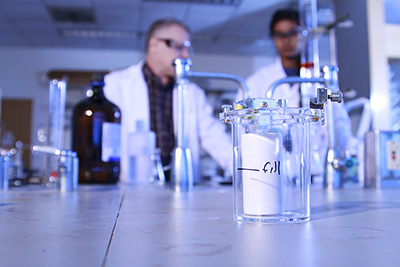 UWG's Big Night is celebrating its 17th year highlighting undergraduate research in the fields of business, education, nursing, fine arts, humanities, sciences, and social sciences. Immediately following the six student presentations, there will be an awards ceremony, reception, and poster display. All student posters submitted for Big Night will be displayed in the Library through the end of the Spring semester. Posters entered in the contest will be judged during Big Night, and the winners will be announced during the event.
Below is a list of Research Day winners from each college. Come to Big Night to see the first-place winners' research first-hand.
FIRST PLACE
Expedition Outdoors International: Can This Business Weather the Storm?
Presented by: Michael Hetisimer
Faculty Sponsor: Dr. Michael Sinkey & Ms. Monica Smith
SECOND PLACE
Utilizing Creative Projects to Engage All Learning Styles
Presented by: Natysha Wright & Alexis Williams
Faculty Sponsor: Ms. Kim Holder
THIRD PLACE
What's Driving Global Petroleum Prices?
Presented by: Tianyi Li
Faculty Sponsor: Dr. William J. Smith
Tanner Health System School of Nursing
FIRST PLACE
Relationship Among High-Stakes Progression Test Performance and Nursing Program Outcome Measures
Presenters: Jenna Coffelt and Samantha Hudson
Faculty Sponsor: Dr. Linda A. Mason Barber
SECOND PLACE
Walking the Labyrinth to Decrease Stress
Presenters: Alexis Moody and Samantha Subramani
Faculty Sponsor: Professor Bonnie Bar
THIRD PLACE
See One Do One Teach One Revisited: A Merging of Methods for Skills Acquisition in the Simulation Lab
Presenters: Katherine Baumann and Brittany Justice
Faculty Sponsor: Professor Diane Wise
College of Science and Mathematics
FIRST PLACE
Functional genomic characterization of a light sensitive Chlamydomonas reinhardtii mutant, 10E35, that is defective in photosynthesis
Student: Tai Troung
Faculty Sponsor: Dr. Mautusi Mitra
SECOND PLACE
Fall-detection in walkers used by the disabled and elderly
Student: Ayaan Kazerouni
Faculty Sponsor: Dr. Lewis Baumstark
THIRD PLACE
Chemokine Production in HSV-1 Infected Corneas
Student: Megan McKinney
Faculty Sponsor: Dr Sara Molesworth-Kenyon
FIRST PLACE
The Roles of Achievement Goals and Self-Efficacy in Self-Regulated Online Study Strategies
Presenters: Jeff Taylor & Susan Harper
Faculty Sponsor: Dr. Yan Yang
SECOND PLACE
International Students in American Universities: Transitions, Adjustments and Adaptations
Presenter: V. Michelle Michael
Faculty Sponsor: Dr. Danilo Baylen
THIRD PLACE
Alternative Education in the United States: A Literature Review
Presenter: Kristen Grabowski
Faculty Sponsor: Dr.Danilo Baylen
College of Arts and Humanities
FIRST PLACE
A Triune Goddess: Women in Byron's "Manfred"
Presenter: Andrew Barrow
Faculty Sponsor: Dr. Lisa Crafton
SECOND PLACE
Mental Illness in Early 19th-Century Massachusetts: A Case Study of Lovina Witherell
Presenter: Kaitlin Costley
Faculty Sponsor: Dr. Dan Williams

THIRD PLACE
Chains and Convictions: Douglass's Apparent Acceptance of Christianity in the Narrative of the Life of Frederick Douglass.
Presenter: Abigail Driver
Faculty Sponsor: Dr. Patrick Erben
FIRST PLACE
Identity in Transition: An Ethnographic Study of Latin American Immigration to the United States
Presenter: Daniel Garner
Faculty Sponsor: Dr. Marjorie Snipes
SECOND PLACE
The Effects of Father Absenteeism on Children
Presenter: Paula Martinez-Feduchi
Faculty Sponsor: Dr. Tobin Hart
THIRD PLACE
The Invisible Portraits of Melson Hall
Presenter: Ifeoluwa Duduyemi
Faculty Sponsor: Dr. Tuğçe Kurtiş
Posted on