by Madison Murphy
The University of West Georgia strongly believes in the importance of inclusiveness for everyone. In fact, it is a core value of the institution.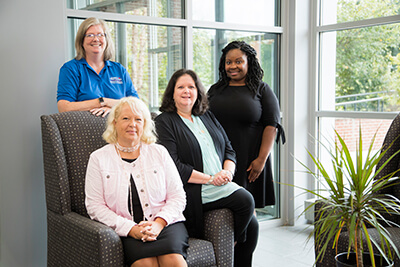 To further the commitment to providing a learning environment that celebrates diversity, UWG's Center for Diversity and Inclusion (CDI) established the Resident Scholars program, offering UWG faculty the unique opportunity to inform the work of CDI with their area of expertise while developing projects that are rooted in diversity and inclusion.
The 2-year-old initiative implements academic practices that result in a more inclusive and culturally competent campus community. Resident Scholars serve as liaisons and encourage collaboration between CDI and individual faculty members in their respective departments.
One of the main goals is to institutionalize diversity practices through engaging the faculty.
"The effectiveness of institutional policy and culture change is often linked to the tenure of institutional leadership," said Dr. Yves-Rose Porcena, chief diversity officer at UWG. "But given the turnover rate in higher education's upper administration and that faculty members are key drivers of campus culture, the integration of faculty groups into diversity and inclusion efforts is crucial for sustainable and meaningful change.
"The purpose of the Residential Scholars program is to assist the Center for Diversity and Inclusion achieve a more robust, integrated approach to diversity, equality, and inclusion that transforms the institutional culture, rather than merely making tactical moves that lead to poorly integrated efforts and symbolic implementation," Porcena added.
The four resident scholars are Dr. Anne Gaquere-Parker, professor in the Department of Chemistry; LaDonia Patterson, clinical assistant professor in the Tanner Health System School of Nursing; Dr. Lara Willox, associate professor and chair in the Department of Educational Technology and Foundations; and Myda Iamiceli, assistant professor of graphic design in the Department of Art.
Patterson and Willox will work jointly to deliver unconscious bias training to members of both the campus and community. Gaquere-Parker's project aims to increase retention rates of students of diverse backgrounds in chemistry courses for pre-nursing students.
Iamiceli plans on joining CDI in spring 2019 when her work will focus on giving the Carrollton Latino community a voice through storytelling while educating the local community. She plans to interview individuals of Latino descent and create a book and artwork from their stories that will later be shared in a local exhibit.
"One of the challenges reported by faculty across the nation who work on research and teaching devoted to diversity and broader social change is convincing colleagues that their scholarly record merits promotion," Porcena concluded. "This means that scholarly work on diversity and inclusion can often go unrewarded. We seek to create programs to recognize faculty for their contributions to diversity."
Posted on