The University of West Georgia has developed a comprehensive, phased Return to Campus plan for employees and students to safely return to the on-campus environment. The return to in-person operations will take place over the next two months, beginning Monday, June 15.
Play video
Dr. Brendan B. Kelly outlines UWG's four-phase reopening plan.
"We are incredibly thankful for the tireless efforts of our faculty and staff in facilitating this transition to remote work and how they have risen to the challenges presented by COVID-19," said UWG President Dr. Brendan Kelly. "I also wish to express my deepest gratitude to the university personnel who have continued to provide essential services on-campus during this time. Because of their efforts, we have the opportunity to return to campus safe and stronger than ever."
UWG utilized seven working groups made up of cross-functional personnel to develop this approach, and these teams continue to work collaboratively to begin implementing the plan across the university.
In all aspects of this plan, UWG will be guided by the state of Georgia, University System of Georgia (USG), Georgia Department of Public Health (GDPH), Centers for Disease Control and Prevention (CDC), and other appropriate governmental or professional organizations in order to ensure the response, plans and actions all fall in line with legal and medical directions and follow best practice safety protocols across the university's many service areas.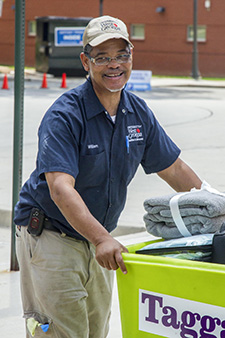 The health and safety of all UWG stakeholders continue to be the highest priority and have guided the holistic approach to returning to in-person operations. Below is the expected timeline for the carefully phased approach the university is taking to return to in-campus operations in preparation for the fall 2020 semester:
Phase I - June 15 through July 5

Phase II - July 6 through July 19

Phase III - July 20 through Aug. 2

Phase IV - Aug. 3 through Aug. 12 (the first day of fall 2020 classes, with students taking classes on campus).
In developing a course of action, campus partners will deploy on-site practices that include:
The implementation of proper social distancing measures (at least 6 feet apart) in workspaces;

Regular cleaning and decontamination of facilities and workstations;

Effective tools to conduct daily monitoring of employees' temperatures and other relevant symptoms.
Additionally, effective July 15, 2020, USG institutions will require all faculty, staff, students, and visitors to wear an appropriate face covering while inside campus facilities/buildings where six feet of social distancing may not always be possible. Face covering use will be in addition to, and is not a substitute for, social distancing.
Face coverings are not required in one's own residence hall room or suite, when alone in an enclosed office or study room, or in campus outdoor settings where social distancing requirements are met.
Anyone not using a face covering when required will be asked to wear one or must leave the area. Repeated refusal to comply with the requirement may result in discipline through the applicable conduct code for faculty, staff, or students.
Reasonable accommodations may be made for those who are unable to wear a face covering for documented health reasons.
"Our hope with these protocols is to build a culture of mutual respect," Kelly said. "We're all navigating a great deal of change in a short amount of time, but we are looking forward to welcoming our faculty, staff, and students back to campus over the next two months and for the fall semester."
Posted on