by Emily Wurst
The highest honor a person can hold in a parade is the position of grand marshal. The grand marshal is chosen because he or she is believed to demonstrate the spirit and ideas that the parade is designed to reflect and portray. This year, the Carroll County Branch of the NAACP has invited Deidre Rouse, director of the University of West Georgia's Center for Diversity and Inclusion (CDI), to fulfill that role in its 21st Annual Dr. Martin Luther King, Jr. Parade.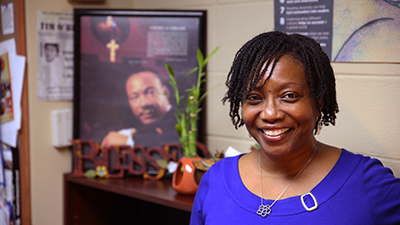 This year's parade, which will take place on Monday, Jan. 16, is appropriately themed "Dr. Martin Luther King's Vision of Unity, Justice and Peace." Rouse was chosen by the parade committee to serve as grand marshal because of her service within the Carroll County community.
"When I was asked to serve as grand marshal of the annual Carroll County NAACP Dr. King parade, to be quite honest, I was surprised and humbled," Rouse said. "I am reminded, of course, of Dr. King and his work, but also the countless others who supported the movement. Thus, I am reflecting on the immeasurable number of champions who make a difference and have a positive effect in this community and beyond."
The opportunity to serve as grand marshal comes shortly after Rouse's nomination for the Turknett Leadership Character Award. This nomination placed her among several noteworthy leaders within the field of education, such as Ron Clark Academy founder Kim Bearden.
Rouse has received these honorable recognitions and opportunities because of her work within the CDI at UWG. As director, Rouse works to help the CDI reach its mission to create a fully inclusive environment for the campus and community. The CDI strives to serve as a leader and partner for diversity at UWG.
"I truly enjoy helping others wherever they may be on their life journey," Rouse said of her work. "I am inspired by those who exhibit integrity in all aspects of life."
Out of all deserving organizations and individuals in the community, the parade committee unanimously selected Rouse for the position. Rouse says she is appreciative of and honored by her title in the upcoming parade.
"I am reminded of something my grandmother would say too often and encouraged me to never forget," Rouse concluded. '''People don't have to do what they do for you. Always say thank you and be grateful.'"
Posted on