by Amy K. Lavender
According to the latest college salary report from data-driven salary profile database PayScale, the University of West Georgia ranked in the top 10 of the state's four-year schools in terms of what our graduates earn on average.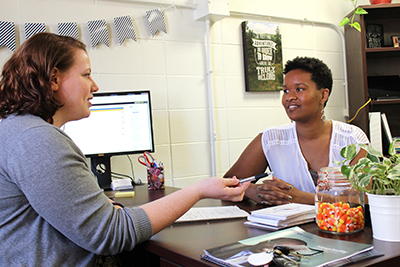 UWG alumni currently earn an average of $43,800 in their early career and $72,000 mid-career. PayScale analysts used a sample of 1.4 million degree-holding, full-time, civilian employees in the U.S. and compiled 2015-2016 data from employees who successfully completed PayScale's survey.
Donna Lackey, senior VP, Business Development of the Carroll County Chamber of Commerce said the numbers published by PayScale are commensurate with Carroll Tomorrow's research. She also noted that having an abundant source of qualified employees in the form of UWG graduates is a distinct advantage for local and regional businesses, but the area also has a great deal to offer alumni.
"Any UWG graduate who prefers to live and work in the West Georgia region is going to find competitive salaries in the business, computer science, and construction fields," Lackey said, "followed closely by the healthcare and finance industries."
UWG confers more than 2,000 degrees each year, and many graduates take advantage of the UWG Career Services department well before collecting their degree and walking across the stage.
"We help students as soon as they walk in the door," said Keri Burns, director of UWG Career Services. "We're working with students when they first get here to help them identify the career paths that are available based on their interests, skills and knowledge of the field. So, yes, we do career counseling, but we also partner with academic advising to make sure we're all cross-trained so that we're having meaningful conversations about why they want to take a class and how it applies to their major and future career."
Burns said Career Services has expanded their focus in recent years and has a variety of training tools available to students.
"These last two years, one of the things we've focused on are the career readiness skills," Burns explained. "We have the SEE Training (Student to Exceptional Employee), which allows students to get certificates of completion at the bronze, silver, gold, and platinum level of completion for anywhere from three to seven sessions that all focus on career readiness skills. So instead of just the technical skills of being able to do an Excel spreadsheet, we're talking about communication, leadership, time management, budget–all the things that the National Association of Colleges and Employers has identified as being essential skills. This is one of the ways in which we can make sure that students are more gainfully employed and that they're able to articulate these acquired skills to a potential employer."
UWG is also unique in that its student employment services department is incorporated as part of Career Services, which gives the department the opportunity to focus on professional development for students in addition to finding them employment.
Of course, the department continues to focus on what is traditionally considered the duties of career services, such as resume and cover letter building, job search strategies, and interviewing. However, even that aspect of the service has been upgraded.
"We have an online mock-interview program that students can take before they come see us," Burns explained. "It's recorded, and all you need is internet and a web cam. There's no software to download. Faculty can make this a class assignment, students can get practice on their own, or we can review it and give them feedback."
Burns says she fully expects participation in these programs to grow as her department gets the word out about their availability. As a result, students will be entering the workplace more prepared and have more to offer their employers.
Posted on