by Colton Campbell
A proactive safety technology implemented by the University of West Georgia to detect and notify law enforcement of gunfire is scheduled for a live test the evening of Thursday, Oct. 4.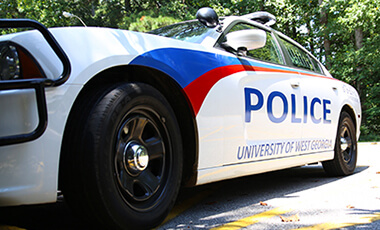 Known as ShotSpotter, the system is gunshot detection technology that uses sophisticated acoustic sensors to detect, locate and alert law enforcement agencies about illegal gunfire incidents in real-time. This empowers authorities to respond faster and more safely.
The UWG Police Department (UPD) is deploying ShotSpotter devices in and around the campus area with assistance and support of the city of Carrollton Police Department (CPD) and the Carroll County Sheriff's Office.
"With this investment, the hard work of our officers will be backed up by new technology to respond faster and more tactically to a potentially dangerous situation," said UPD Chief Tom Saccenti. "Without technology like the ShotSpotter system, if a gun is fired, a witness or victim must take time to ensure their own safety and give relevant information on their location and the incident to a 911 dispatcher."
Completing those tasks can take several minutes, Saccenti said, but the ShotSpotter system can accurately inform local dispatchers if or how many times a gun was fired – and the exact location of the firing – within approximately 30 seconds.
Installation of the system is a result of Operation Protect Our Pack, the collaborative effort among UPD and community law enforcement agencies launched in 2017. Protect Our Pack works to provide a safe and supportive learning environment for UWG students, while supporting proactive safety measures throughout the local thriving communities.
"Maintaining a secure campus through the investments we have made in partnership with local law enforcement is our top priority," said UWG President Kyle Marrero. "As we look to the future and to our continued growth, the safety and well-being of our students, faculty and staff, and community and business partners is a paramount endeavor. The implementation of technology like the ShotSpotter system is proof that our Protect Our Pack initiative is working. Our stakeholders on campus – and those who live in the community we serve – will be safer because of this collaborative effort to decrease response times."
In addition to UPD officers, CPD officers have also been granted access to the secure ShotSpotter phone application, which notifies users when a live round has been fired in their jurisdiction.
The system will be installed in various locations across campus, as well as in all of the apartment complexes within a 500-yard radius of the university's borders.
For safety reasons, areas in which next Thursday's testing will take place will be cordoned off, and testing locations will not be disclosed. Area dispatchers have been notified in case they receive calls about the testing.
The technology uses audio sensors placed atop buildings to triangulate the sound of gunfire. To work most effectively, UWG must place the sensors in strategic locations around the edge of the UWG's campus. If a gunshot occurs, the sensors triangulate the sound and pinpoints the number of shots fired and the location.
ShotSpotter-trained acoustic experts review and qualify all gunfire incidents and alert law enforcement immediately, all within a minute, and usually within 30 seconds, of the gunshot occurring. The system can also determine the difference between similar sounds, like fireworks or an engine backfire, thus saving valuable resources.
"The ShotSpotter system will have a direct effect on making our campus and the surrounding area safer," Saccenti said. "Our officers and emergency management team will be dispatched almost immediately to render aid if necessary. Knowing sooner than later whether a gun has been fired will allow us to arrive at the scene more quickly, making it much more likely to apprehend the offenders, should we be faced with a situation."
Posted on