by Gabriel Guzman
When Dr. Anneliese Singh spoke to the University of West Georgia in recognition of LGBT History Month, the message was delivered that one doesn't have to be transgender or queer to understand or advocate for the rights of everybody. As the associate professor and associate dean of diversity, equity and inclusion for the College of Education at the University of Georgia, Singh knows a thing or two when it comes justice in society.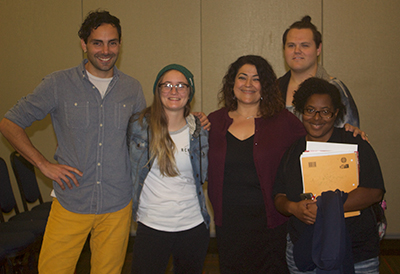 Singh is also an international expert on queer, transgender, and questioning youth and the intersection of racial, ethnic and LGBTQ identity development. Additionally, Singh is the co-founder of the Georgia Safe Schools Coalition and the Trans Resilience Project.
Singh posed the question: What if trans-liberation is for everybody? In a recent visit to UWG, Singh shared knowledge on the importance of all-gender bathrooms and posed the question, posed the question: What if trans-liberation is for everybody?
Singh said the goal of the event was to have everybody think about gender differently. Singh wanted to discuss current events surrounding the university, self-reflect as a group and help people find out how they can take action.
"I think in 2016, we actually really need to talk about bathrooms," said Singh. "The resilience we all have is what helped us get out of bed this morning."
Singh studies resilience to oppression, and when the question "why do you care about trans people" gets asked, the answer is simple: "Because of my very own humanity, because I know what happens to trans people in society."
This all goes back to bathrooms because people who identify as male or female do not have to think about which bathroom to use or whether they will have to hold their urges
"People aren't use to thinking about bathrooms, right?" Singh asked. "With single stall bathrooms, trans people can do things that we all do as humans, multiple times a day.
"The bathroom is an intimate space, that most of us don't have to think about. Imagine what it would be like if you had no option to use the bathroom all day long," continued Singh. "For trans people that's often what happens. Using the bathroom becomes a huge safety issue."
Singh said that one of the reasons the bathroom is a big issue is because of the dialogue about safety and what happens in bathrooms. A lot of that dialogue comes down to an overall discussion or lack of discussion about safety for mainly cisgender women. Cisgender is often used to describe someone who is not transgender.
The University of West Georgia Center for Diversity and Inclusion sponsored the event.
Posted on