The University of West Georgia's 2019 Spring Book Discussion will feature award-winning writer Soniah Kamal. Kamal, the author of "Unmarriageable: A Novel," will speak on Thursday, April 11, at 7 p.m. in UWG's Campus Center Ballroom. This event, which will include a reception and book signing, is free and open to the public.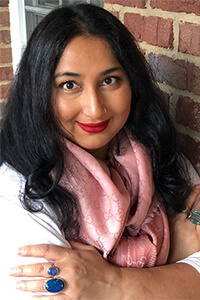 "Unmarriageable," a retelling of Jane Austen's "Pride and Prejudice" set in modern-day Pakistan, is a funny, sometimes romantic, often thought-provoking glimpse into Pakistani culture, adroitly illustrating the double standards women face when navigating sex, love and marriage.
Kamal, who resides in Georgia, was born in Pakistan and grew up in England and Saudi Arabia. Her previous novel – "An Isolated Incident," published in 2014 – was a Townsend Prize for Fiction finalist. Her work has appeared in numerous publications, including The New York Times, The Guardian, Catapult and Literary Hub.
"Unmarriageable," published in January 2019, was an Amazon Best Pick, has been voted a January Top Ten Book Pick by U.S. Librarians, was a Best Book of the Week Pick by the New York Post, and has been called one of the "Hottest Romances of 2019" by Goodreads.
The 2019 Spring Book Discussion is sponsored by the Center for Diversity and Inclusion, the University of West Georgia's Presidential Commission on Campus Inclusion, the College of Arts and Humanities, the Creative Writing Program in the Department of English and Philosophy, Housing and Residence Life, Ingram Library, and the Student Activities Council. Community supporters include Horton's Books & Gifts, Underground Books, Harvey's House of Books, and The Carrollton Writers Guild.
Sign-in sheets will be provided for students whose professors wish to offer extra credit. For further information, please visit www.westga.edu/diversity or www.westga.edu/library or contact Doris Kieh (drkieh@westga.edu or 678-839-5400) or Craig Schroer (craig@westga.edu or 678-839-6355).
Posted on