Special Collections in Ingram Library at the University of West Georgia recently received $2000 from the Georgia Historical Records Advisory Council (GHRAC) to fund its partnership with the Newnan-Coweta Historical Society (NCHS). Under the terms of the partnership established in June, Special Collections is aiding the NCHS in arranging, describing and preserving its archival holdings. This partnership of collaborative cultural stewardship will ensure that historically important material related to Newnan and Coweta County can be made available for research by students, scholars and the public.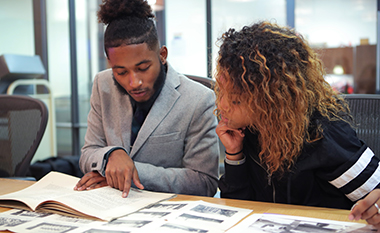 UWG Political Papers Archivist Dr. Michael Camp has begun arranging and describing some of the NCHS's most notable holdings, including papers of the McRitchie and Hollis families, records of the R. D. Cole Manufacturing Company, documents from Newnan High School, and records of the NCHS's involvement in the creation of the Brown's Mill Battlefield historic site. Through the duration of the partnership, Camp will continue to organize and make accessible materials held by the NCHS, including family papers, organizational records, photograph collections and other materials. UWG will host online inventories of these materials and provide directions to patrons on accessing the collections.
The GHRAC grant awarded to Special Collections will fund a UWG graduate student assistant, who will also work to arrange, describe and make accessible the NCHS's archival holdings.
University of West Georgia Special Collections serves as the repository for rare materials in the Irvine Sullivan Ingram Library, housing manuscripts, books, films, photographs, sound recordings and other formats in a number of specialized areas. Special Collections also holds the University Archives. Through these collections, the department supports the research, teaching, and service mission of the university and its constituents. Visit University of West Georgia Special Collections at www.westga.edu/library/special-collections/index.php.
NCHS is a nonprofit organization dedicated to the interpretation and preservation of the historical, cultural, and architectural heritage of Coweta County through its programs, exhibitions, and collections while serving, engaging, and educating the diverse communities of Coweta County and the surrounding region.
Posted on