by Colton Campbell
A record number of University of West Georgia students graduated Thursday, but Student Government Association President Joshua Lester challenged them to not let graduation be the climax of their stories.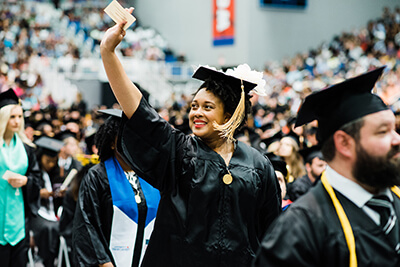 "I challenge you to go forth more determined than ever to write a better chapter than the one you've just finished," Lester said. "No matter what you majored in, you all had roadblocks and obstacles you had to overcome to be here today. However, where most people see obstacles, you see opportunities. You all have shown that when the going gets tough, you don't quit going. You move forward and get the job done."
Commencement ceremonies were held at the UWG Coliseum at 9 a.m. for students graduating from the College of Science and Mathematics, the College of Social Sciences and the Richards College of Business, and at 2 p.m. for graduates from the College of Arts and Humanities, the College of Education and the Tanner Health System School of Nursing.
A record number of nearly 1,300 undergraduate and graduate degrees were conferred for the spring semester, according to preliminary numbers.
Following yesterday's ceremonies UWG President Dr. Kyle Marrero said a record number of approximately 2,675 degrees have been conferred in the 2017-18 academic year.
"The time you've spent at UWG has given you the opportunity to transform your life, but what it will do for you in the next 50 years will be even bigger," Marrero told students. "We are truly joined together. Your success in the future is UWG's success."
Two distinguished speakers provided words of wisdom during the ceremonies, with Laura Richards – founder and CEO of the Friends of the Carrollton GreenBelt LLC – speaking at the morning ceremony and Nellie Dunaway Duke – longtime women's rights advocate – addressing graduates in the afternoon ceremony.
Both Richards and Duke received honorary degrees during the ceremonies, being hooded and awarded with doctorates in humane letters. Only 17 other individuals have received this degree, one of whom was Alice Huffard Richards, Laura's mother, who received the honorary degree in 2002.
"Twenty-four years ago, almost to the day, I graduated from college and received a touring bicycle from my family as a graduation present," said Richards, who oversaw the development and construction of the 18-mile recreational trail in Carrollton. "That gift is the reason for my work and, ultimately, why I'm here today."
Richards has received numerous awards for the GreenBelt, including the 2016 Karl T. Steinen Award for Service to Anthropology from UWG's Department of Anthropology; the 2016 Silver Award for Beautification from the Carroll County Chamber of Commerce; and the 2017 Georgia Recreation and Parks Association Volunteer of the Year award.

Before returning to her hometown of Carrollton, Richards previously worked for McMahon Publishing in New York City and for Vermont Bicycle Touring as a European guide, traveling to Holland, France, Spain and Italy to host bicycle tours.
Richards recognized the graduates' families, friends and other supporters as well.
"Just like building a park or a trail, no one graduates alone," Richards told the students. "You've had great and crucial support behind you on this journey. I am full of gratitude for each one of you and the positive contribution you've already made – and will continue to make – to our community and our world."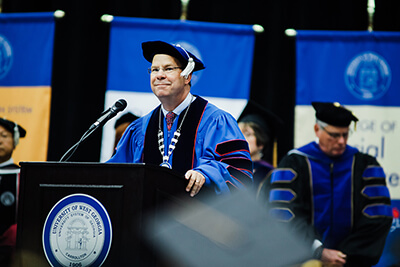 Duke is a charter member and was chairwoman of the Georgia Commission on Women from 1994-2015. She is also president and CEO of the Georgia Women's Institute, chairwoman and CEO of the Women's History Museum and president of the Georgia Woman of the Year Committee.

President Bill Clinton also appointed her to the Commission on Women in American History. Duke has received many accolades over the years. The International Alliance of Women awarded her the TIAW World of Difference Award, and she was one of only 16 American women to receive this honor. UWG holds an annual Nellie Duke Leadership Conference, and UWG's Center for Diversity and Inclusion awarded Duke the 2015 Living Legacy Award.
Duke said even though the event held Thursday can be called graduation or commencement, it's truly a combination of both.
"To graduate means you move forward to achieve a certain status, and commencement means the beginning of a new era," Duke told students. "You've experienced both of those today. You will benefit in so many ways you can't even imagine right now from what you've learned, the relationships you've formed and even the mistakes you've made."
Duke closed her remarks by telling students to "get on life's railroad."
"The train's leaving the station, and you are the conductor," Duke said. "All aboard."
Posted on