by Emily Wurst
On April 7, Stanley Black & Decker sponsored the first Stanley Safety & Security Summit at the University of West Georgia, a one-of-a-kind event designed to highlight Stanley's potential benefits for students, staff, University Police and UWG as a whole.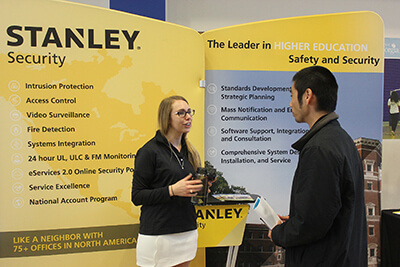 While this event was the first time Stanley hosted a summit at UWG, the university and the company have been long-term partners. For many years, Stanley and UWG have worked together to aid the campus with its security needs.
"Our relationship with Stanley goes back several years," explained Lieutenant William Stuart of University Police. "It has progressed from a hard key system, to a card access system, to the camera systems we have now. It's a good working relationship that we've had, and we hope to continue it."
However, Stanley's operations don't end with cameras or keys. The company is also the owner of DeWalt tools, which partners with the Home Depot, as well as Vidmar and Lista, which specialize in storage solutions. Representatives from each aspect of the company were present at the summit to offer insight on their industry, such as Todd Balsman, client executive for Stanley Healthcare.
"Stanley Healthcare is into not only the protection of or security for patients and clinicians in the hospitals, but we also focus on asset management within those hospitals, too," Balsman explained. "They put a tag on any of their pieces of equipment, and the tags use the WiFi network. So at any time, if anyone is looking for a piece of equipment, we can find it. The same technology goes for babies when we put a Hugs tag on a baby's ankle."
In addition to showcasing its various resources, Stanley hosted a student networking session at the summit. This portion of the event gave UWG students the opportunity to interact with recruiters from their corporation and learn more about employment opportunities in the Stanley company.
"It's not the only focus of us being here today," explained Ken Hill, a systems integration consultant for Stanley. "It is a part of our relationship and a great way to partner."
This portion of the event is what grabbed the attention of students such as Chih Hsiao, a global studies major at UWG.
"I saw an email saying that they had potential internship opportunities for students," Hsiao said. "I'll be graduating in the fall, so I'm interested in seeing what kinds of opportunities are out there. I didn't know that Stanley was such a large company. In their healthcare, they have a global supply chain, so I think I would be able to find something there that would be able to fit my major."
Stanley's summit was the latest piece of its relationship with UWG, and both Stanley and UWG representatives are hopeful that similar events will be able to occur in the future.
"I think the Safety & Security Summit is highlighting not only our relationship and showing how strong we are, but also trying to integrate some of the other systems on campus with Stanley, like facilities or tools," Stuart said. "Stanley is a huge company, so we are trying to develop a way to work within our departments and Stanley's broader goal for an even better relationship."
Posted on