by Sheryl Marlar
One of the primary functions of the University of West Georgia Police Department is to maintain safety and security on the campus for its some 12,000 students and all of the faculty and staff members. In order to provide a more secure environment, UWGPD has applied for the Stanley Security TOGETHER FOR SAFER SCHOOLS Grant.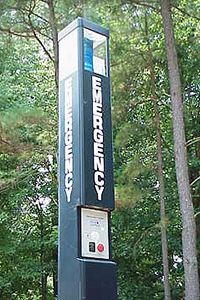 In order to obtain the grant, UWG has the opportunity to invite the public to login and vote for UWG. After the voting period, the top two schools receiving the most votes will win security grants from Stanley in the amount of $150,000 for first place and $50,000 for second place.
According to Police Chief Tom Mackel, this grant would be a big help to further secure the campus.
"We'd like to get the campus involved as much as possible and win this thing," he said. "If we win the grant, we would use it to create a CCTV system to monitor the areas from TLC to Center Pointe and from East Commons to the UCC, where students frequently walk at night."
To cast a vote, go to www.stanleysaferschools.com and search for UWG using the school code/keyword westga and follow the instructions. Votes can also be cast by texting westga to 334455 or by tweeting using #STANLEYSECURITY and #westga.
Voters can vote once per day throughout the voting period, which runs through February 13 at 11:59 p.m. CST.
Posted on