by Sheryl Marlar
Aaron Ashton came to the University of West Georgia to study marketing and business management – and found that when one works hard, people notice.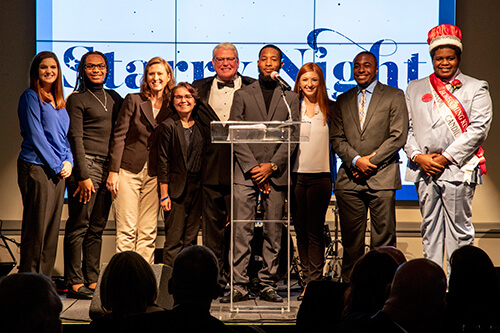 Ashton, a junior from Michigan, expressed his appreciation for the scholarship assistance he has received to the 170 community, business and educational leaders in attendance recently at UWG's Sixth Annual Presidential Scholarship Gala.
"I've learned that when you work hard at UWG, people take notice, and they genuinely want to help you succeed," Ashton said, just hours after becoming UWG's 2019 Homecoming King. "I've also learned that when you're facing challenges, you're not alone here – people on this campus and in this community want to help, so don't be afraid to reach out."
Closing out a week of Out of This World homecoming events, the Starry Night Presidential Scholarship Gala raised more than $86,000 in funding for need-based scholarships.
Guests were welcomed by Dr. Bradford Yates, professor and chair of the Department of Mass Communications. In his remarks, he offered insight into the importance of scholarships by sharing his own experience as a college student.
"My mother and father grew up very poor," Yates began. "They never went to college, but they made it, and they did well. I got my will to grow and learn and be a better person from them."
It was because of a scholarship Yates received to the now-University of Lynchburg in Virginia that he was able to attend college.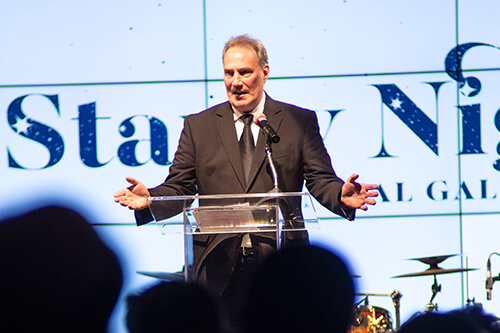 "Thanks to the scholarship, that place made an impact on me – so you never know the impact your generosity may have on others," Yates added as he asked those in the room to think about how someone may have made an impact on them in the past, when considering making a gift for need-based scholarships.
Haley Parker, a senior majoring in marketing and management, became involved in several student organizations when she came to UWG. She learned that college is not just about the degree but also about the relationships that help students achieve success for their futures.
"Thank you, everyone, for having a giving heart," Parker said. "No one gives to UWG because they have to but because they want to. When I become a proud alum in December, I want to give back to students just as everyone here has – because West Georgia would not be UWG without its students, faculty, staff and community members rallying around it."
Upon taking the stage, Dr. Micheal Crafton, interim president, expressed his sincere thanks to all who were in attendance and pointed out how much he enjoys the gala.
"This may well be my favorite event of the year because it's all about what we work for – ensuring the success of the students who choose to Go West," he began. "Thank you for your invaluable support as we continue to transform countless lives."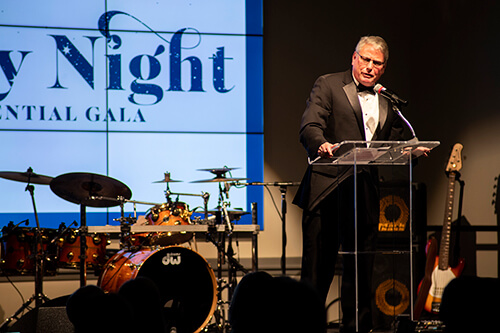 In sharing some pertinent scholarship statistics, Crafton pointed out that 47 percent of UWG students are the first in their families to attend college.
"That alone has a generational impact for these students and the members of their families well into the future," he said.
He went on to add that 91 percent of students are receiving some form of financial aid.
"Yet did you happen to know that our students are graduating to become attorneys, ER nurses, Broadway stars and teachers?" he continued, also pointing out that UWG students have become Fulbright Scholars, studying in one of the most prestigious programs that offers grants for study and research in countries around the world.
"We have some amazing students, many of whom are doing amazing things thanks to your support," he added. "So far this fall, an estimated 157 students have been offered the opportunity to participate in the gap scholarship funding. Yet we know there is more work to be done."
Following dinner and the program, guests were treated to live music for celebrating the event, courtesy of Platinum Band Atlanta.
With this year's successful gala in the books, plans will begin soon for the 2020 event – giving even more students the chance to illuminate their futures.
"So thank you, UWG, for taking a chance on a guy from Michigan and helping him succeed," Ashton concluded. "Looking back on the opportunities I've had here, this would not have been possible at any other university, period. And I certainly wouldn't be standing here tonight as your proud 2019 Homecoming King."
Photography by Steven Broome
Posted on