The University of West Georgia's summer commencement ceremonies will be held on Saturday, July 25 at 9 a.m. in UWG's Coliseum. For those unable to attend the ceremony in person, it will also be streamed online at www.westga.edu/commencement.php. State Senator Mike Dugan will provide the commencement address.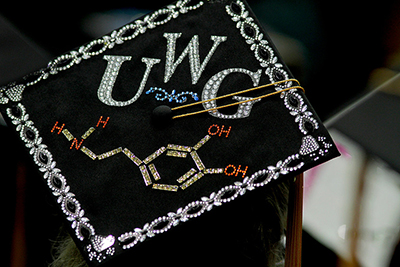 Sen. Dugan was elected to the State Senate for Georgia's 30th District in early 2013. He represents portions of Carroll, Douglas, and Paulding counties, and in 2015, he was selected to serve as one of Governor Nathan Deal's Senate floor leaders.
He is the secretary of the Veterans, Military, and Homeland Security and of the Public Safety committees. He is also a member of the Economic Development and the Transportation committees.
Prior to being elected senator, Sen. Dugan was president of the Carrollton Kiwanis Club, served on the Executive Board of the Carrollton Housing Authority and West Georgia Athletic Foundation Executive Committee.
Sen. Dugan enlisted in the U.S. Army after graduating from college with his bachelor's degree. He was later commissioned as a second lieutenant in the infantry. He became an Army ranger and a master paratrooper. Sen. Dugan is proud to have spent more than 20 years in the Army before retiring as a lieutenant colonel in 2008. During his career, he was deployed to more than 32 countries, including hostile fire deployments in Bosnia, Iraq and Afghanistan.
Sen. Dugan is a local contractor at the Carrollton branch of RA-LIN and Associates. RA-LIN maintains a reputation as one of the most respected providers of construction services in the Southeast.
He attended Bowdon High School, where he played football and ran track. He graduated from the University of West Georgia (UWG) with a bachelor's degree in history. He also earned a master's degree in organizational development from UWG.
Sen. Dugan is married to Missy whom he met while attending UWG. Missy, also a UWG alum, is Georgia, is a current member of the UWG Foundation Board of Trustees. They have two children: daughter, Meghan, and son, Beau. Beau is currently a student at UWG.
On the day of graduation, every guest, including children and infants, will be required to provide a ticket upon entrance. Extra tickets, if available, may be picked up at the Coliseum beginning one-and-a-half hours before the ceremony. Seating is not reserved. Guests with disabilities are encouraged to arrive at the Coliseum at least one hour prior to the ceremony. Accommodations for guests with disabilities include handicap-accessible parking and special seating. For more information, please visit www.westga.edu/registrar/460.php.
Posted on