by Megan Fogg
The place we call home makes up just a pinprick inside the Milky Way galaxy. This galaxy exists inside an even larger group of galaxies called a supercluster. Scientists estimate there are at least 10 million superclusters in existence. Despite the mind-boggling nature of our own minuteness, the future of the human race depends on how we sustain this world.


This past spring's Innovations in Pedagogy conference featured a panel on how professors across a range of different academic departments incorporate sustainability into their courses.

This is not the university's first efforts in sustainability. The UWG Center for Sustainability was established in 2014 and promotes sustainability on campus and in the surrounding area of Carrollton. Additionally, the university partners with Zagster, a bike-sharing program that encourages active lifestyles and interaction with the environment. UWG also hosts Earth Week every April, which consists of sustainability education opportunities, and culminates in the annual Sustainability Expo.
However, when introducing the topic of sustainability to her first-year writing students, instructor Ashley Dycus of the English department initially found she needed to properly define the term and all it encompasses.

"The most common response I got from them was 'recycling,'" she said. "That's the only thing they know about sustainability. It's partly about exposure, because my class didn't know what a weed was, and they hadn't even been to a garden other than Callaway Gardens at Christmas to see the lights."

She decided to take an experiential approach and brought her students to UWG's campus garden. She explained that not all students feel comfortable with writing or discussing the texts, but gathering them to work in the dirt together provided an "equalizing field" outside of the classroom. Not only did they get hands-on experience with a process many were unfamiliar with, but they also utilized it as a new way to connect to the texts, which consisted of climate fiction (cli-fi) and other environmentally related works.

"James Hembree facilitated with me, and he had reading lessons that taught us about soil samples and how to do this correctly, the importance of doing soil samples, the definitions of organic versus inorganic—so it wasn't just [the students] showing up and doing some labor—he actually gave them knowledge they could use."

In the end, Dycus says her unconventional efforts were worth it. Despite using the exact same texts two different semesters, the semester with the garden component yielded essay grades and class averages that were 10 percent higher.

Dr. Stacey Britton of the College of Education took on a similar experiential attitude. However, instead of having her students work the land, she simply focused on mindfulness.

"Every other week, we'd go outside, and each of them would spend 15-20 minutes in exactly the same spot, and they had to document," she explained. "When they first came back in, we talked about what they saw, what they heard, what they smelled. It's more about becoming aware of the space that they're in. After the second time they went out, we talked about how you can transfer this understanding. Asking those scientific questions is what's going to influence how they engage their own children in the classroom."

From these observations, Britton's students created lessons that revolved around specific objectives. The lessons then connected to different factors impacting the environment and provided a segue into teaching sustainability practices and understanding the bigger picture.

In addition to exposure, the concept of connection and application to students' personal lives proved an effective way to teach them about sustainability. Lecturer Melanie Hildebrandt of the economics department used the supply chain of cell phones in her classroom to bring the issue of sustainability home for students.

"All the phones have tin," she observed. "Where's this tin come from? What's the cost of it? What's the social cost of how we're getting some of these natural resources?"

Dr. Chris Berg of the geosciences department posed similar questions by using lithium-ion batteries in smartphones as examples.

"Then we have a discussion about where that lithium actually comes from, and we talk about the amount of material that you actually have to mine in order to get the quantity of purified lithium that goes into the battery," he said. "So being able to take this personal aspect of it and apply it to a class in which we're talking about planetary scales of processes—scales of time that last millions or even billions of years that we can't fathom very easily—having ways for the students to wrap their minds around that and drill it down to a personal level is really important."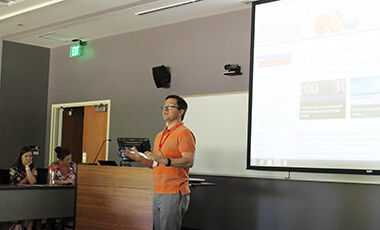 Unsurprisingly, another way to connect with the students is to apply sustainability in ways that directly relate to specific classroom topics. For his sociology students, Dr. Winston Tripp re-adapted his curriculum and started the course off by simply asking the students what they were interested in. From there, he found ways that the concepts chosen by the students connected to the environment. The students learned about how social structures influence (and inhibit) people's abilities to live eco-friendly lives. Additionally, Tripp recognized the need for open-mindedness, and he collaborated with graduate and undergraduate students alike to develop the assignments and projects they would undertake.

"I was willing to interpret very broadly what they wanted to do," he said. "At the end of the day, I said, 'I just want you to care. What can you find that you're going to care about?'"
Posted on