by Gerri Marroquin
University of West Georgia's African-American Male Initiative (AAMI) recently welcomed motivational speaker Dr. Earl Suttle. "Becoming the Leader Within Yourself" was his topic of discussion for students in attendance.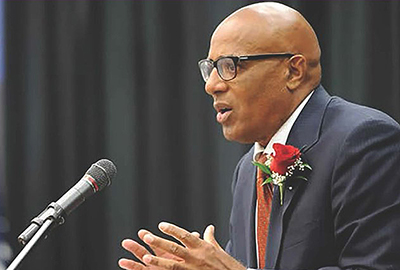 "Dr. Suttle has been invited to campus before, and he was very energetic," said Cheryl Hill, coordinator of the African-American Male Initiative. "He encourages you to be involved in his seminars and to take notes that may change your life."
Suttle began his seminar by asking the audience to step out of their comfort zones and high-five five different people in the packed room. He said the purpose of this act was to showcase that most people do less than what they are asked or told to do, as only a few students high-fived five or more people.
"If you want to be successful, you have to be willing to do more than what you are asked to do and not settle for less or just do the minimum," Suttle said.
His main message for UWG students was to determine what everybody else is doing, and don't do it. Suttle supported his message by referencing Rosa Parks, and how her bravery to go against what others were doing changed history.
Suttle also provided students with his "ABC Formula for Success." His formula intends to guide a person to reach his or her truest potential. The formula included: associating with positive people, believing in yourself, controlling your mind, drawing inspiration from others and embracing change.
"Speaking to a young audience is my favorite," he said. "I see so much potential and greatness in the room. I see doctors, mechanical engineers, and the next generation to step up."
Suttle is CEO and founder of Leadership Success International, LLC., a training and consulting company based in Atlanta. He works to increase the profits and productivity of businesses and organizations by developing their greatest resource: their people. He also works with many different clients, such as AT&T, Delta Air Lines, American Express, University of Georgia and has served as a consultant for NFL and NBA teams and athletes on a personal level.
His seminars, webinars, and personal sessions are intended to help individuals and companies achieve great success and become world class.
"Only five percent of people go to workshops like this," Suttle said. "The students who attend workshops are in that 5 percent, and they need to stay in that percentage. I encourage workshops because people never know which one may change their lives."
Posted on