by Kate Croxton
Professor of Marketing and President Emeritus of the University of West Georgia Dr. Beheruz N. Sethna gave a speech during TEDxDouglasville, an independently organized TED event where speakers' talks followed this year's theme: pioneering and building.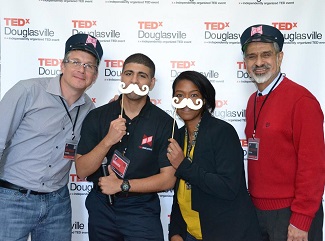 TED Talks began in 1984 and allowed speakers to talk about technology, entertainment, and design (TED). Since then, the events have grown to include almost any topic as long as it's "an idea worth spreading."
Douglasville hosted its most recent independent TED event on April 9 at the Mashburn Theater at Douglas County High School, where Dr. Sethna presented his own TED talk. His speech was titled "An American Star" and focused on the American higher education system.
"I kept the audience guessing for a little while, but it was about higher education being an American star," said Dr. Sethna. "I made the case that higher education warrants an infusion of resources. This case was made not just because higher education is good and deserving, but because we can make the case on the basis of the phrase 'Operate like a business,' which is often used."
During his TED talk, Dr. Sethna took the Boston Consulting Group Model and applied it to higher education.
"I used a business model that the corporate world has used to categorize 'strategic business units' (or products) into four categories," explained Dr. Sethna. "One is called a Cash Cow, which is a high market share product in a low growth market and generates resources for the company. To become a Cash Cow, you first have to have a Star product, which is a high market share product in a high growth market. You also have products called Dogs, which are items you really can't afford to keep, so you need to get rid of those. Finally, there are Question Marks, which can go either way."
Dr. Sethna then described Star products to be items that a CEO or a brand manager needs to invest in heavily because it will become a Cash Cow one day. A Star product is also a market leader in a high growth market, which simply means that the market is expanding.
"I demonstrated during the talk that higher education as a sector is in a growth market," said Dr. Sethna. "American higher education also retains a leadership position in the world. The combination of the two makes it a Star product. My title 'American star' has a double meaning. One is just the way we understand it; it is a star. It is also a very specific business classification, called a Star product, and that was the essence of the talk."
Dr. Sethna's overall message was to educate the public and show people in leadership positions and people who make decisions that higher education, even from a purely business perspective, needs significant investments for the future of the country.
"I ended the talk with three specific things that I wanted to share with the audience," explained Dr. Sethna. "This was a call to knowledge; a call to feeling; and a call to action. That way, if the opportunity arises, they can influence those who allocate resources. This is not about any specific person or state or issue. It is a general national call in support of this American Star.
"I'm hoping of course that the talk was not a one-shot thing," continued Dr. Sethna. "Once it goes on YouTube, hopefully other people in other parts of the country can hear my talk. I would like the impact to be someone saying, 'You know what? This is using a business model to prove the case. Higher education is worthy of more support and more resources.'"
Posted on