by Colton Campbell
The University of West Georgia Department of Health Services has been awarded a grant of approximately $312,000 by the Georgia Criminal Justice Coordinating Council (CJCC) to enhance and expand services offered to students who have been affected by sexual violence.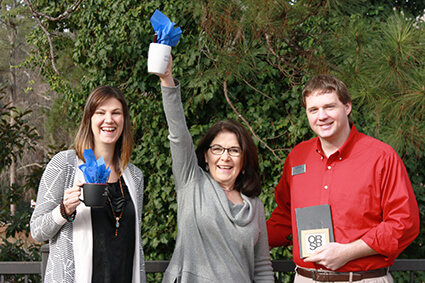 The Victim of Crime Act (VOCA) grant funding will provide for training opportunities featuring nationally recognized speakers, for a team to travel to an internationally renowned conference, for more than $100,000 in state-of-the-art medical equipment and for the hiring of an additional licensed professional counselor in the UWG Counseling Center to serve survivors of sexual violence.
"Student safety is our top priority," said UWG President Kyle Marrero. "Our tenacious, strategic focus on crime prevention and safety education ensures our campus remains secure. This grant represents a tremendous complement to our comprehensive safety efforts."
Three advocates — Jill Hendricks, Corey Hindman and Jamie Gaddy — provide medical, academic and victim advocacy to UWG students in the health services department. Also on the team is Christy Jewell, a certified sexual assault nurse examiner (SANE), who is a nurse practitioner and one of few SANE-certified nurses in the area.
Four additional health services medical staff members will be trained as SANEs in May. The training is open to other medical providers in the area and to other college health centers in Georgia in hopes of serving more victims statewide.
"This is the first time we've received this highly competitive grant," said Hendricks, associate director of health services and grant project director. "We are one of only four Georgia campuses to receive VOCA funding, and we are the only one offering both advocacy and SANE services."
Samantha Wolf, communications and external affairs director for CJCC, said the agency is proud to serve as the administering agent for VOCA grants.
"As the state administering agent for VOCA funding, we have developed strong partnerships with agencies and organizations providing victim services across the state," Wolf said. "We are proud to assist higher education institutions, and we are encouraged by the commitment of UWG to provide additional services to students who are victims of sexual assault."
Many grants fund preventive education, but Hendricks said the VOCA grant funds are designated to enhance and expand direct support services to victims.
"For that reason, we're allocating a large portion of the funds to provide ongoing trauma informed training opportunities for both our campus and our community," Hendricks said. "The grant provides funding for evidence-based training that will be relevant to many professionals who serve victims of sexual violence, including law enforcement officers, counselors and victim advocates."
Dr. Julia Whisenhunt, associate professor in the Department of Communication Sciences and Professional Counseling, is organizing workshops featuring three highly accomplished experts in the fields of professional counseling and psychiatry, all of whom have extensive experience working with sexual assault survivors.
Presenters include Dr. John Briere, professor of psychiatry and the behavioral sciences at University of Southern California and the director of the USC Adolescent Trauma Training Center; Dr. Richard James, professor emeritus at University of Memphis and one of the founders of the Memphis Police Department's crisis intervention training model; and Dr. Heather Trepal, professor of counseling at the University of Texas at San Antonio, who will soon become the 68th president of the American Counseling Association.
"These workshops present a remarkable opportunity for professional counselors and law enforcement officers to learn directly from leaders in the field," Whisenhunt said.
Also thanks to the grant, the health services team attended the International Conference on Sexual Assault, Domestic Violence and Gender Bias in Chicago, Ill., earlier this month.
Hindman, who's attended the conference before, said the event allows the UWG team to interact with law enforcement, medical and counseling professionals from all 50 states and 15 countries.
"There are tracks for each group, but also conference-wide sessions that bring everyone together, and that's a very good opportunity to learn what challenges other agencies are facing," Hindman said. "It's a really collaborative atmosphere with a community-based approach."
Students affected by sexual violence, intimate partner violence, stalking or other crimes can access a UWG health services advocate directly by calling their victim services crisis line at 470-215-9946.
Advocates provide confidential guidance and support, academic advocacy, and also accompaniment during medical exams, meetings with law enforcement or Title IX officials.
"We make sure the student is safe, first of all, that they're aware of their victim's rights and all resources on campus and in the community," Hindman said.
Although the Department of Health Services had to complete a lot of work to apply for and secure the grant, Hendricks said it will be more than worth it to enhance the department's services.
"Receiving this grant is exciting and humbling," Hendricks said. "This is a gift. A tremendous gift, and we want to do everything in our power to provide those who have been victimized every opportunity to heal and thrive."
Posted on