by Colton Campbell
Forty years ago, Dr. George E. "Ned" Watson arrived in Carrollton, Georgia, to attend what was then called West Georgia College. As a music student, he always had a tune in his head.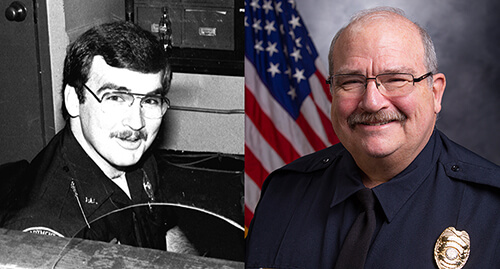 So when he received the news that he'd been named the chief of the University of West Georgia's Police Department (UPD), it was music to his ears.
"This is an incredible opportunity – and truly a full-circle moment," said Watson, who has served the university for a total of 25 years. "I'm humbled by the honor that's been given to me."
Watson served as interim chief for several months before emerging from a nationwide search as the sole finalist for the position.
Dr. Stuart Rayfield, UWG's interim president, said Watson's experience and familiarity with the university and its surrounding community will serve the institution well.
"Dr. Watson understands the value of training and forging relationships with students and the community," Rayfield said. "I also know Ned shares our belief that the safety of our students, faculty and staff must be our top priority. We all look forward to partnering with him to make ours the safest campus in Georgia."
Watson said his experience – which also includes work outside UWG as a probation officer, deputy sheriff, juvenile investigator, and a chief with the Villa Rica Police Department – has given him the tools necessary to lead UPD.
"I started my career in public safety here, and I've served in so many different roles – from security guard to patrol officer to an investigator to deputy chief, and now chief," he said. "I'm thankful that, even though I've worked here for 25 years, this still feels like a brand new job every day."
As a student, Watson sang opera and played the bass guitar in the jazz ensemble. He'd grown up in Griffin, singing in the church and other choirs, and attended UWG on a music scholarship.
Needing a job, he became a resident assistant (RA) in a residence hall on campus, which led in 1981 to landing a security guard position with what was then called the Department of Public Safety on campus.
Graduating from St. Leo University with a degree in criminology in 2003, Watson then earned a master's degree in public administration from Columbus State University in 2008. He earned his Ph.D. in 2017 from Capella University and completed post-graduate studies at Northwestern University's School of Police Staff & Command.
Watson resides in Carrollton with his wife, Nazan Watson. He has two grown children, Lauren and Bradley, and two grandchildren, Jace and Griffin.
Since Watson's law enforcement career began in 1981, he's seen decades worth of change take place in the way law enforcement agencies are perceived by the communities they serve.
"A lot of the work we do in community policing is to humanize the badge, to help folks understand that law enforcement officers are human beings, too," Watson said. "We serve a diverse population of people here at UWG who all come here for a purpose. They're here to better themselves. Our main goal is to make sure they are unobstructed and supported in their mission to get to their end goal of graduation."
Although he spent time in public safety not on a college campus, Watson said higher education law enforcement has always been his calling.
"It takes a unique skill set to be a police officer on a college campus because you really have to be a part of the community you serve," Watson said. "You have to be more relatable and put yourself in the mindsets of our students and their family members. As the parent of a UWG alumnus, I know that's what the parents expect of us: to be a guardian over the students and help them get through this part of their lives."
Since Watson officially became chief in December 2019, he has stressed to the members of UPD to have a "servant heart but a guardian mindset."
"The students we protect and serve are going through what may be the most difficult part of their lives, as they learn how to live on their own and make difficult decisions about the rest of their lives," Watson said. "I want those students, some of whom are out of the house for the first time, to see the officers with UPD as a group of mentors and guardians who can protect them."
Watson's vision for his tenure as chief is simple to say but difficult to achieve: "make the department better."
"As with anything in life you put your mind to, you have to be constantly reinventing yourself," Watson said. "That's what I want to do in the University Police Department – to make it better each day than it was the day before. Then, when my time comes to retire, I'd like to have positioned the department well for the person who comes after me to take it to the next step."
Posted on