by Yosselin Nunez
The University of West Georgia once again teamed up with the Center of Diversity and Inclusion (CDI), Student Government Association (SGA), Auxiliary Services and the anthropology department to bring the 10th Annual World Festival back to campus. The event featured a variety of food, music and activities that highlighted cultures from all over the world. Students, volunteers and faculty all took part of the celebration.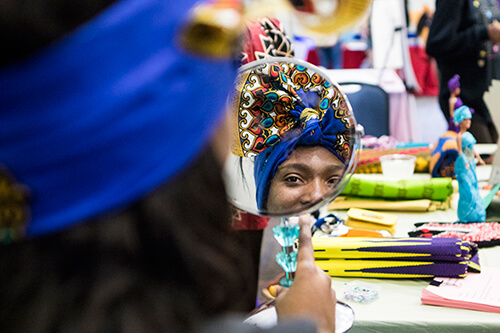 Guests were able to sample authentic cuisine from all over the world, as well as watch performances by ethnic musical groups such as the Mariachi Espuelas de America, who performed traditional Mexican songs, and PanSonics Steel Band, who represented Caribbean culture.
The festival also featured several interactive workshops like Chinese calligraphy, henna body art, African head wrapping and Native American handiwork. Long lines of guests anticipating to participate wrapped around each station. These activities were very popular with attendees and allowed for an engaging experience.
"I'm interested in other cultures; my favorite part is the henna artist," said Rino Yoshida, a foreign exchange student from Japan. "I'm really glad to be here as part of the International Student Club."
Several student organizations such as the International Student Club and Students of Caribbean Ancestry held trivia games with prizes for correct answers, focusing on both historical and geographical facts from countries all over the world.
The Native American Preservation Association displayed historical artifacts as well as held a drum performance for the festival opening.
"I loved being able to create my own dream catcher and add my own personal touches," said student Diana Cruz. "The Native American drumming and the ethnic eats were also great."
(Story continues below gallery ...)
The 10th Annual World Festival was a demonstration of the diversity and rich culture at UWG. Chief Diversity Officer Dr. Yves-Rose Porcena explained what could be expected in years to come.
"I'm looking forward to collaborating with more university organizations. I want to really show the density of music, cultures and the universality of it all," said Porcena. "Everybody on this campus can play a role in an event like this, and I hope to bring that to this event in the future."
Photography by Julia Mothersole
Posted on