Edible Environments: UWG Alumnus Creatively Approaches Landscaping
Share this page
01/27/2020
Reading time: 2 minutes, 42 seconds
University of West Georgia alum Cory Mosser '04 is introducing a new perspective into work environments across Atlanta.
His innovative approach to creating an edible landscape for companies is changing the way employees spend their free time at work while educating them on sustainable, seasonal eating.
Mosser's company, Natural Born Tillers, is working with businesses to create environments that allow employees to escape their computer screens and experience nature right outside their office.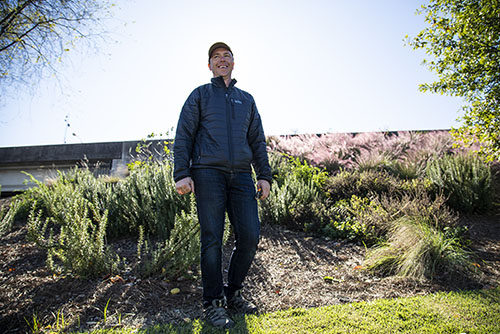 "I think it makes people calm," Mosser said. "It makes people rooted in seasons."
Mosser was inspired to start this initiative from his own love of sustainability and his time working as a farmer.
"I was inspired because I felt like people needed to be closer to their food," Mosser explained. "Buying food is one thing but actually seeing it grow is another thing."
Becoming a farmer was not Mosser's original goal. After graduating from UWG with a degree in history, he applied and was accepted into law school. Before he was set to begin the process of becoming a lawyer, he hiked the Appalachian Trail. This journey completely changed his perspective and inspired him to pursue his true passion of farming.
The goal of Natural Born Tillers is to educate and inspire people about sustainable, organic food sources. Each landscape that is created by Mosser and his team is made solely with edible plants.
Natural Born Tillers has helped create edible environments for companies such as Epicity, Delta Airlines, King of Pops and other major corporations across Atlanta.
According to Mosser, each site comes with its own set of unique challenges and obstacles. The site at Epicity is no exception.
"Here at Epicity we have a lot of spaces that are covered in darkness for most of the year but we have managed to grow certain plants in those areas," Mosser said.
In addition to working with companies, Natural Born Tillers also provides consulting services to farms who are just getting started, attempting to grow their production, or just want to optimize their success.
Mosser is excited and hopeful for the future of his company. His vision is to help aspiring farmers like himself make a living doing what they love.
"One of the biggest challenges and part of the reason I started my company is that there are a lot of people who are passionate about local food systems and sustainability, but making a living being an organic farmer is really difficult," he said. "I want my company to provide opportunities for those people."  
Mosser transferred to UWG after attending a large institution in the state. The individual attention Mosser received at UWG allowed him to succeed academically like he hadn't before.
"My academic focus completely changed when I came to UWG," Mosser said. "I really got one-on-one instruction and was able to better focus on my studies."
Mosser believes his time spent at UWG instilled him with the confidence and critical thinking skills that helped him eventually begin his own company.
"I believe that really having foundational instruction and really being able to think about things in terms of context is important," he concluded. "I believe that my time at UWG paved the way for me to have the confidence to become a farmer."