Merryl & Hardy McCalman Executive Karen Handel
Karen Handel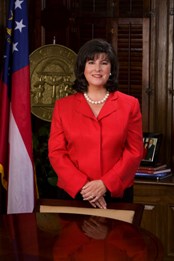 Karen Handel was elected in November 2006 and sworn in to office on January 8, 2007 as Georgia's first Republican Secretary of State. Her office oversees elections, corporations, securities, and professional licensing boards, and also controls the state archives and the Capitol museum.
As president and CEO of the North Fulton Chamber of Commerce, Secretary Handel was responsible for working with state, local, national and international organizations to bring job growth to north Fulton County. She has also served as an executive at several Fortune 500 companies
Handel has served in several roles in government, including as a Deputy Chief of Staff for the Bush-Quayle White House, Deputy Chief of Staff to Governor Sonny Perdue, Chairman of the Fulton County Board of Commissioners. As Chief Executive for the state's largest and most populous county, Handel was credited with passing the strongest ethics laws of any local government.
Secretary Handel and her husband Steve live in Roswell.