Criminology Activities and Awards
CRIMINOLOGY ASSOCIATION AT THE UNIVERSITY OF WEST GEORGIA
The Department of Criminology at the University of West Georgia hosts the Criminology Association as a way to help students get more involved in criminology and the greater community. The association works to provide opportunities to attend and organize lectures from those employed in the field of criminology, learn about research projects by criminology faculty and help its members explore new areas of interest in the discipline. The Association is open to all criminology majors and minors at both the undergraduate and graduate level. There are no dues required for membership. For more information, please contact Dr. Brittani McNeal or Professor Kelley Christopher. 
Latest news:
Professor Kelley Christopher and criminology students Sarah Evans, Victoria Conner, and Joseph Poole handed out Christmas bags to inmates at Burruss Correctional Facility in December 2019.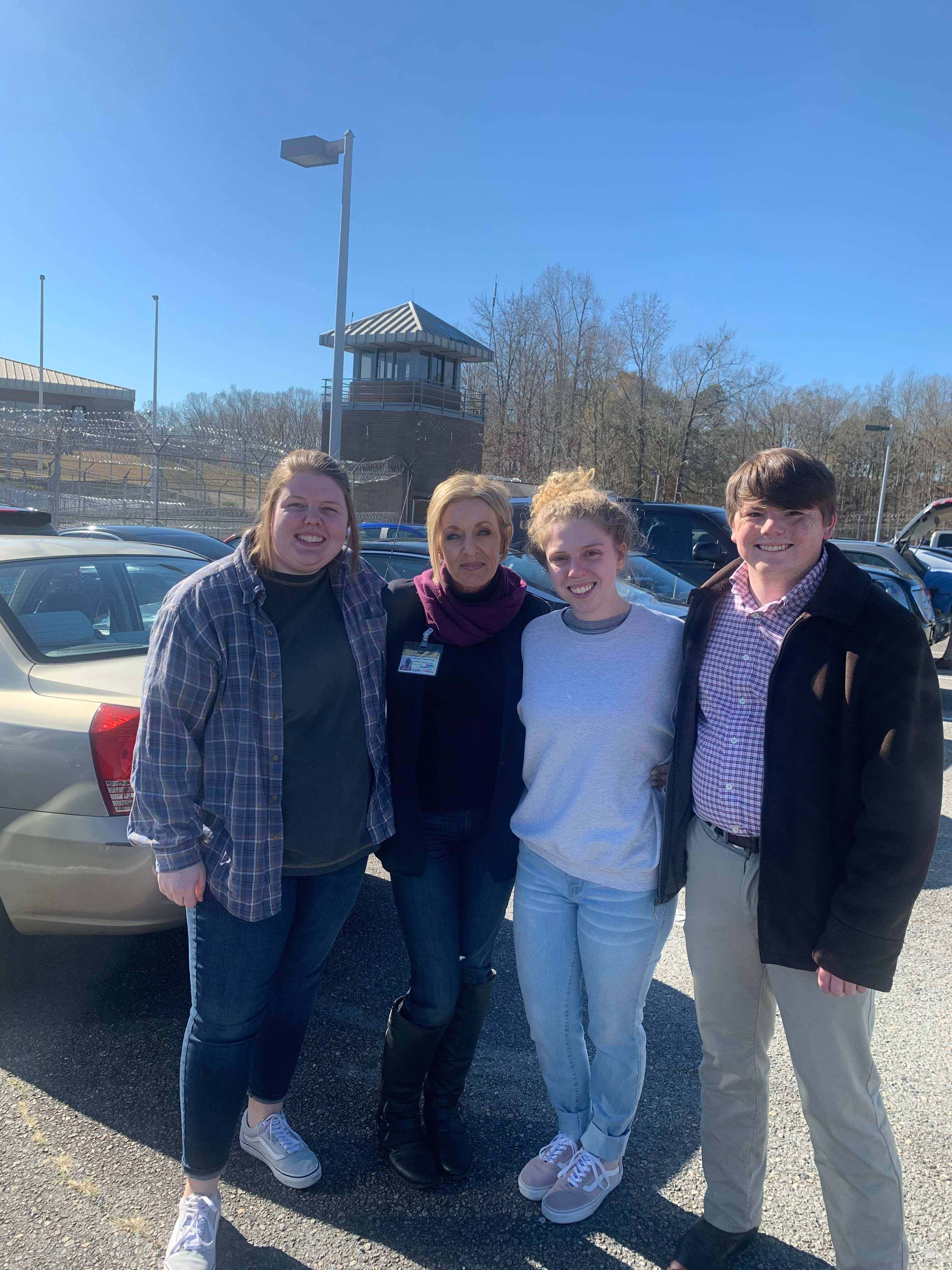 CRIMINOLOGY HONOR SOCIETY
The Department of Criminology is home to Chi Omega Phi, the local chapter of Alpha Phi Sigma National Criminal Justice Honor Society. Alpha Phi Sigma was begun in 1941 to recognized scholarly achievement among criminology and criminal justice students within American universities and colleges. Membership in Alpha Phi Sigma is limited to criminology majors and minors. Undergraduates must have completed a minimum of three semesters of coursework, twelve semester hours of criminology courses, and obtained an overall grade point average of 3.2 and a criminology grade point average of 3.2. In addition, to be eligible for membership a student must rank in the top 35% of his or her class. Graduate students must have completed a minimum of twelve hours of criminology coursework and obtained an overall grade point average of 3.4 and a criminology grade point average of 3.4. Nominations to the society occur twice per academic year. The chapter advisor reviews the academic record of each prospective candidate and notifies those nominated by letter. All of the candidates must be recommended by the Chapter Advisor and be of high moral character. For more information please contact Professor Kelley Christopher.
Professional Organizations
There are a multitude of state, regional, and national level professional organizations within the field of Criminology, many of which have conferences where University of West Georgia faculty give presentations and submit research projects that they themselves are working on.  If you are interested in presenting your own research or would like more information, contact any of the professors in the Criminology department.  Below are links to several of the Criminology professional organizations.
American Society of Criminology
Academy of Criminal Justice Sciences
Southern Criminal Justice Association
Justice Studies Association
Other Activities
On March 11, 2020, Officer McDowell and Sergeant Potts of the Carrollton Police Department came to Dr. Gavin Lee's Criminological Theory class.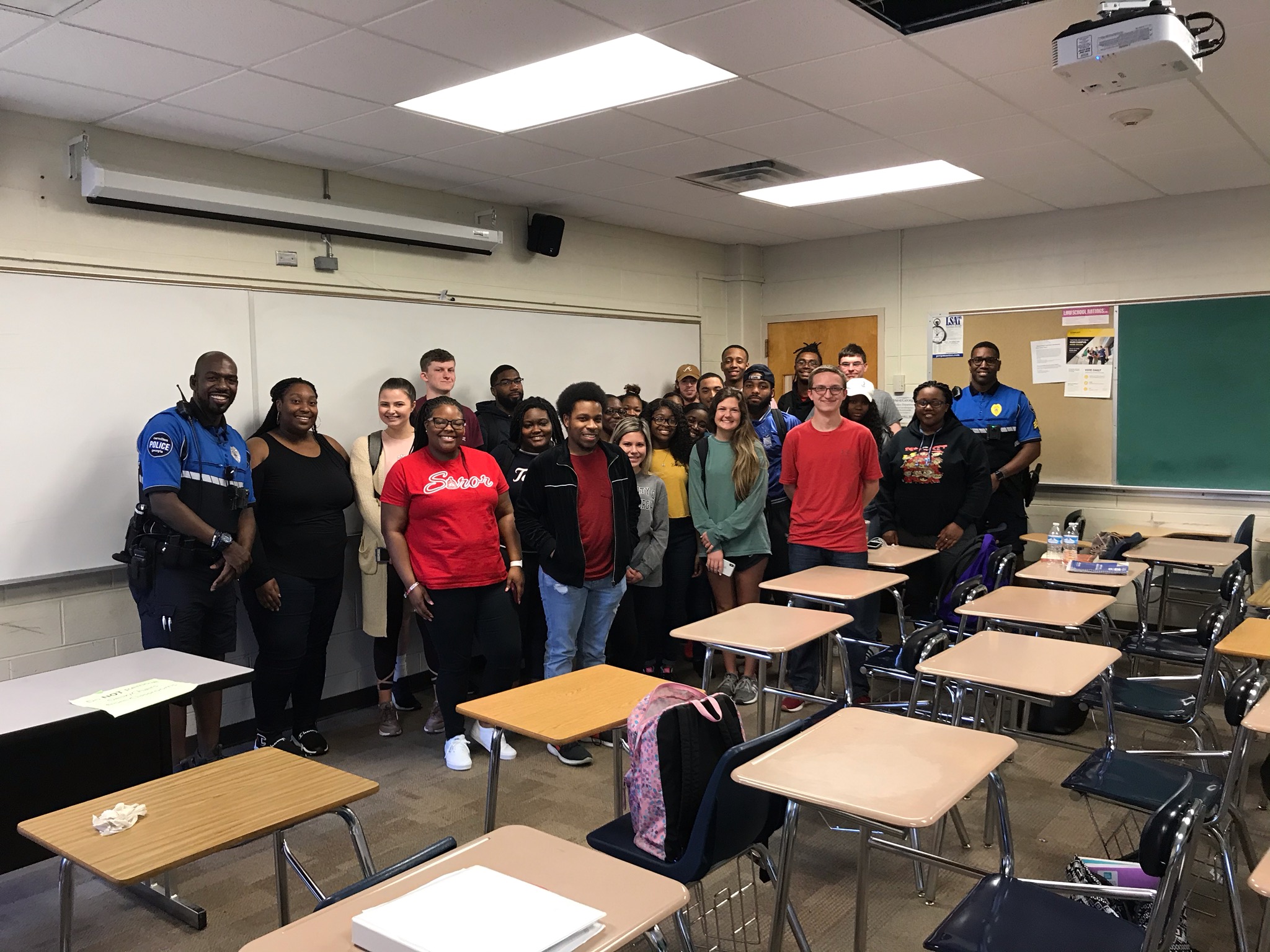 HONORS DAY AWARD WINNERS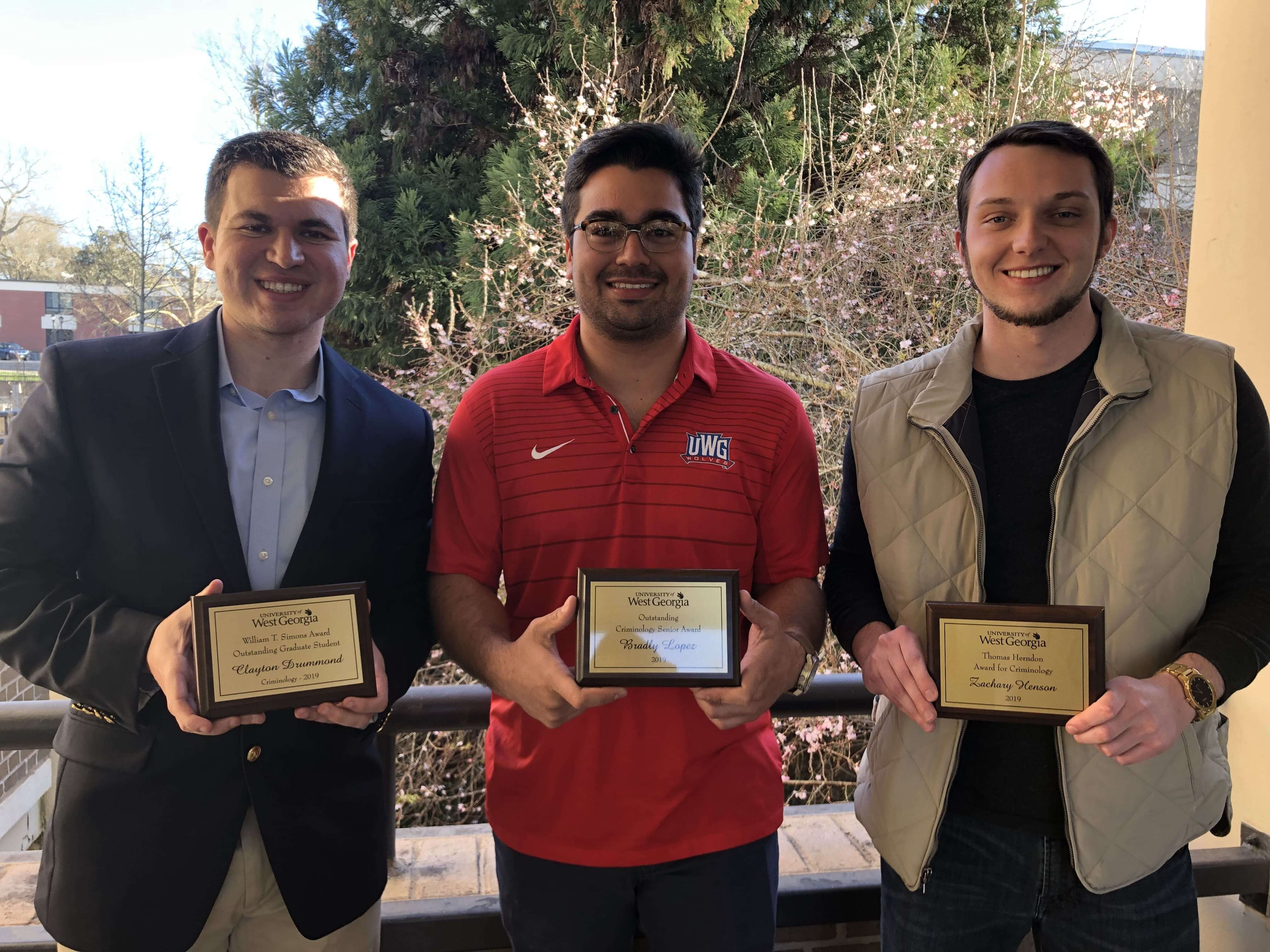 2018 Honors Day Award Winners
Thomas Herndon Award for Criminology: Zachary Henson
Outstanding Criminology Senior Award: Bradly Lopez
William T. Simons Outstanding Graduate Student Award: Clayton Drummond
2017 Honors Day Award Winners
Thomas Herndon Award for Criminology: Jaclyn Leblanc
William T. Simons Outstanding Graduate Student Award: Briana Evans
2016 Honors Day Award Winners
Thomas Herndon Award for Criminology: Matthew Ross
William T. Simons Outstanding Graduate Student Award: Nicole Roper
2015 Honors Day Award Winners
Thomas Herndon Award for Criminology: Alyssa Hyatt
William T. Simons Outstanding Graduate Student Award: Michelle Landers
2014 Honors Day Award Winners
Thomas Herndon Award for Criminology: Nicole Roper
William T. Simons Outstanding Graduate Student Award: Lauren Cannizzaro
2013 Honors Day Award Winners
Thomas Herndon Award for Criminology: Joshua Hockman
William T. Simons Outstanding Graduate Student Award: Brandy Atcheson and Christopher Rivera
2012 Honors Day Award Winners
Thomas Herndon Award for Criminology: Christopher Rivera
William T. Simons Outstanding Criminology Graduate Student Award: Glen Ishoy