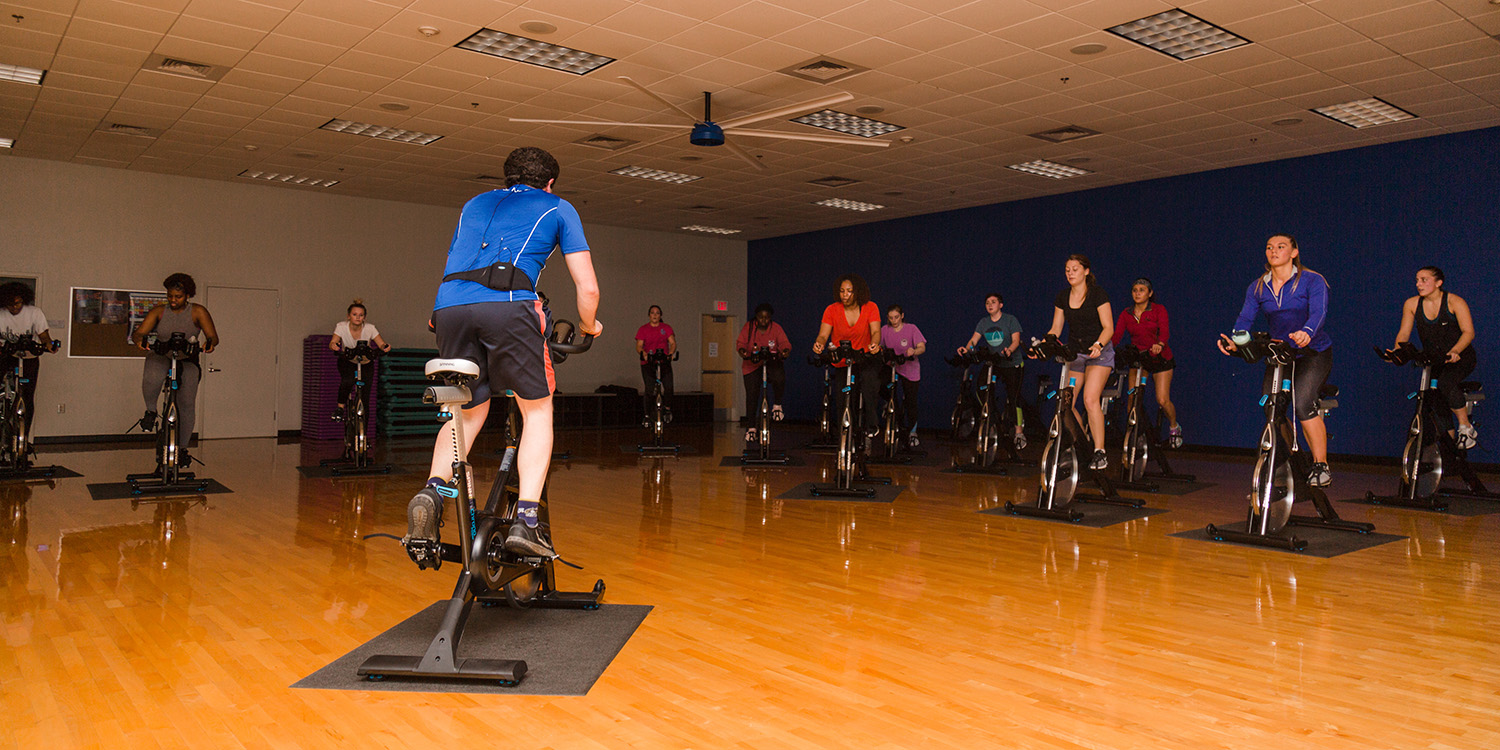 There will not be any group fitness classes during summer 2021. Fall 2021 schedule coming soon.
Fall 2021 Group Fitness Schedule: Aug. 16 - Dec. 10, 2021
Fall
Group Fitness Class Descriptions
Butts & Guts
This class makes you feel the burn and strengthens the lower body and core. Expect to be challenged with movements including squats, planks, steps and various forms of lower body strength exercises.
Candlelight Yoga
This class is a great way to end your day feeling calm and stress-free. This gentle class will let you focus on harmonizing your mind, body and soul as it takes you through various postures. Enjoy the energizing, positive atmosphere while surrounded by the twinkle of lights.
Cycle
This class is a fantastic outlet for being motivated to get an awesome cardiovascular workout in. You will peddle through different intervals and varied cadences of moderate-to-high-intensities for an epic training session.
Dance
This class will have you moving as it incorporates different movements from various cultures and upbeat music genres that provide a moderately-intense cardiovascular exercise.
Functional Training
This class gives you the all-encompassing workout your body craves while utilizing a lot of the equipment available to you in the Functional Training area. This class teaches you all kinds of workout combinations that aid in training every part of your body by using momentum and endurance.
HIIT (High Intensity Interval Training)
This class pushes you to your limits through its all-encompassing circuit training class style that will have you sweating and working hard in minutes. 
Hip-Hop Dance
This class is one of the most popular classes on the schedule and will give you a chance to pop, lock, and drop it while offering a moderately-intense cardiovascular workout. It includes upbeat rhythmic movements matched with hip-hop music.
Kickboxing
This class pushes your stamina as you work on your flexibility and coordination. This high-energy class is a great mix of martial art techniques and cardio.
Total Body Blast
This class gives you the all-encompassing workout your body craves. This class will have you lifting weights to build strength through circuits to enhance your cardiovascular endurance all while working on strength and stability to build your core. You can expect a little of everything in this class.
Ultimate Core
This class focuses on hardCORE abdominal work. This class will challenge your abdominals, back extensors and other auxiliary muscles through strength, endurance, and stability.
Vinyasa Yoga
This class will let your body flow through various yoga postures following the breathing journey of three mountains. You will get the chance to focus on your inner-self as you link each movement with your breath.
Online Group Fitness Class Archive
Each class playlist is embedded and will have the most recent class highlighted. Click the three horizontal lines in the top right corner to see all videos.
Spring 2021 Group Fitness Operations
Upon arrival, participants will check in with the instructor and then go to their designated workout area
Instructors will begin by communicating class procedures
Class capacities vary depending on class location, format, and equipment availability
Spots will be given to those who pre-register first, then on a first-come, first-served basis
All users are required to clean equipment after use and encouraged to do so before use
For more information, contact Drew Powell at wpowell@westga.edu or 678-839-5382.
Virtual Group Fitness Class Video Archive