Jan. 17, 2023
Reading time: 4 minutes, 5 seconds
Never underestimate the transformational power of FIRE.
As the chief architect of the University of West Georgia's anagama kiln, art professor David Collins has witnessed it. And it's not just the magical transformation from clay to ceramic that occurs within the belly of the bricked beast.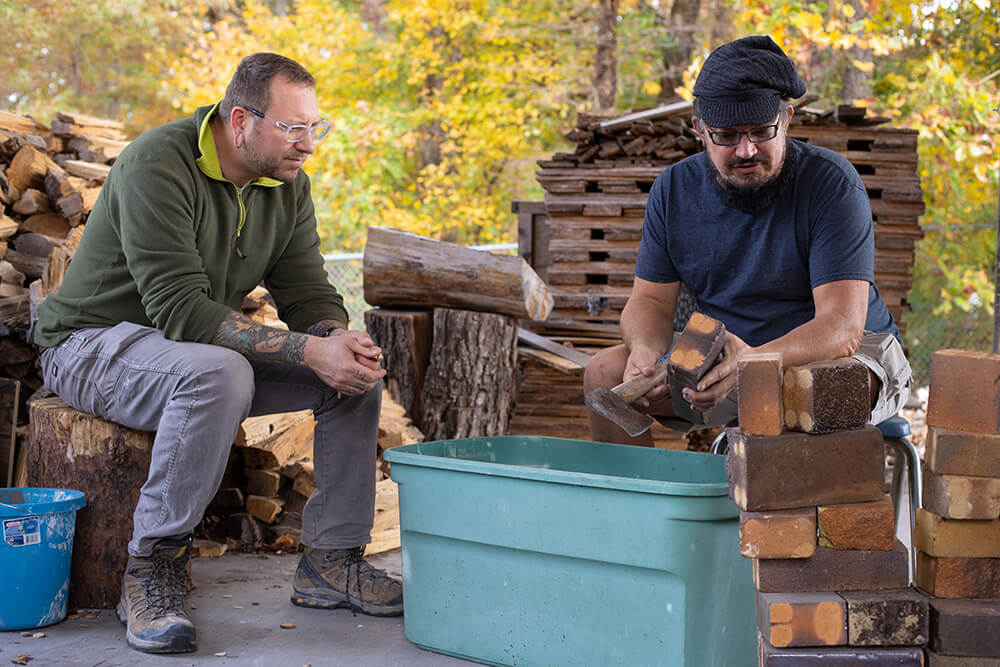 "I've been doing this at UWG since 2007," he shared. "The real changes that occur are the ones I've seen students go through. Everyone leaves this experience with a posture of self-assuredness and confidence, having transcended a lot of their fears and insecurities."
An anagama kiln is an ancient type of single-chamber wood-fired kiln that is commonly used for firing ceramics. It is a long, narrow, tunnel-like structure that is typically built into a hillside or constructed as a freestanding structure. The anagama kiln is known for its unique firing process, which can take several days to complete and produces a wide range of surface effects on the ceramic pieces.
Collins' first experience with an anagama kiln was as a young undergraduate in the early '90s when he learned how to load and fire. As a professional artist and educator years later, when the UWG art program moved from the central campus annex to a new Visual Arts Building (VAB), Collins felt it was the perfect time to build a new anagama kiln, one he designed brick-by-brick in Google Sketchup. It now sits in its own outdoor pavilion next to the VAB.
"It's around 2,400 degrees in the kiln," he informed. "When I was an undergrad, I didn't realize you could get that hot from wood alone. At that point for me, wood was just like a campfire or wood stove in your house, and it was hot. But this is really hot. You have to wear protective gear. When you open the doors, it's like you're right up against the sun."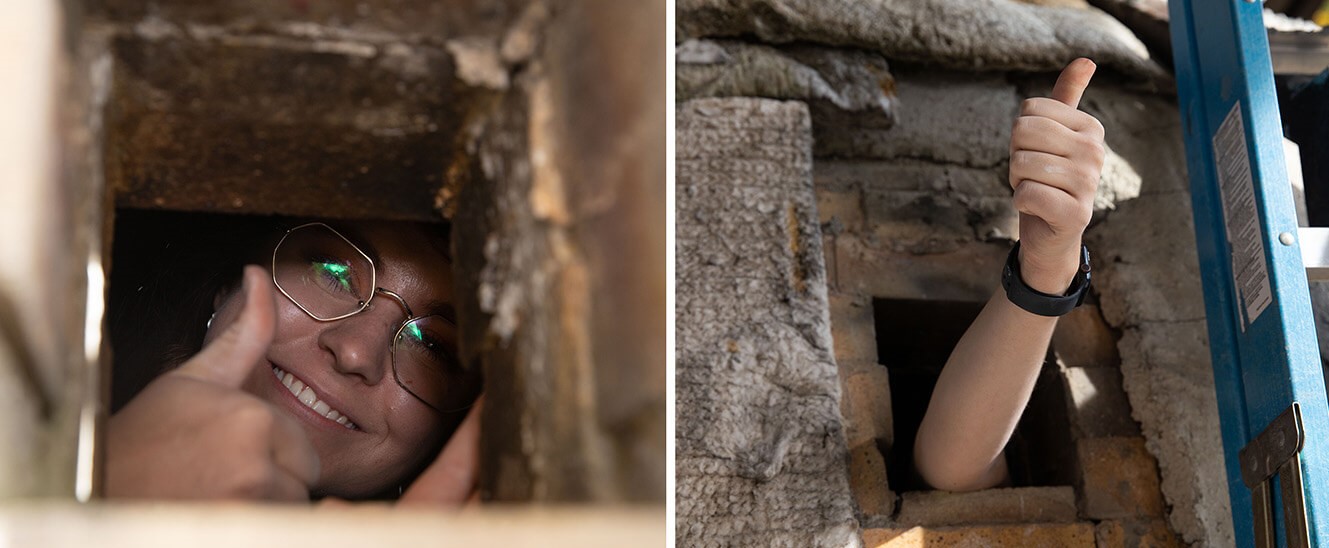 Each fall semester at UWG, the anagama kiln roars to life as ceramic students spend a week firing various artwork. But first they start from square one – no wood, empty kiln. 
"It takes months of preparation," Collins said. "Learning a process and being able to follow something through from beginning to end takes time. The anticipation is challenging. We want to be in the midst of our art, but there's a lot of work that has to happen first. I witness the students go through all the stages of labor while they learn the pace of things. Everything requires a different amount of time and rate. You have to be flexible and know when to speed up or slow down."
Community is a common theme in the artist's world, and the firing of UWG's anagama kiln is no exception. The kiln must be fed constantly and is kept ablaze with a continuous supply of firewood and tending. Once lit, students practically live at the site, as stoking the fire 24 hours a day is necessary to keep temperatures hot enough to produce the unique wood-fired pottery and glazes.
The anagama kiln is typically loaded with a combination of pottery and firewood, with the pottery placed on shelves within the kiln. The kiln is then sealed and the firing process begins. The temperature inside the kiln is controlled by adjusting the amount of air that enters the kiln and the rate at which the firewood is added.
During the firing process, the wood ash and smoke from the firewood interact with the ceramic pieces, creating a variety of surface effects. The ash settles on the surface of the ceramic pieces and melts, creating a glaze-like effect that can result in a range of colors and textures on the ceramic surface. The final results can be a surprise, which makes the anagama kiln even more unique.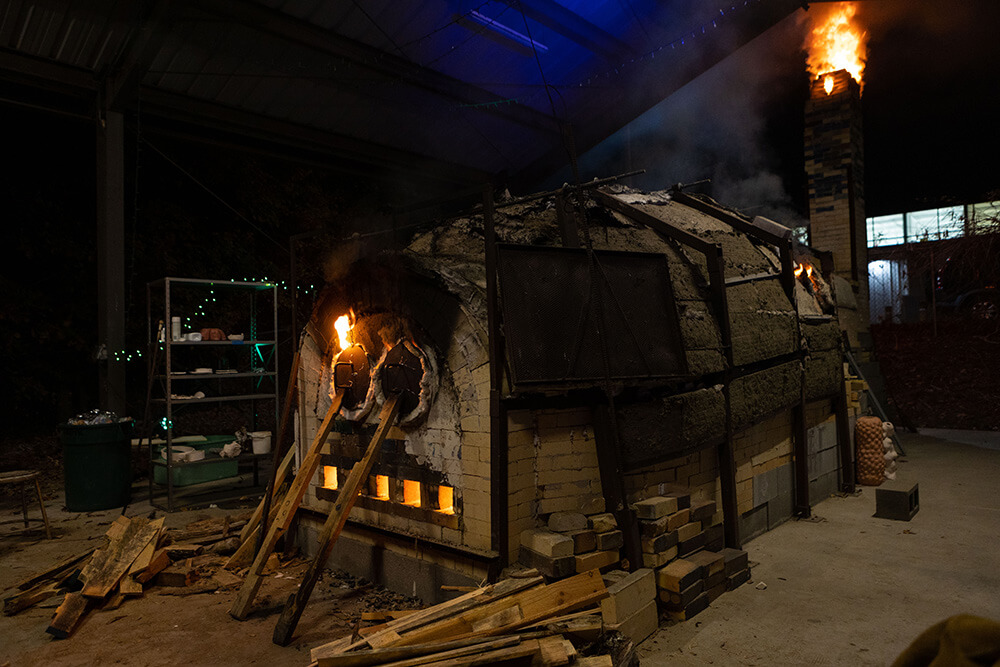 "We might not talk much about it because we're artists, but art in general is undergirded with science," Collins explained. "There's thermodynamics involved in the way the kiln functions. With the clay, there's expansion and contraction. Different types of wood have different kinds of chemical breakdowns that provide various colors for the glaze. Wood is like us: it has calcium, potassium and sodium in it. There's only so much stuff that anything on the planet can be made out of, so it reoccurs everywhere."
In addition to the artistic and covert physics education provided via work with the anagama kiln, there are the transferable skills that experiential learning opportunities can provide – prime examples of the university's strategic plan in progress.
"It might be intimidating to come down here; some people don't like fire," Collins concluded. "I've had students who arrived super timid and ended up taking over and participating in all aspects of it. They overcome and produce very tangible results. It lays the groundwork for a lot of other things to occur when they graduate or do their next big thing. Whatever you do here, you can transfer it to the next thing you do in life. It's all holistic. The experience continues."
---
Following the below video are links to three vignettes. Clicking on each name will take you to a different student's anagama kiln experience.