Picture Your Impact: Select A Day Donors to Receive Student Artwork in Appreciation
Share this page
Sept. 19, 2023
Reading time: 3 minutes, 29 seconds
Symbolizing loyalty, strong community ties and intelligence, wolves live in tight-knit packs in which every member has a role and contributes to the well-being of the group. Their commitment serves as a powerful reminder of the strength that comes from individuals working together for the greater good, emphasizing the value of mutual support, shared responsibility and the bonds that hold a community together.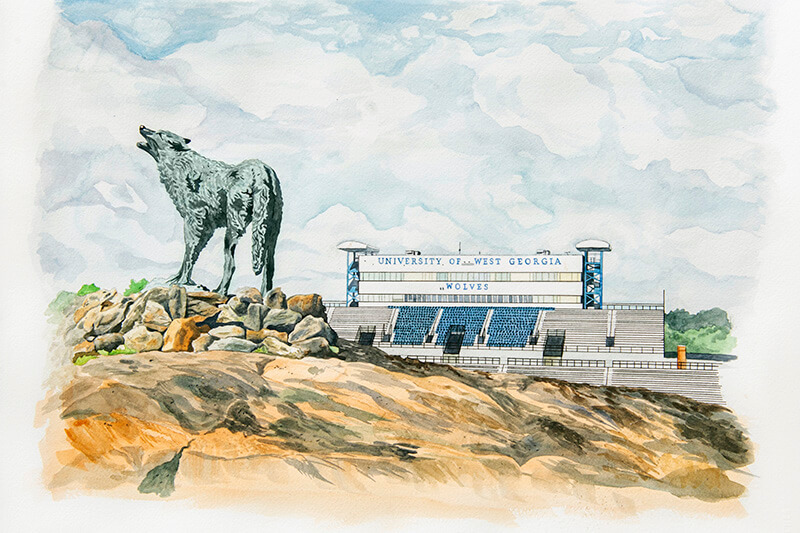 As a representation of this unity, a bronze statue stands guard outside University Stadium at the University of West Georgia. Dedicated in 2014, it was woven into the fabric of UWG's spirit. And this year, as part of the university's A Day to Give West annual fundraising drive, it's become part of that tradition, as well.
"Last year, during the 40th annual A Day to Give West, we wanted to create an incentive that exemplified the spirit of UWG, so we asked a current student to create a watercolor that showcased an area of our magnificent campus," said Jess Lassetter, UWG's director of annual giving. "The UWG community embraced this idea, and we have made it a new A Day tradition."
This year, anyone who contributes $100 or more will receive art student Chris Joyner's watercolor print featuring Wolf Plaza with University Stadium in the background.
When Joyner was approached by Associate Dean of UWG College of Arts, Culture and Scientific Inquiry and Professor of Art Clint Samples, she wanted to choose a scene that was similarly iconic to last year's inaugural A Day painting. 
Selecting Joyner to paint this year's art was easy, Samples said, as she is a gifted painter and a reliable student – both aspects of which he witnessed as her watercolor instructor last fall.
"Chris was a real rock star and one of the best painters that I've had in class the past few years," he shared. "She consistently excelled in every aspect of her work, could think on her own, and her attention to detail was remarkable. She always chose subject matter that was unique and interesting."
A graphic design major originally from Acworth, Joyner's journey West looked a little different than others. She attended college at a different university from 2017-2019 when she received a career opportunity that required her to withdraw from school. With 2020 and the pandemic, however, she lost her job.
"Life has a funny way of taking you in multiple directions in order to find your path," she said. "It became incredibly hard to tell myself that I was meant to do what I loved. I spent the next year working intense jobs – construction, welding, salvage and auto technician work – but I began to feel like I'd gotten too far off the path and wanted to find a way back to my dreams of working in a creative career."
With support from her loved ones, Joyner enrolled at UWG in Spring 2022. She's working toward a career as a graphic designer in the music industry, designing assets like album covers, posters and merchandise. She credits UWG and its pack mentality with helping her get her creative spark back.
"Clint is one of my closest professor relationships, and he really knows his craft," she explained. "I was able to come to him at various points of the project for direction and critique. Overall, the university has given me an incredible amount of support and encouragement. I couldn't ask for a better place in which to learn and grow. I have an entire community on this journey with me, building me up, reminding me to have fun, and giving me the opportunity to be myself."
That's the spirit of A Day, Lassetter said.
"Students like Chris are impacted by each and every gift donated during A Day," he concluded. "Whether that impact is through scholarship support, experiential learning or programmatic support, all gifts directly support current and future UWG students. It's truly a full circle moment for UWG's supporters to make a donation and receive a watercolor copy, created by a current UWG student who is going to directly benefit from their generosity."
A Day will culminate in celebration on Thursday, Oct. 19. To make a gift, please visit the Give West webpage. Anyone who donates $100 or more will receive the watercolor print.