Ethical Excellence: UWG Alumnus Discusses Importance of Ethical Values
Share this page
Nov. 2, 2023
Reading time: 1 minute, 57 seconds
The University of West Georgia is an institution that holds values of integrity, excellence, accountability and respect in the highest regard. These values guide UWG in its endeavors to support students and faculty alike in an ethical manner. It is in that spirit that UWG, along with all institutions in the University System of Georgia, will celebrate Ethics Awareness Week from Nov. 6-12.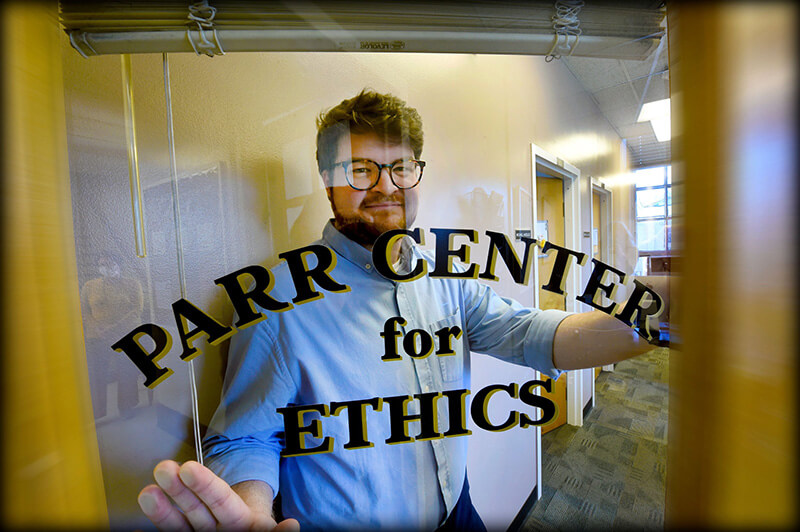 On Friday, Nov. 3, a faculty ethics bowl will precede the main events, which include a prize cab traversing the UWG campus on Monday, Nov. 6, and Wednesday, Nov. 8; a USG Chancellor's Ethics Panel on Wednesday, Nov. 8; and an Ethics and Compliance Best Practices Panel on Thursday, Nov. 9. Through these events and more, UWG's core values will be celebrated. 
"Each of these are cardinal virtues to which we all aspire in some measure – and there's much to be said about them," said UWG alumnus Alex Richardson '13. "These values are important ways of understanding what we're up to as people, friends, colleagues and citizens." 
UWG was a cornerstone experience in Richardson's pursuit of his studies in ethics and what led him to pursue a Ph.D. in philosophy and become director of the National High School Ethics Bowl.
"UWG was an excellent place to get a well-rounded education that prepared me for much of what I do now," said Richardson. "I count myself lucky to have learned from multiple excellent faculty members in the UWG philosophy program – not just about the history of ideas or cutting-edge arguments in moral theory and applied ethics but about living a good, reflective life." 
Understanding ethics and its importance in numerous aspects of life, both personally and professionally, is a crucial foundation for students.
"Ethical reflection is pervasive in our lives, public and private," explained Richardson. "All adults, and indeed many children, are grappling consistently with what it means to live a good life. In classrooms in Pafford Hall, I learned to take myself seriously as a thinker, to reason carefully and constructively with others, and to communicate clearly and concisely – skills that have served me incredibly well that I seek to share with my own students and colleagues."
As an institution, UWG continues to operate on the basis of an ethical, moral set of values. For a complete list of USG and UWG Ethics Awareness Week events, please visit westga.edu/EthicsWeek.