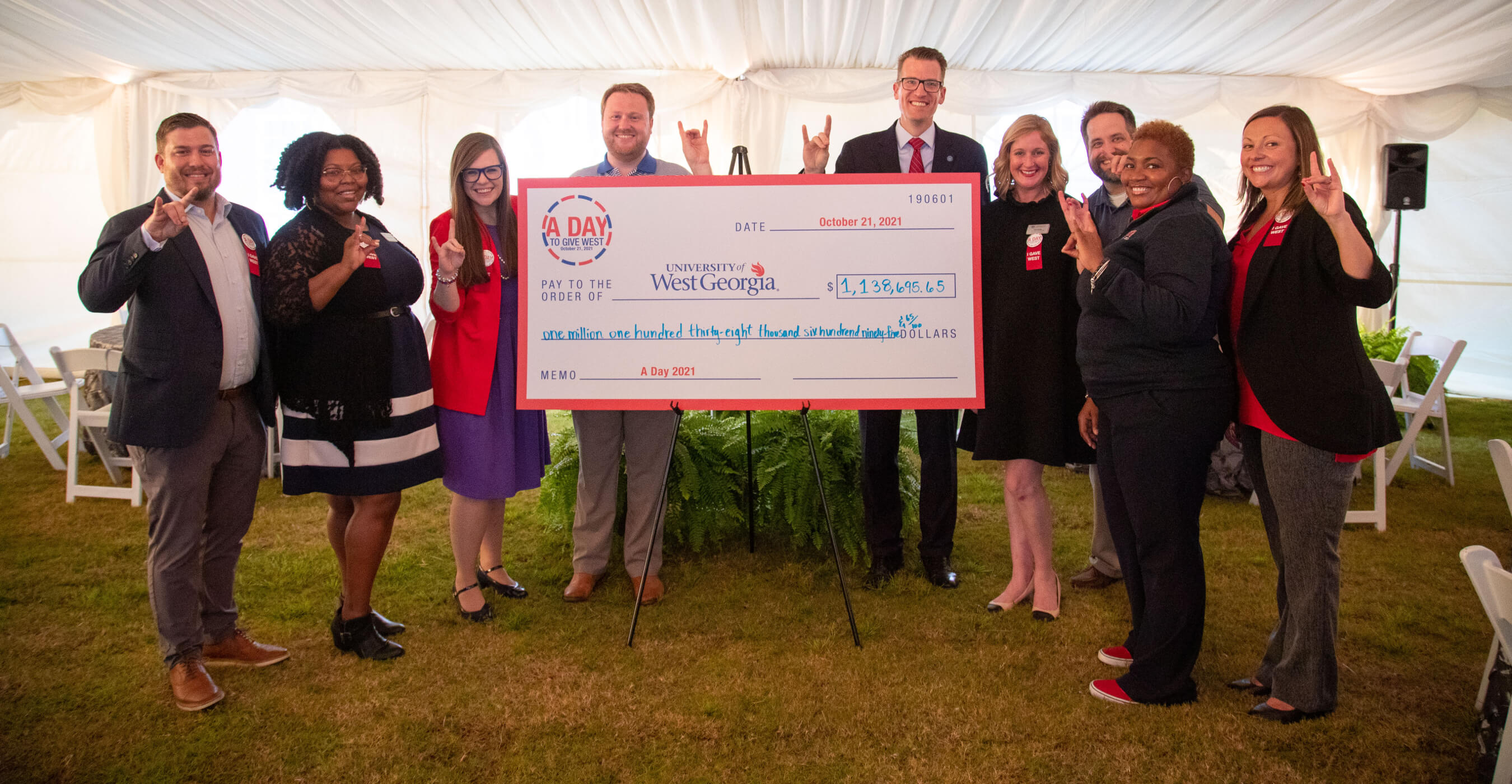 Supporting Student Outcomes
UWG Celebrates Record-Breaking A Day Fundraising Campaign
Oct. 27, 2021
Reading time: 3 minutes, 42 seconds
The University of West Georgia recently wrapped its 39th and most successful "A Day to Give West" campaign in the university's history, receiving more than $1.1 million in gifts to support students.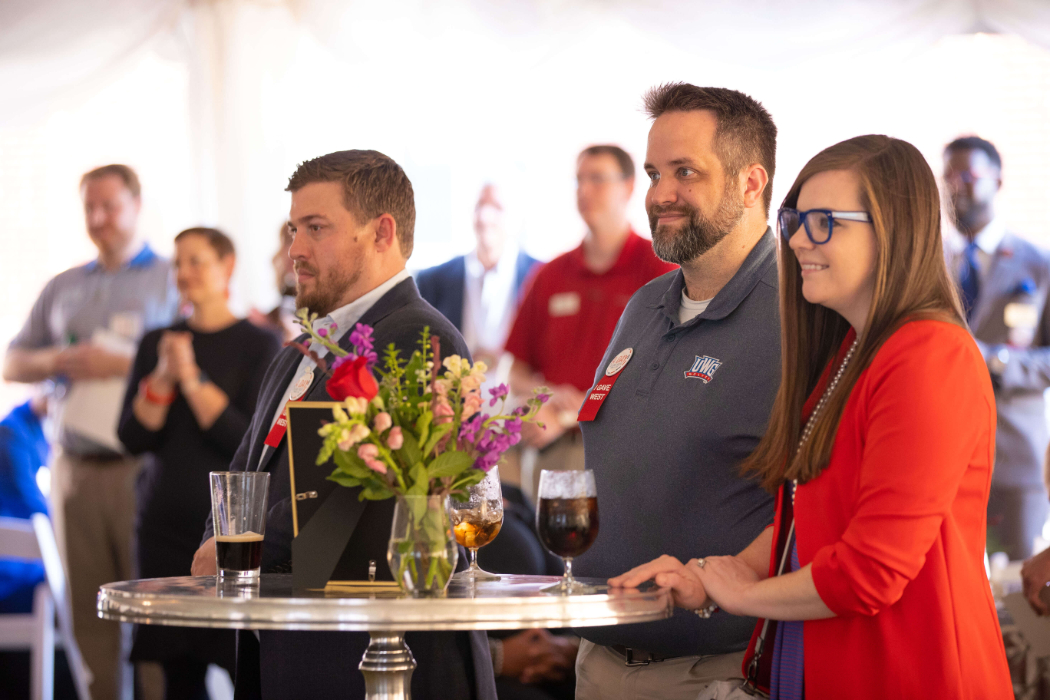 The $1,140,769 in funds will support UWG's annual giving efforts, including scholarships, enhancements to campus, recreational activities, and other initiatives. Nichole Fannin, UWG's executive director of development, said opportunities for philanthropy like A Day make it possible to produce significant outcomes for students.
"A Day is a time to celebrate the achievements of our students, alumni and community partners while visioning together the future of UWG," Fannin said. "It's also a time to express our deep gratitude to donors who champion the transformational education provided at UWG, as well as share with our students the impacts of philanthropy and plant the seeds of community-minded giving with the next generation of leaders." 
Jess Lassetter, director of annual giving, said his team's work on the A Day campaign has been rewarding, and he is thrilled with the record-breaking results. 
"Our alumni, friends, students and the entire UWG community showed how much they believe in the incredible work the university is doing," Lassetter said. "To play a part in this team effort was one of the best experiences of my life, and I am so happy to have shared it with so many passionate UWG supporters."
The A Day campaign originated in October 1982 as a new fundraising concept. This year, A Day directed its focus to three funds: the West Georgia Annual Fund, the General Scholarship Fund and the Wolves Fund, with donors choosing to either designate their gift to an area of personal interest or to one of the three focus funds.
This year, students on UWG's Homecoming Court collectively raised more than $35,000 for A Day, with each dollar raised counting as a vote for their candidacy for Homecoming Royalty. The winner of the A Day Ambassador title and one of the two students named Homecoming Royalty was Destinee Swain, who raised more than $4,600 for the General Scholarship Fund.
Ashley Bush, this year's A Day community co-chair, said the success of the campaign is a direct reflection of UWG's relevance and importance in the community. 
"The A Day 2021 season did exactly what it was created to do – celebrate our great university and gain the support needed to propel the institution forward," Bush said. 
"We were able to hear some amazing stories of the impact UWG has had on people and community and raise a record amount of funds to support the students, programs and strategic initiatives of the university."
Community co-chair (and husband to Ashley), Kevin Bush said he couldn't be more pleased with the outcome of this year's efforts and looks forward to another record-breaking year in 2022. 
"Ashley and I were honored to serve as co-chairs for this historic year," said Bush. "We are immensely grateful to all who supported the 2021 campaign, and we look forward to staying connected with the team as A Day celebrates its 40th anniversary next year."
Dr. Jill Drake, A Day faculty chair, said she couldn't be happier with the results and what it means for students who need assistance, much like she once did.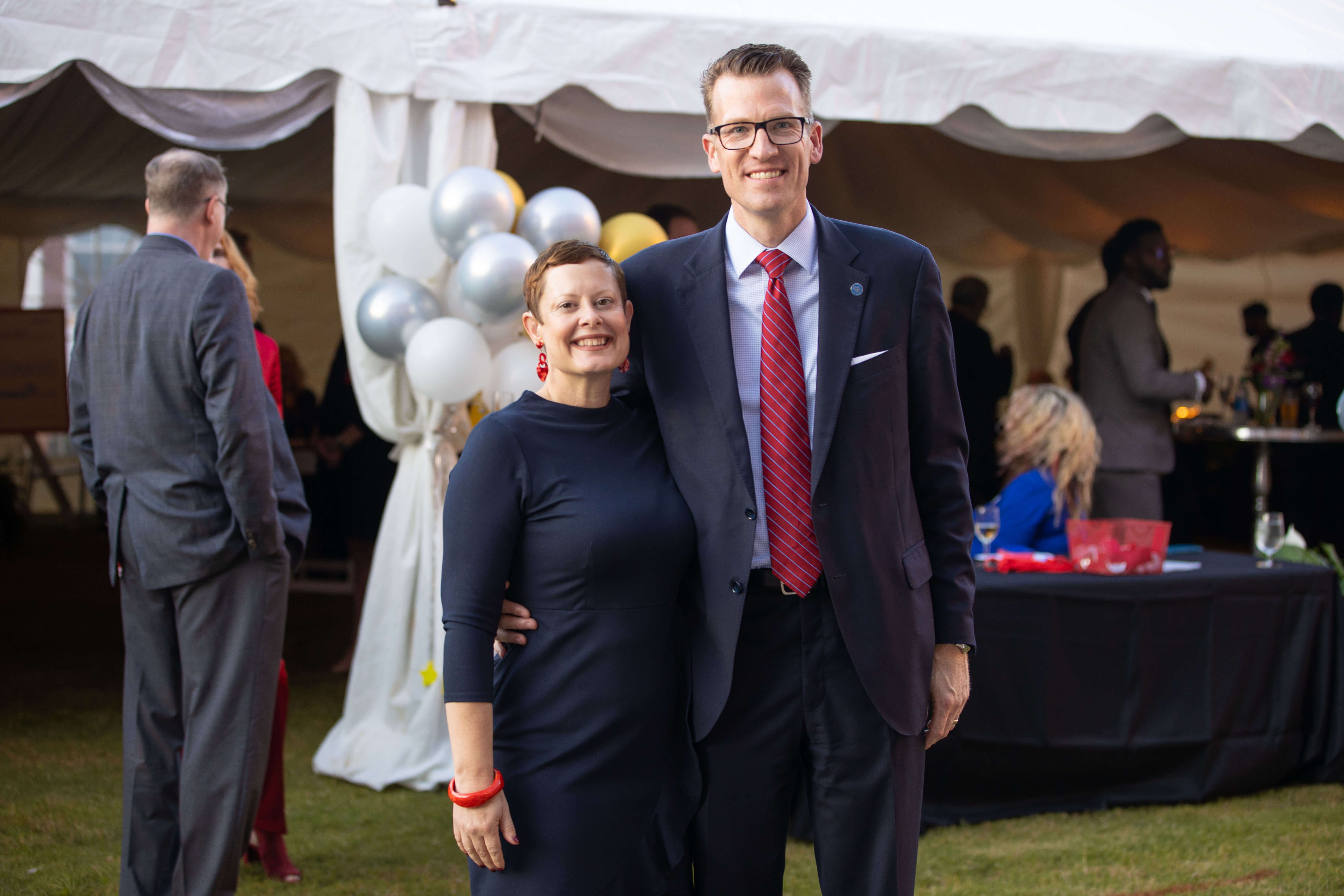 "I was able to attend college because of several scholarships I received, so I know personally the value of giving to students," Drake said. "As a regional comprehensive university, we serve a lot of first-generation students. Additionally, almost half of our incoming freshmen are Pell-eligible. By serving these populations, we will always have students with significant financial needs. A Day helps remove those financial barriers for so many capable, talented UWG scholars."
Serving as staff chair for the A Day steering team, Shawn Isaacs said he also understands the importance of events like A Day.
"As a first-generation student who relied heavily on scholarships, A Day matters greatly to me," Isaacs said. "It is a push to remind others how important our students are and how meaningful these funds can be for them. UWG is a place for students, and the record-breaking success of A Day proves there is great attention being placed on what our university means in this area." 
For more information on how you can support UWG students through an endowment, scholarship or annual giving, please visit the UWG Give West page.