Bachelor of Science in Nursing
The University of West Georgia Tanner Health System School of Nursing Undergraduate Program offers a Bachelor of Science in Nursing (BSN) degree on two campuses. The Carrollton campus offers a six semester program and the Newnan campus offers an eight semester program. The traditional track offered on these campuses are for students who have never been licensed as an RN. This program prepares graduates who are eligible to apply to take the NCLEX-RN, the national licensing examination to become a Registered Nurse. The Traditional BSN program admits once each year in the Summer.
For more information, please see the Academic Catalog. A program map, which provides a guide for students to plan their course of study, is available for download in the Courses tab below.
The Bachelor of Science in Nursing Program at the University of West Georgia is approved by the Georgia Board of Nursing, 237 Coliseum Drive, Macon, Georgia 31217, and accredited by the Commission on Collegiate Nursing Education, One Dupont Circle, NW, Suite 530, Washington, DC 20036.
Note: While the eight semester BSN program in Newnan does not require full-time enrollment each semester (less than 12 semester credit hours), it requires attendance mainly during the day, during the week. There is the possibility of evening and weekend hours for clinical experience but this is not guaranteed from semester to semester. Schedules vary each semester and students must be flexible. While this program allows some students to work part-time or manage their family needs, it is not designed for students that wish to work full-time.
Program Location
Carrollton Campus, Newnan
Method of Delivery
Face to Face
Accreditation
The University of West Georgia is accredited by The Southern Association of Colleges and Schools Commission on Colleges (SACSCOC).
This program is accredited by the Commission on Collegiate Nursing Education (CCNE).
Credit and transfer
Total semester hours required: 120
Maximum Hours Transferable into program: 12
A transfer credit evaluation will be completed by the UWG Transfer Team (transfer@westga.edu). Course application to a program is subject to review by the department.
This program may be earned entirely face-to-face. However, depending on the courses chosen, a student may choose to take some partially or fully online courses.
Save money
UWG is often ranked as one of the most affordable accredited universities of its kind, regardless of the method of delivery chosen.
Details
Total tuition costs and fees may vary, depending on the instructional method of the courses in which the student chooses to enroll.
The more courses a student takes in a single term, the more they will typically save in fees and total cost.
Face-to-face or partially online courses are charged at the general tuition rate and all mandatory campus fees, based on the student's residency (non-residents are charged at a higher rate).
Fully or entirely online course tuition rates and fees my vary depending on the program. Students enrolled in exclusively online courses do not pay non-Resident rates.
Together this means that GA residents pay about the same if they take all face-to-face or partially online courses as they do if they take only fully online courses exclusively; while non-residents save money by taking fully online courses.
One word of caution: If a student takes a combination of face-to-face and online courses in a single term, he/she will pay both all mandatory campus fees and the higher eTuition rate.
For cost information, as well as payment deadlines, see the Student Accounts and Billing Services website
There are a variety of financial assistance options for students, including scholarships and work study programs. Visit the Office of Financial Aid's website for more information.
Downloads
Major Required
Major Selects
Guidelines for Admittance
Each UWG degree program has specific requirements that you must meet in order to enroll.
Program Specific Admittance Guidelines
Application available October 1st through February 1st for Summer admission.
Admits once a year for Summer (June)
6 semester program (Carrollton, Main Campus) and 8 semester program (Newnan Campus)
Prospective transfer students should read about admission requirements to the university. Click here to see what courses may transfer(reference only). Official transfer evaluation of transcripts takes place 4-6 weeks after admission to UWG and orientation registration.
HESI A2 Entrance Exam

Students may only have ONE attempt on the required sections between February 2, 2016 and February 1, 2017. Required sections include Grammar, Reading Comprehension, Basic Math Skills, and Anatomy and Physiology. For information on how to prepare for the HESI A2, visit https://uniontestprep.com/hesia2 and https://evolve.elsevier.com/studentlife/hesi.html
The exam cost is $95.80 and is available via Prometric Testing Centers - but students must first get approved for eligibility through their Elsevier Evolve account. Click here for registration instructions!
Applicants must register using the UWG-Distance Testing Department ID: 201715 provided on the registration instructions. Registering for the exam under our Department ID ensures that the Tanner Health System School of Nursing can access your scores without requiring you to send a transcript (which saves you an additional cost in this process).
Elsevier and Prometric are ADA compliant. Click here for special registration instructions!

Certified Nurse Aid Training (CNA)


Not required for application but required by May 1st for enrollment in nursing courses.
The only applicants exempt from this requirement are LPNs with an active license.
If you were previously certified as a CNA but have been out of practice for 2 years or more, re-certification will be required.
UWG offers CNA courses through Continuing Education for current students.
You may click on the following link to see a list of State Workforce Investment Board approved training centers compiled by UWG's Continuing Education Department. List of CNA Programs
Admission Process Checklist
UWG Admission Process Checklist
Review Admission Requirements for the different programs and guides for specific populations (non-traditional, transfer, transient, home school, joint enrollment students, etc).
Review important deadlines:

Fall semester: June 1 (undergrads)

Spring semester: November 15 (undergrads)

Summer semester: May 15 (undergrads)
See program specific calendars here

Complete online application
Undergraduate Admissions Guide

Undergraduate Application

Undergraduate International Application


Submit $40 non-refundable application fee
Submit official documents

Request all official transcripts and test scores be sent directly to UWG from all colleges or universities attended. If a transcript is mailed to you, it cannot be treated as official if it has been opened. Save time by requesting transcripts be sent electronically.

Undergraduate & Graduate Applicants should send all official transcripts to:
Office of Undergraduate Admissions, Murphy Building
University of West Georgia
1601 Maple Street
Carrollton, GA 30118-4160
Submit a Certificate of Immunization, if required. If you will not ever be traveling to a UWG campus or site, you may apply for an Immunization Exemption. Contact the Immunization Clerk with your request.
Check the status of your application
Contact
University of West Georgia
Tanner Health System
School of Nursing
678-839-6552
nurs@westga.edu
Provide Holistic nursing care to persons (individuals, families, groups, communities, and populations) across the continuum of health care in a variety of settings at local and global levels, focusing on health promotion and disease and injury prevention across the lifespan.
Practice quality caring as the essence of nursing for persons of diverse cultures, values, beliefs, and lifestyles.
Utilize critical thinking and clinical reasoning based on theoretical, empirical, and experiential knowledge from the liberal arts and sciences to provide safe, competent, evidence-based care.
Communicate and collaborate effectively within inter-professional teams utilizing technology and information systems to improve health outcomes and healthcare systems.
Participate in analysis, critique, and reform of healthcare regulatory, policy, and financial systems that influence nursing and healthcare environments.
Apply leadership and management principles to empower nurses and achieve high standards of quality and safety in the delivery of person-centered care.
Assume altruistic legal and ethical responsibility and accountability for personal and professional behavior.
Utilize effective teaching strategies to empower persons to achieve healthcare goals.
Go West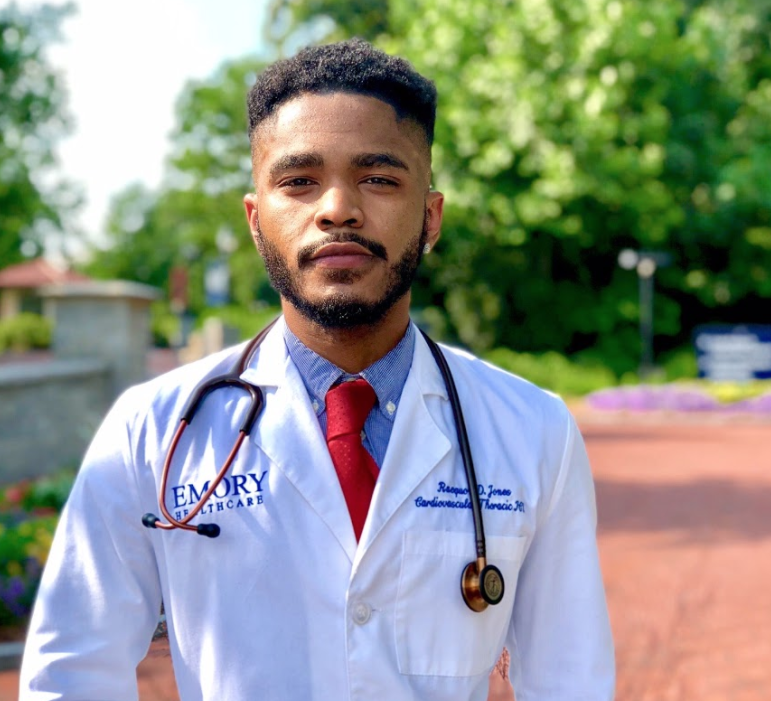 "UWG provided me with the fundamentals I needed to become a nurse. Patient communication, holistic health education and an emphasis on patient safety and the importance of researching evidence-based practices are the most valuable things I learned at UWG."
Raequon Jones
Continue Reading