UWG Return to Work Plan for Summer 2020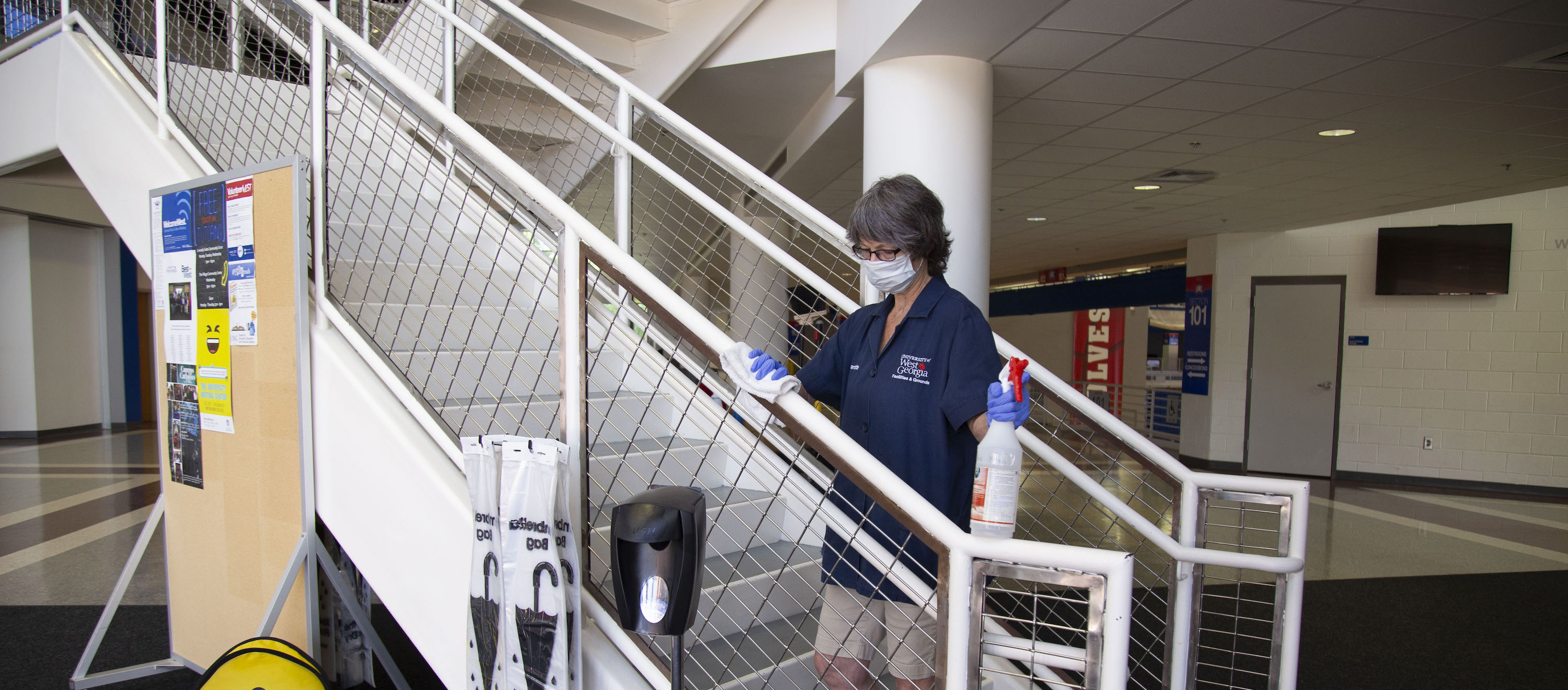 Returning to Work
UWG established and follows a data-driven, staged approach to gradually return employees to their on-campus work environment based on recommendations and timing provided by the University System of Georgia. 
Return to Campus
The University of West Georgia's plan for full reopening will be informed by decisions and guidance from the governor, the Governor's Task Force, the Georgia Department of Public Health, the CDC, USG, and appropriate local considerations and will include contingency plans for adapting to any possible escalation of COVID-19.
Institutional plans will account for possible and probable decreases in state appropriations, tuition and fee revenue, and losses in auxiliary funds. While attempting to plan for and mitigate issues related to COVID-19, UWG will remain focused on our mission and purpose while using this situation as a reflective time to reinvent academic delivery models, operational efficiencies, employee flexibility, and care.
A plan that involves the full return of faculty, staff, and students to campus for the Fall 2020 semester is currently being developed with guidance from the University System of Georgia. 
The goals of this plan are centered around key themes, concepts, and strategies to ensure the healthy return to work of UWG faculty and staff members, the wellness of our university surrounding communities, and the careful and deliberate preparation for the safe return of our students for Fall 2020. This plan will be informed and updated as new information is discovered.
Positive COVID-19 Test or Diagnosis
Employees who receive notification of a positive test for COVID-19 should follow the COVID-19 Reporting Process outlined below.
UWG officials will notify GDPH, which will begin contact tracing, and individuals who the affected employee may have come into contact will be notified. UWG Human Resources will also contact the employee's supervisor and other relevant parties, such as the Vice President, the Medical Director of Health Services, Campus Planning and Facilities and the Senior Benefits Administrator for leave tracking.
Step 1:

Employee will report COVID-19 illness to the Human Resources COVID-19 Response Team at 678-839-6111 or

 

covid-hr@westga.edu.

Step 2:

Human Resources will notify the supervisor and their respective Vice President. HR will also notify the Medical Director and Campus Planning and Facilities as needed.

Step 3:

The Medical Director or Human Resources will notify GDPH to initiate contact tracing.

Step 4:

The Vice President will notify the President's Office to provide USG notification.UWG will notify the GDPH who will begin contact tracing as soon as possible and individuals with whom the affected employee have come into contact will be notified. The USG is currently working with GDPH to establish the most responsive plan for contact tracing on campuses. UWG will follow any additional guidance for institutions received from the USG.
Strategies
core principles
Ensure every step of the plan is informed by the values of wisdom, compassion, flexibility, and thoughtfulness.
The health and wellness of the university community is of paramount importance.
Embrace, normalize, and expand upon the processes and practices utilized when responding to the initial COVID-19 crisis in March.
Continued adherence to CDC recommendations including social distancing, handwashing, staying home when sick, and the use of face coverings.
Value the physical and mental health of all of our faculty/staff, including those who may be members of a vulnerable population, reside with a member of a vulnerable population, or are caring for children or other relatives by providing individual accommodations.
Be ready to adjust based on guidance from the CDC, USG, GDPH, and from state and local health officials.
Strategies
Six primary strategies will guide tactics and actions within each phase within this Return to Work Plan.
Staffing. Increase staffing incrementally to gradually reinstate operations.
Hygiene.

 

Scale hygiene and distancing practices into cultural norms.
Sanitation.

 

Conduct standardized cleaning practices to maintain sanitary work conditions.
Scheduling and Workplace.

 

Continue and expand innovative work and health practices.
Faculty/Staff Monitoring.

 

Monitor health to ensure the wellbeing of our campus community.
Phase Review.

 

Proactively review the current situation and adjust as needed.