UWG Student Sells Art, Donates Proceeds to Scholarship He Received
Share this page
June 3, 2021
Reading time: 2 minutes, 24 seconds
Nathan Childers knows firsthand the impact scholarships can have on students. And now, thanks to his ingenuity and generosity, art majors at the University of West Georgia will be able to benefit even more from the very scholarship he received as a student.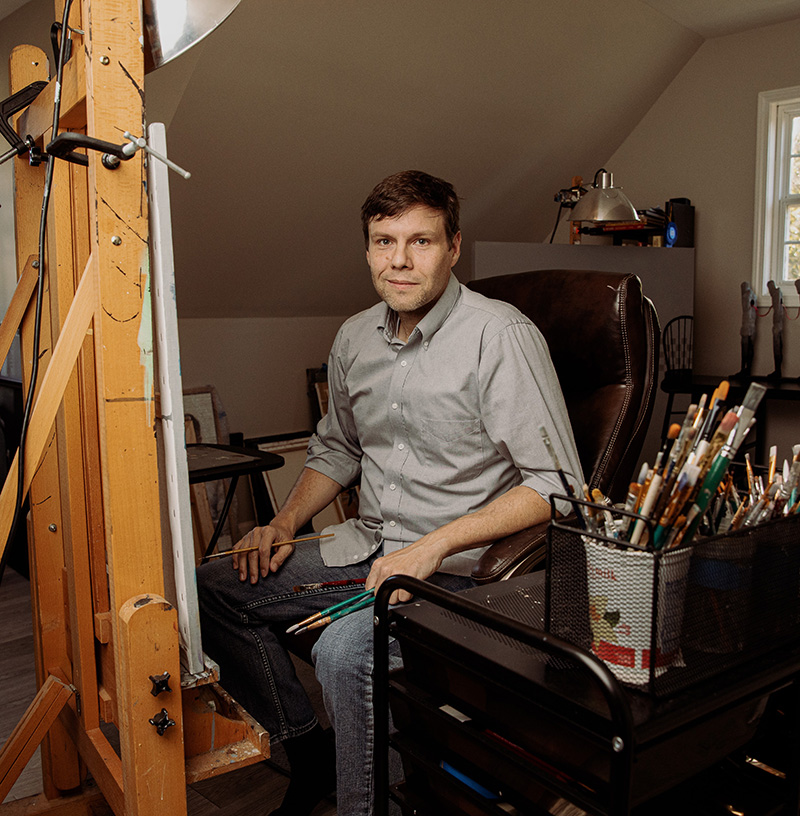 "Scholarships have been paramount to my success at UWG," said Childers, who graduated in May with a Bachelor of Fine Arts in Painting. "Having others say that they believe in what you are doing so much, that they are willing to help you in the most fundamental way they can, is incredible."
Childers, an adult learner, submitted a portfolio of his work to receive the Alex and Susan Roush Art Scholarship, awarded by a committee to any incoming student.
"I feel that without the help provided by the scholarship, I would not have been as successful as I was," he said. "It allowed me to be a full-time student and focus on my work in class. I can say without any reservation that I would not have graduated in May without the aid of this scholarship."
The artist recently won Best in Show at the UWG Juried Student Art Exhibition for his painting, "Growing Fonder." His inspiration came from his mother, who would take away chairs from the dining table when a family member moved away from home. The painting reminded him of the family he misses so much.
"I was honestly shocked when they announced my name as winner for the show," said Childers. "There were many excellent pieces that were submitted this year. It's a great feeling when you are singled out in such fine company."
Because of Childers' kind-hearted personality, he decided to sell his own paintings, including the painting that won Best in Show. He wanted to take the money and pay it forward to the UWG Foundation. Childers' charitable donation will go back to the Roush scholarship as a way of helping the next generation of UWG art majors.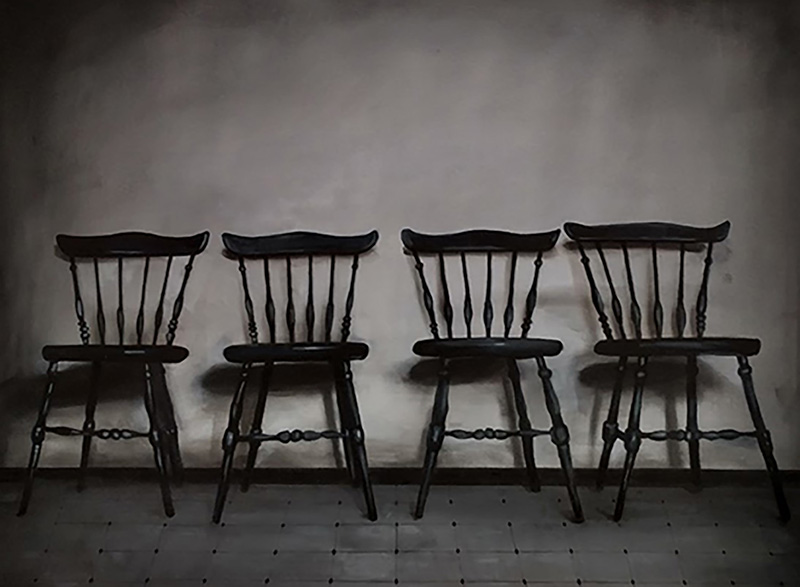 Benefactor Alex Roush said he and his wife, Susan, were awed by Childers' kindness.
"We are overwhelmed by Nathan's generosity and commitment to UWG," he said. "The originality of his actions and his passion to contribute to something larger will make a huge difference in the lives of many young adults."
The future for Childers looks bright. He is the recipient of a Graduate Council Fellowship Award from the University of Alabama in Tuscaloosa and will use the award to launch his studies in the MFA program in painting there. He hopes to begin his career as a painter and portrait artist, teaching future painters in the discipline.
Childers hopes others are inspired by his story.
"There is no unending well of help for people," said Childers. "At UWG, people care about your success and are willing to help."
For more information about how you can support UWG students through an endowment, scholarship or annual giving, please visit the UWG Give West page.