UWG Expands Dual Enrollment Program with Douglas County School System
Share this page
Aug. 7, 2023
Reading time: 2 minutes, 33 seconds
The University of West Georgia and the Douglas County School System are pleased to announce the signing of a groundbreaking partnership that will place hundreds of high-school students in a professional film and television production environment as part of UWG's Dual Enrollment program.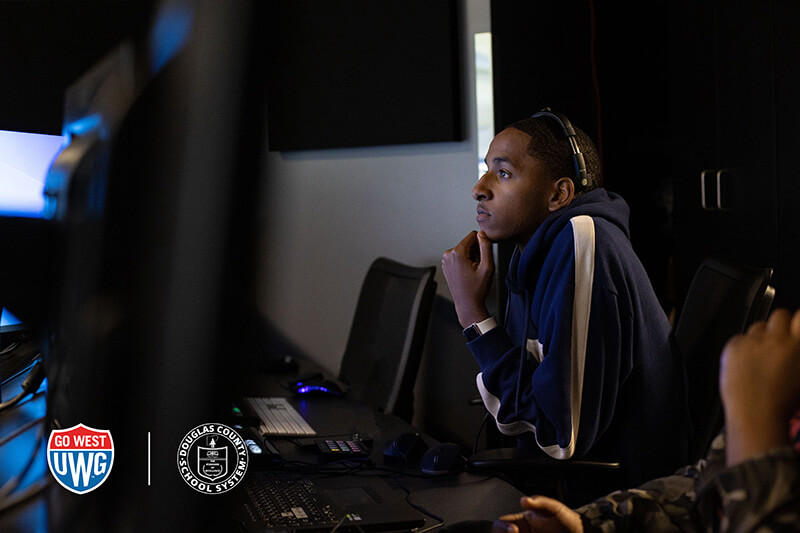 The announcement follows UWG's signing of a partnership agreement with Great Point Studios – the company currently constructing a 500,000-square-foot film and television complex in Douglas County. The memorandum of understanding (MOU) signed between UWG and DCSS will enable students from Douglas County high schools to leverage the opportunity alongside post-secondary students.
"As part of our commitment to empowering our local community, we are delighted to partner with Douglas County Schools to extend this exceptional opportunity to high school students in Douglas County," said Dr. Jon Preston, UWG's provost and senior vice president for academic affairs. "By opening the doors of this world-class film studio to aspiring young filmmakers and media enthusiasts, we aim to foster a passion for creative expression and provide a platform for students to explore their potential in the ever-evolving world of media production. We are grateful to Douglas County Schools, as well as Great Point Studios, for partnering with us on this important work."
Key elements of the partnership include:
Enhanced Academic Programs: The partnership will enable UWG to offer students cutting-edge courses and stackable credentials aligned with industry demands, fostering a generation of highly skilled professionals in the rapidly evolving media and computing industries.
State-of-the-Art Facilities: DCSS students will have access to world-class studio and production facilities, including sound stages, video editing suites and computing equipment. This collaboration will enable students to gain hands-on experience in a real-world production environment.
Experiential Learning Opportunities: Through workshops, seminars, and mentorship programs, students will receive invaluable guidance from industry professionals, preparing them for successful careers in the film and media sectors.
Economic Development: By developing a local talent pool and facilitating job placements, the partnership aims to drive economic growth, expand career opportunities, and meet the workforce needs of Georgia's thriving film and media industry.
Trent North '91 '97, superintendent of the Douglas County School System, said the partnership will equip students with the skills and experiences that will serve them well beyond the classroom.
"We believe learning extends past the boundaries of a school building," said North, a UWG alumnus and current student in UWG's doctorate in school improvement program. "Not only does this opportunity enhance our students' skill sets, but it also taps into our local talent and cultivates economic growth in our community. When using local creative talent, Douglas County contributes rich local expertise and innovative student talent to the film and television industry. This partnership invests in our district's mission to create the next generation of thinkers, leaders and creators."
The memorandum of understanding (MOU) signed by both organizations began July 1, 2023, and both DCSS and UWG are committed to a long-term partnership to benefit the community and local economy for years to come.
To learn more about how you or your student can experience this opportunity and enroll in courses, please contact UWG's Office of the Provost at provost@westga.edu.