UWG Hosts Inaugural Economic Outlook Event Focused on Newnan, Coweta
Share this page
May 18, 2022
Reading time: 2 minutes, 25 seconds
The University of West Georgia hosted the inaugural Economic Outlook: Newnan Monday, with business, government and community leaders from Coweta County gathering to discuss the local economy and what to expect in the coming year.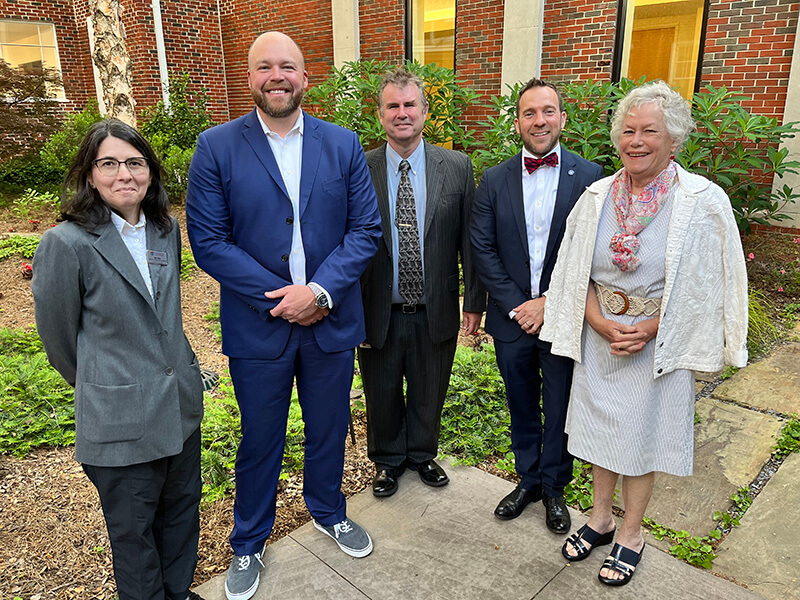 The event, held at UWG Newnan and sponsored by Newnan Utilities, featured two experts speaking on both the current economic conditions and indicators signifying the potential strengths and weaknesses of the economy.
"It is important for UWG to leverage the talent capacity we have at the university to provide information to the community in a thoughtful way," said Dr. Russell Crutchfield, UWG's associate vice president and chief of staff. "As part of our dedication to curating a first-choice university, we must be an economic and intellectual engine for companies, communities and organizations through mutually beneficial partnerships like the ones that make an event like this possible."
Attendees heard from Brent Meyer, assistant vice president and economist for the Federal Reserve Bank of Atlanta, and Dr. William "Joey" Smith, chair of the Department of Economics in UWG's Richards College of Business and David A. Johnson Distinguished Scholar.
Smith shared that Coweta County is "doing well" economically, with the highest employment growth in the region and with the number of unemployment insurance claims down 89.6 percent from March 2021 to March 2022.
"Four-percent unemployment is what we typically consider the bottom of the structural unemployment you experience in an expansionary period," Smith said. "But Coweta is at 2.9 percent unemployment, and every county in the west Georgia region is below 4 percent."
Smith said Coweta has made gains in its labor force over the past two years, with more than 2,000 additional workers in the labor force than before the pandemic.
"The so-called Great Resignation started before COVID-19, but it was exacerbated by the pandemic," Smith said, sharing that individuals removed themselves from the labor force for a variety of reasons. "Nationally, the labor force is still down, but locally it's fully recovered and even surpassed pre-pandemic levels."
Both Meyer and Smith provided insight on key economic issues impacting global, national and local economies.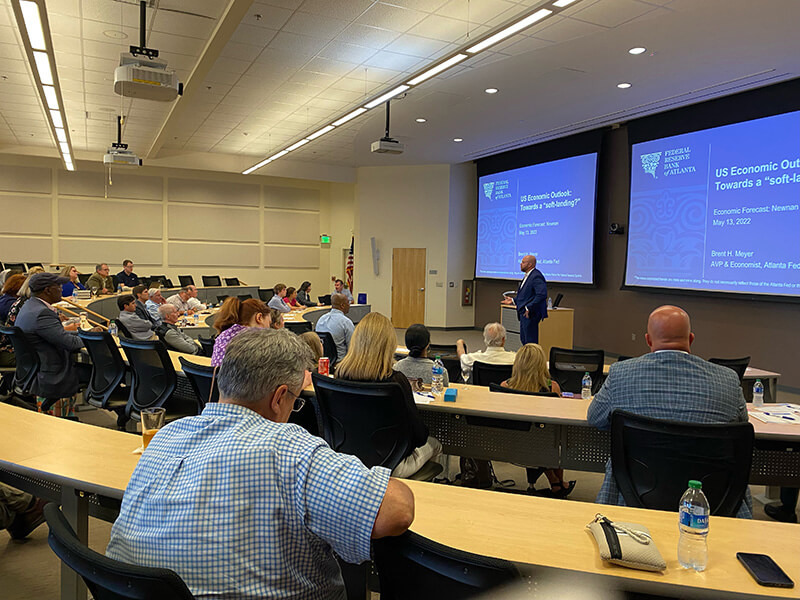 "As the pandemic wore on, supply chains faltered and labor markets at a national level tightened significantly, with firms trying to hire a lot of workers but still experiencing a shortfall of hires over vacancies," Meyer said. "That has made it difficult to generate the large employment and supply gains needed to satisfy demand."
Meyer said there is much discussion at the Fed on the prospective "soft landing" from the pandemic in an economic sense.
"Monetary policymakers can't affect supply very much, but they can affect demand," he said. "Our goal is to slow inflation and bring demand in line with supply without creating a recession."
Smith shared that organizers plan to host the event annually to pair with the annual Economic Forecast Breakfast held by the Center for Business and Economic Research each fall. This year's Economic Forecast Breakfast will be held Tuesday, Nov. 1, at UWG's Carrollton campus.