by Colton Campbell
During University of West Georgia alumna Taylor Enfinger's yearlong sojourn around the globe, home was wherever the Wi-Fi was.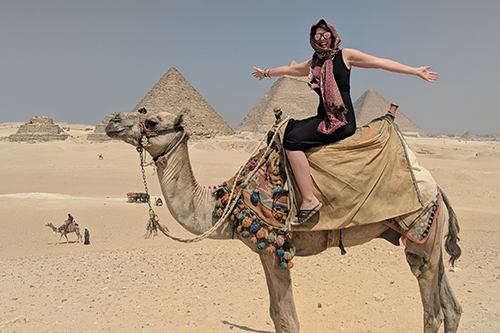 Enfinger recently arrived stateside after a year abroad in more than a dozen different countries as a participant in Remote Year, a company that helps people interested in working remotely with the logistics of maintaining their current positions while traveling for a year.
That's right – Enfinger got to see the world over the past year and remain in her full-time position as a director of technology at the Atlanta-based ANNUITAS, a business-to-business marketing firm.
"Saying the experience was surreal is an understatement," said Enfinger, a Dallas, Georgia, native who earned both her bachelor's and master's degrees in UWG's Richards College of Business. "I was able to integrate myself in the places I lived and do my small part to leave them better than I found them."
Enfinger improved her dozen home countries – including South Africa, Egypt, Romania and Argentina – through community service. During a stint in Bogota, Colombia, she worked with an organization called TECHO to construct housing.
"I had to balance all of that volunteer work with a full-time job, though," she said. "But as long as I had good Wi-Fi and a quiet place to plug into meetings, I was good. The trip completely changed my attitude toward work-life balance, something that's always been a challenge for me. I learned that even though I love my career, there are things out there more important than work."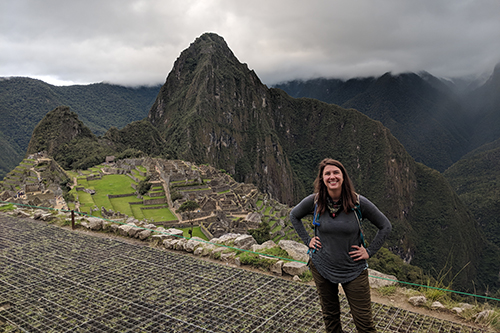 As a director of technology for ANNUITAS with more than seven years of marketing experience, Enfinger serves as the technology lead for her client accounts and leads the implementation of demand generation strategies as well as the implementation of marketing technologies for Fortune 500 companies within the U.S. and abroad.
Enfinger is a three-time Marketo Champion, five-time Marketo Certified Expert, a Marketo Certified Solutions Architect and a Certified SFDC Administrator. She was also awarded the prestigious 30 Under 30 award from UWG in 2016 for her significant contribution in her career industry and ongoing dedication to UWG.
Enfinger received her bachelor's degree in business administration from the Richards College of Business in 2012 before enrolling in the master of business administration degree program, from which she graduated two years later.

"I chose UWG because I wanted to be close to home, but far enough to have the real college experience," Enfinger said. "After I took the first campus tour, I saw how much personality UWG and Carrollton have, and when I compared the university to other schools I was considering, I liked how UWG has a small-town feel but you can do big things there."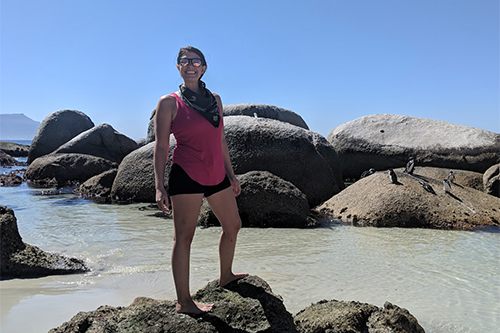 Before her trip, Enfinger said she appreciated how professors at UWG were constantly pushing her to be better.
"Some professors would administer exams that weren't hard, per se, but just challenged you to think outside the box," Enfinger said in spring 2018 before departing for her remote year. "It wasn't about memorizing a laundry list of facts or filling in the blanks. At the time, it was challenging, but I look back on it now and it was such a rewarding experience to have such great professors who had your best interest at heart."
Now, after her experience, Enfinger has doubled down on how influential her UWG professors were in bringing her to the point where she would embrace an opportunity like the one she's had.
"A lot of my professors throughout my undergraduate and graduate studies focused on pushing me outside my comfort zone and telling me not to accept the status quo," Enfinger said. "That's been a huge inspiration in my life and career, and it's a big reason why I took the leap of faith to travel the world for a year."
Posted on