by Gerri Marroquin
To be acknowledged through formal recognition from your colleagues or peers is a great honor, rarely seen. It's even more rare that one is able to leave such a lasting impression to be recognized for work accomplished more than five years ago, but University of West Georgia's Dr. George Kieh has made it happen. He recently received the Georgia Conference of the American Association of University Professors' Warren Akin IV Award for 2016.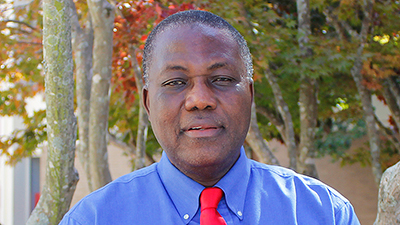 Kieh, who is a professor of political science, was recognized for his service as dean of the College of Arts and Sciences (COAS) at UWG from 2009-2010.
"This award was quite a surprise for me because all that I strive to do, both professionally and personally, is based on my conviction, not with the expectations of being awarded," Kieh said.
The award is given in recognition of special service to education and the principle of academic freedom. Kieh's work epitomizes special service and commitment to education, UWG and its students, as he was able to accomplish many great things during his time as COAS dean that still have an impact on the college.
He restructured college governance to give voice to the faculty, staff and students, established awards to recognize excellence in teaching, research and service, and established a newsletter and Scholarly and Creative Activities Gazette to inform the UWG community about the research and activities of the college.
"The Akin Award comes from my colleagues, which makes it the greatest honor I have received in my career," he said.
Kieh is the third recipient from UWG to receive the Warren Akin IV Award, following Melvin T. Steely in 1993 and Donald Wagner in 2001.
The Warren Akin IV Award is named after Akin, a charter member and the first president when AAUP was established at what is now Georgia Highlands College. Akin served on the Floyd College faculty for nine years, ultimately as associate professor of English. During his life he embraced modesty and had a quiet self-confidence. He possessed a respect for sound thinking and a visceral penchant for justice. He was president of the AAUP's Georgia State Conference from 1981 to 1983. At the time of his death in 1983, he was on a leave of absence from the college and was serving as a staff member of the Governor's Educational Review Commission.
Posted on