by Colton Campbell
When Jane Hawksworth was 8 years old, her family left South Africa and immigrated to the United States. Her parents wanted a better life and more opportunities for Jane and her two younger sisters.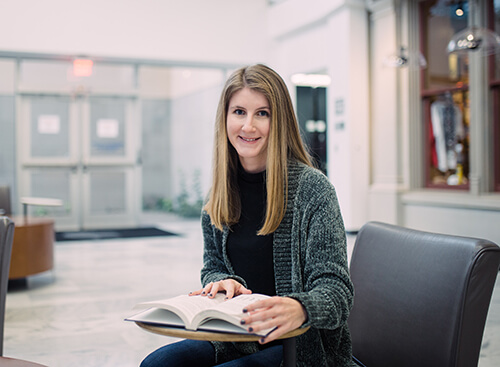 Now, more than a decade later, the sacrifices the Hawksworth family made by leaving their homeland are coming to fruition as Jane readies to graduate with a master's degree – thanks to a $10,000 scholarship she received this year to continue her studies at the University of West Georgia.
"When I started at UWG, I was still learning who I was," said Hawksworth, who graduated from the Richards College of Business last December with bachelor's degrees in accounting and finance. "Spending more than five years here has really given my life a structure and given myself goals to work toward. Now, I'm seeing all the years of hard work come to fruition and a new beginning just around the corner."
It'll be two December graduations in a row for Hawksworth, who will walk the stage again Dec. 15, earning her master's degree in public accountancy (MPAcc).
After graduating, she'll leverage her current internship in the Atlanta office of CliftonLarsonAllen – a Minnesota-based accounting firm – into a full-time job. She also treasures an internship she enjoyed earlier this year in the human resources division at Southwire in Carrollton.
"I wouldn't have had the transformative experiences I've had in the past five years without UWG, the lifelong friends I've made here and the amazing relationships I've established with faculty members who have worked to ensure my success at every turn," Hawksworth said.
One of those supportive faculty members – Dr. Ron Colley in Richards College of Business' Department of Accounting and Finance – nominated Hawksworth for a national scholarship awarded by the Public Company Accounting Oversight Board (PCAOB), which funds the program to provide a source of funding to encourage outstanding undergraduate and graduate students to pursue a career in auditing.
One student from each of 332 colleges and universities deemed worthy by PCAOB in the country receives the $10,000 scholarship. Hawksworth was surprised when she learned she was the recipient from UWG.
"I thought it was an honor just to be nominated, but I'm so proud and humbled to represent the university in this way," Hawksworth said. "I've had to pay my way through school ever since I started, working at several odd jobs off campus, so receiving this scholarship went a long way toward removing that burden and helping me focus on my classes and internship. That's made this past year, earning my master's, a whole lot easier than it could've been."
Under the Sarbanes-Oxley Act of 2002, monetary penalties imposed by the PCAOB must be used to fund merit scholarships for students in accredited accounting degree programs. This year, the PCAOB awarded a $10,000 scholarship to one student at 332 colleges and universities.
This is the eighth year the PCAOB has funded scholarships. Participating educational institutions nominate a scholarship recipient from the students enrolled in their accounting degree programs.
The PCAOB scholarship isn't the only one Hawksworth has landed since starting at UWG. She's also benefited from the Maj. Gen. John A. Beall Scholarship; the Naomi L. Satterfield Scholarship; and the Jeffries-Best Scholarship – all of which she said helped her immensely on her educational journey.
Hawksworth is a member of the UWG Accounting Honor Society and UWG Accounting Club and has been on the dean's list every semester during her college career. She graduated with her bachelor's degree – the first in her family to do so in the United States – with a 3.9 grade point average.
Because of her grades, she's been named a UWG Ingram Scholar, which is a select group of students chosen each fall who have a GPA of at least 3.75 and 29 credit hours or more. Ingram Scholars are among the top 2 percent of UWG undergraduates.
Hawksworth's next goal? Passing the Certified Public Accountant (CPA) exam. One day she'd like to be in management so she can help other people "succeed and grow," she said.
"My parents have always taken education very seriously," Hawksworth said. "They're grateful that I've received such a challenging education here at UWG that has helped me become a better student and that has prepared me well for a job in the real world. My family has had to sacrifice so much in order to see my sisters and me succeed. That's where my drive comes from."
Posted on