by Julie Lineback
Working Like a Dog
Ask any student at South Salem Elementary what his or her favorite part of school is, and you'll get a quick answer – Mr. Booker T. Pug.
Play video
Meghen Bassel talks about her work with Booker T. Pug.
Booker is a 3-year-old reading therapy dog who hangs out in the school's media center. Aside from a case of the occasional "zoomies" – what media specialist and handler Meghen Bassel calls extreme bursts of energy that propel the pug around the library – Booker spends his working hours doing a simple, yet effective, job.
"Booker offers a nonjudgmental environment for kids to practice reading," said Bassel, who's currently enrolled in the University of West Georgia College of Education's school library media specialist program. "He's not going to notice if they said a word incorrectly, missed a word or didn't attempt a word. He will simply sit and listen."
Studies have long shown the correlation between reading proficiency and increased academic performance and positive attitudes about school.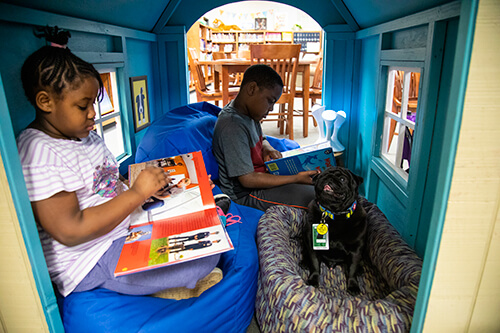 According to Get Georgia Reading, the first major milestone for any child's educational success is the ability to read proficiently by the end of third grade. Currently, two-thirds of the state's third-graders are not there yet, which could lead to long-term consequences for children and families and inevitably far-reaching repercussions for communities. These children are more likely to be in poor health and have discipline problems. They are also four times more likely to drop out of high school.
Bassel leads a two-pronged program at South Salem. There are almost 1,000 students at South Salem, and each one visits the media center at least once a week. Booker helps children with their reading skills, and students can also earn visits with him as a reward for good behavior.
"I love watching the students start the program with him and seeing the changes that happen in those students," she shared. "They become proud of their reading abilities and walk around with more confidence."
Puppy Love
Bassel wasn't always a media specialist, and Booker wasn't always a therapy dog.
Bassel – who earned her bachelor's degree in computer science and master's degree in school library media from UWG in 2001 and 2015 respectively – spent more than a decade as a software engineer. She began to experience burnout and felt driven to a career change that she both enjoyed and found rewarding.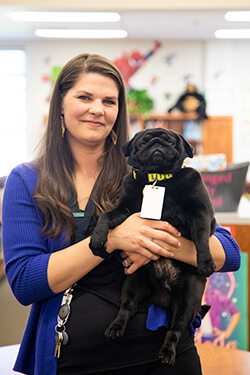 "I liked the idea of being a media specialist because there's a certain amount of freedom with what you get to expose students to," Bassel shared. "I also liked the idea of working with all the students in the building, not just one grade level."
She also knew she wanted to incorporate a dog into her media center.
"After talking with other media specialists who had dogs visit on a weekly basis, the biggest complaint I heard was the dogs weren't there enough," Bassel said. "They need to be able to service the most number of students."
With support from school administration and armed with research completed at UWG while studying for her master's degree, Bassel gained approval from district personnel.
"I had been incorporating my idea of the therapy dog program into my assignments so I had the idea of doing it before I was ever a media specialist," she said. "The UWG school library media faculty helped me discover the areas I needed to focus on and helped me navigate the speed bumps I would experience with encouragement."
But completing the assignments and filing the paperwork was easier than finding the right dog, she explained.
Bassel, who breeds Welsh springer spaniels, began to look for a healthy, well-bred dog that was small and sturdy with a nonthreatening temperament. After an extensive eight-month process, she found a breeder in Ohio willing to donate a 1-year-old pug who needed a forever home.
"The breeder already taught Booker a lot of traits needed in a good therapy dog, like socialization," Bassel recalled. "All I had to do was start training him the specific skills he needed to pass his certification test."
Booker is certified by Therapy Dogs International (TDI), a nonprofit organization that regulates, tests and registers dogs and their handlers for visitations to nursing homes, hospitals, schools and other places their services are needed. TDI operates the Tail Waggin' Tutors program, of which Booker is a member.
And although Booker's days would eventually consist of snoring and snuggles, Bassel said the certification process was intense. The four-hour test, which she explained only 10 percent of dogs pass, consisted of navigating around people in wheelchairs or with walkers, dodging objects, and being exposed to very loud noises without a reaction or recovering quickly from a reaction.
"When dogs get certified by TDI, it's not just for one setting," Bassel said. "Booker visits retirement and nursing homes during the summer and during the school year he's here every day, so he needs to be able to handle all those situations."
Pug Life
When Booker's breeder donated him to Bassel's program, Bassel promised she would make the pug a champion. At an Atlanta show last October, Booker – who goes by Black Ops in the ring – earned his championship title.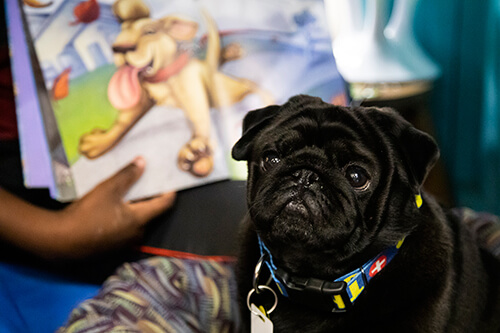 "The judges really thought he was a quality dog," Bassel boasted.
She was also intent on keeping another promise – one she had made years ago to herself and her students.
"One of my biggest goals is to expose these children to the limitless possibilities in life," Bassel said. "Being able to show them there are things outside of Newton County and the state of Georgia is one of the greatest responsibilities and joys I've had."
For that reason, Bassel and Booker traveled in February to New York City, where he placed sixth out of 27 pugs and won an Award of Merit at the prestigious 143rd Westminster Kennel Club Dog Show.
"I wanted the students to see their dog do big things in new places," she shared.
Faculty and staff at South Salem Elementary School incorporated the trip into their lessons. Some of the children learned about New York City, and some studied the history of dog shows. Bassel chronicled her Big Apple journey with Booker on Facebook, and the students were able to livestream the competition.
"They were all very proud of their dog," she exclaimed. "I hope it ignited a little spark of potential too."
Although Bassel stated that Booker would still make spot appearances at dog shows, his main purpose and focus remains making a difference in the lives of children.
"We've had students who become different children because of him and the program," Bassel concluded. "They're no longer afraid of picking up books and reading in front of the class, whereas before they would whisper or pass on the opportunity. They jump at the chance now. It's amazing to see. One little dog."
Good boy, Booker.
Video and photography by Julia Mothersole
Posted on