by Sheryl Marlar
The U.S. Air Force knows him as Lt. Col. James G. Martin, a reservist who's served in the Nurse Corps for 14 years.
The University of West Georgia knows him as Jim Martin, nurse practitioner and proud alumnus, who earned a bachelor's degree in nursing in 1993.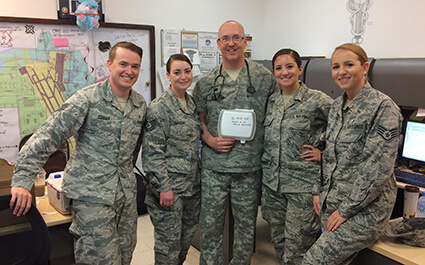 As a nurse practitioner for the last 20 years, Martin has served patients in a variety of settings from the emergency room to UWG's Department of Health Services, where he has been employed for 10 years.
In addition, Martin's military career has kept him busy for the last 14 years.
In accumulating more than 500 flying hours, he has earned numerous medals and awards, including a Meritorious Service Medal, while serving as chief nurse executive for an aeromedical staging squadron.
He served as a flight nurse with deployments in 2005 and 2009 in support of operations Iraqi Freedom and Enduring Freedom, which resulted in his being awarded the Air Medal and Aerial Achievement Medal.
Martin's most-recent deployment was from January to August last year at Al Udeid Air Base in Qatar. There, he served as a family nurse practitioner in support of Operation Inherent Resolve.
Martin didn't always plan on a career in the medical profession.
"I was originally an aerospace engineer student minoring in physics," he said.
After coming to West Georgia in the 1980s, Martin saw new possibilities and became a student athletic trainer, which led him into emergency management work as a paramedic. He had previously attended North Georgia College in Dahlonega, but fell in love with his soon-to-be wife, who attended West Georgia.
After their marriage, Martin and his wife, Kim, tried unsuccessfully to have children for several years.
"I believe centric to life's success over challenges is faith," Martin explained. "Kim and I had to rest our heartache of trying to have children for seven years."
But all that changed on September 11, 2001.
"September 11, 2001, was a day of tragedy and a day of reassurance as Kim was found to be pregnant," Martin reflected.
The tragedy of that day was one of the factors that influenced Martin to enlist three years later.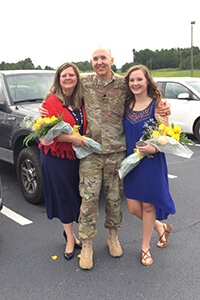 "Our faith has been a cornerstone to survive the burden and fears of many challenges in life to include dealing with combat trauma during three deployments," Martin said.
Martin had some strong advice for younger generations of college students.
"Turn the focus of your phone away from yourself and focus on the world around you," he said. "Stay true to your faith and values and care for others with a non-judging lens. And, lastly, champion the art of respecting others, despite cultural differences and life's circumstances."
Martin sees the balance of work and life as an ongoing struggle, with time management being paramount to success as a husband, father, military soldier and health services medical provider – a feat he feels he never could have accomplished without the enduring support of his wife, daughter, family and friends.
"It is truly an honor and privilege to serve the men and women of this country as a medical provider," Martin concluded. "They are willing to sacrifice their lives for our current freedoms, in which we engage on a daily basis. The ability to express ourselves freely as we walk on the very campus of UWG is a benefit defended daily by an American soldier."
Posted on