by Julie Lineback
As a member of the national award-winning University of West Georgia cheerleading program and College of Education alumna, Taylor Jordan '18 has already conquered by land. Now she is making her mark on the high seas as an artist performing with the Cirque du Soleil troupe onboard the MSC Meraviglia.
Play video
Taylor Jordan talks about UWG cheer and Cirque du Soleil.
And she could also be the only Wolf to receive her degree on a ship in Europe.
Jordan, who began gymnastics at a young age, has been cheering for 12 years. She spent seven years with Icon All-Stars in addition to her middle and high school cheer teams.
When it came time to choose a college, she didn't have to look far.
"I chose UWG because of the cheerleading program," she reflected. "There were several other aspects that drew me to Carrollton, like being in-state and attending school with some of my closest friends, but ultimately the success of the cheerleading program is what drew me in."
T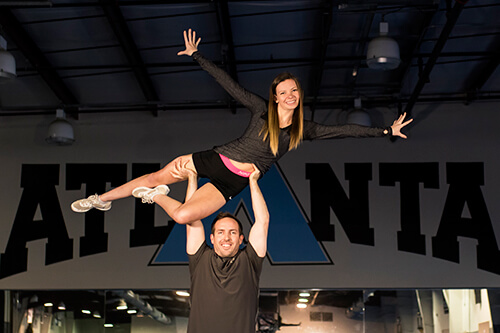 he UWG cheerleading dynasty has an expansive history with the Universal Cheerleading Association, winning 24 championships since 2001. Jordan was an integral part of the team for four of those years, winning nationals with UWG co-ed and partner-stunt with the all-girl squad.
While enrolled, coaches Brian and Nicole Nichols were a main source of inspiration for Jordan.
"They are hands down some of the most passionate people I know," Jordan said. "They truly cared about my success both in- and outside practices. It didn't matter the time of day, question or need – they were always willing to help. At every chance they wanted me to exceed even my own high expectations and reach my full potential."
While at UWG, she also met boyfriend and current Cirque at Sea partner Trey Forsyth. Forsyth, also a former member of UWG Cheer, was one of the first cheerleaders to ever be featured in a Cirque du Soleil show.
(Story continues below gallery ...)
"Trey started with Cirque a year before I did with a different partner and absolutely loved it," Jordan said. "He thought that it was the greatest job he could've imagined. So when he came back I decided to try joining the adventure as his new partner."
As fate would have it, Jordan, a senior sport management major in the College of Education, also needed to choose an internship for her capstone project to fulfill graduation requirements. Interning with Cirque du Soleil would allow her to balance both work and education simultaneously.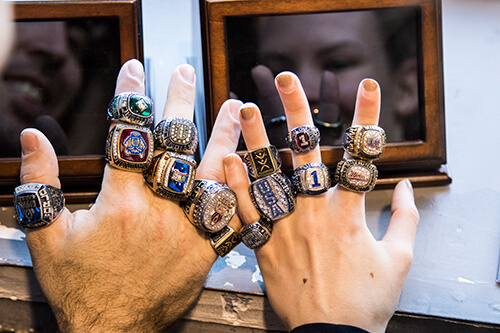 So like countless others wanting to work for Cirque du Soleil, Jordan had to submit an application and audition video. From there, she was contacted by directors and worked with COE faculty to set up the internship.
"People try for years to get into Cirque, and they're in the database applying for tons of shows before they get in," Jordan explained. "Cheer is new to Cirque so there were a ton of cheer couples who applied to be in the show. Because of Trey I was able to know the right people and get my foot in the door."
Once she received the job offer, she traveled to Cirque du Soleil's international headquarters in Montreal, where she was fitted for her costumes and learned the makeup techniques and choreography of the shows.
Jordan said her time at UWG taught her valuable life lessons that she carries with her today – how to be an effective team player and a leader.
"West Georgia is a big reason I am with Cirque," shared Jordan. "The cheerleading program helped tremendously – I learned everything that I know about co-ed stunting – and the courses taught me about how companies like Cirque operate."
Jordan, also a member of the 2017 world champion Team USA, said the main difference between cheerleading and Cirque du Soleil is that with cheerleading, she was training all year for one or two competitions. These days she's training for two shows each night.
"Sonor" and "Viaggio" are the two shows that Jordan performs six nights a week, each 45 minutes in duration with seven acts. The dark and intense "Sonor" accompanies "Viaggio," which she described as colorful and bouncy. While Jordan participates in various acts, she and Forsyth serve as the main act who perform the finale in each show.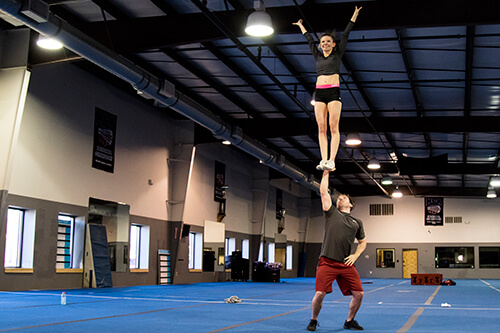 "We love performing, and the crowd is new every single show," she described. "So even though it's your 12th show that week, it's the crowd's first show they've seen you in so you want to give every single performance your best."
The eclectic Cirque at Sea troupe members come from all corners of the world with each contract bringing new people. The cast consists of 15 artists, six technicians, one physiotherapist and one wardrobe technician.
"One of the best parts of my job is being around so many different people from different backgrounds and cultures," Jordan shared. "We live on the ship – it's small quarters, and you become very close to everybody you work with because you live right next door to them and see them every day. It's very cool, but it definitely takes a certain personality to make it work."
Jordan explained that on their normal Mediterranean route, the Meraviglia docks at a new location six days every week. On the North Sea route, it ports four to five times every week. Last season's stint was 10 months long, in which the ship stopped in 18 countries, including Malta, Spain and Iceland.
While the evenings are busy with two shows a night, Jordan and the rest of the crew have their days free to explore exotic locations and keep in peak physical form.
"Keeping up with our physical ability is imperative in this industry," she explained. "You can't take a day off because you're feeling sore. You have to make sure that your body is physically able to do the stunts that you are telling it to do every single day. It's definitely a mental and physical upkeep of your mind and body."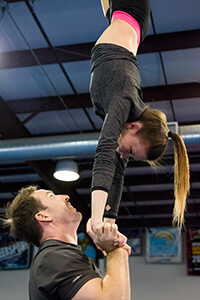 Flexibility – of various kinds – is a crucial trait to have when you work on a cruise ship.
"The sea is very unpredictable," Jordan explained. "It's important to increase the difficulty of our skills so we can modify them in the event of bad weather. Sometimes it will be calm seas right up until the show, and then you approach a squall or storm. That can change things. You just have to be able to adjust on the fly and figure it out quickly so you can still put on a good show for the audience."
Before wrapping up her first season with Cirque at Sea, Jordan signed a new contract and will continue living her dream in 2019.
"Not very many people stay in cheerleading for as long as I have," Jordan concluded. "Being able to make it my profession is something few people get to do – there's just not many places for people to do it. We feel like we're opening doors for the future and now there's somewhere for the next generation to strive to go. Every day is a highlight."
Videography and photography by Julia Mothersole
Gallery photography submitted

Posted on