by Victoria Collier and Amy K. Lavender
When working in a hushed historic archive, hearing the iconic riff from Led Zeppelin's "Whole lot of Love" echoing through the halls is the last thing anyone would expect. But on a recent trip to Mexico, that's exactly what the University of West Georgia's Head of Instructional Services at Ingram Library Anne Barnhart experienced while searching through archives in Guadalajara.
"There I am, taking pictures of documents from 1816 in this archive in Mexico, and a young woman who worked for the archive was in there with me. All of a sudden her phone rings, and she has Led Zeppelin as her ringtone," Barnhart laughed.
Barnhart says it's moments like these that highlight just how similar people are from culture to culture: we all love, we all laugh, we all learn and we all love music.
"She was younger than I am, and that album came out in 1969, so it was all just cross cultural and cross generational and was so incongruous, but that was pretty great," Barnhart said.
A Globalized World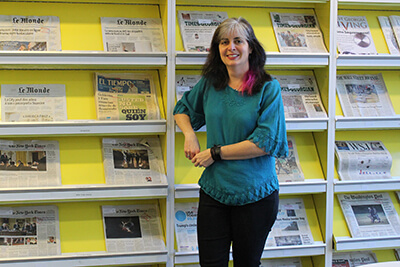 Her passion for language, defying cultural boundaries and her advocacy for studies in foreign language and the advancement in library studies has led Barnhart to many countries in Central and South America. Each time she travels, she shares her knowledge with Spanish-speaking librarians. Most recently, the University of Guadalajara invited Barnhart to teach their librarians how to use Mendeley, a reference management software and academic research network.
"I spent a few days in Guadalajara doing a workshop, teaching local faculty about Mendeley," Barnhart said. "But I also tried to make the most of my time by doing a little acquisition for a colleague."
In fact, when she was sitting in the archives in Mexico taking pictures (and listening to a Led Zeppelin ring tone), she was photographing a manuscript for History Professor Gary VanValen.
"He was really excited that I would be in the same city as the manuscript he was studying, so I was happy to spend a day taking the pictures he needed (about 600 of them) to continue his research," Barnhart said. "And Guadalajara has a great book fair, so I was able to bring back a few texts that we wouldn't normally have. So the trip was a great opportunity to share information as well as gather some extra resources for the library and faculty."
Barnhart says it's all just part of the job. As the head of Instructional Services, she is responsible for supervising eight tenured faculty members, and her department oversees the reference desk and liaison program, which collects material for each academic department.
Language and the Library
Of course, acquisition is also part of her passion. The books she acquired are in Spanish. As someone who is fluent in the language, Barnhart sees the importance of incorporating Spanish-language materials at Ingram Library as well as libraries throughout our community.
Barnhart agrees that more Spanish-speaking people would use libraries if more librarians spoke at least some Spanish. But while many librarians who specialize in Latin American studies are fluent in Spanish, the number of Spanish-speaking librarians is not growing at the same rate as the Spanish-speaking population. However, Barnhart says this is an issue that librarians can overcome.
"The goal is to not necessarily to get people speaking Spanish, but for them to not be afraid of it," she explained.
She pointed out that most librarians, regardless of the kind of library they work in, will eventually encounter a Spanish-speaking user—if they haven't done so already. So as a way to combat the language gap, she continues to educate others in her field how they can cater to this growing demographic. In fact, she recently taught an eight-week online course for the University of Illinois to teach a class on Spanish information resources for Spanish-speaking populations.
But Barnhart's cultural education efforts don't stop in the classroom.
Gaining Cultural Experiences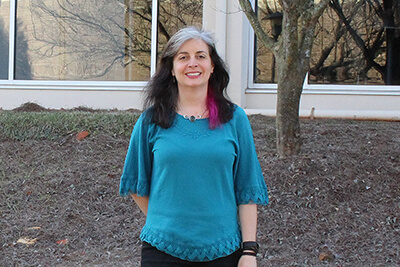 "I think of myself as a cultural ambassador," Barnhart said.
Barnhart believes you can gain the most insight when you share cultural experiences. Traveling has provided her with a unique perspective of the world.
"I love to travel and hang out and go to a coffee shop and start talking to people. To be able to see other people's point of view is so important for understanding them and their culture, but so is sharing your own," she said. "Just by interacting with people in very casual settings when I travel, I've been able to dispel stereotypes and assumptions about my own culture as well as bring back information to my colleagues and our students about the people and places I visit."
She says it's important for the library to be worldly in every sense of the word because it is the hub on campus for information in all subjects. And she's proud to be part of Ingram Library's efforts on that front.
In the near future, Barnhart hopes to help increase those efforts and propose an interdisciplinary studies class, "What do you really know about Mexico?," and try to include a short-term study abroad as part of the curriculum so that hospitality and tourism majors from the University of Guadalajara can give tours to UWG students.
"I want to break down the barriers of stereotypes," Barnhart said. "I think that if students from here could actually talk to their peers there, they could learn a lot about themselves and the assumptions that they have."
Posted on