by Jessica Murphy
University of West Georgia alumna Megan Bell has a love for books that has continued to grow and flourish over the years. As a result, she is now the co-owner of two independent bookstores.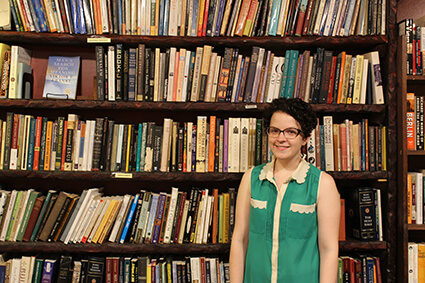 Bell graduated from UWG with a bachelor's degree in English in 2013, but her love of books and the written word has deeper roots that started well before her collegiate career.
"My mother couldn't provide a lot of basic needs for my siblings and me, but she always provided books," Bell mentioned. "Books practically raised me; it's kind of like home."

During her freshman year of college, Bell discovered Underground Books a couple of weeks after it opened. She fell in love with it instantly.

"I walked in about two weeks after Josh Neisse opened the store and was immediately charmed by the bookstore and its proprietor, and basically I didn't leave for several months," Bell explained.

Bell began helping out Neisse at the bookstore. She did different tasks around the store and attended book fairs. After graduating from UWG, she began working at the store full time as co-owner, where she also does the research and cataloging of Underground Books' rare and antiquarian inventory.

"The books themselves add a lot of character and personality to the bookstore," Bell said. "And the books that we get in over the counter are a reflection of what the people in Carrollton are reading."

Her time spent working at Underground Books has given her the opportunity to learn new things about each rare book.

"There have been times when I have sold a rare book, and I immediately went to try and find another copy of it because I realized I wasn't ready to let go of it," Bell said. "But I get to fall in love everyday with a different antiquarian book by researching them."

Bell held an online location at an off-site office and warehouse, which was then moved to the Underground Books after opening up a new store called Hills & Hamlets Bookshop in Serenbe in Chattahoochee Hills, Ga. When they opened Hills & Hamlets, they decided, like Underground Books in Carrollton, to model it as a reflection of the community and its values.

"We started thinking about it and dreaming about it," Bell said. "Then we went to Serenbe for a day visit and the principles of that community are ones that we hold dear as well. They also focus on things like art, green living and sustainability, education, health and well-being, architecture, and urban-planning."

Even though her involvement at the bookstore has become a major part of her life, Bell reminisces on her time at UWG and how it has helped shape her career.

"I often credit the English department with saving my life and totally credit them with the direction my life has taken and molding me into a productive citizen," Bell recalled. "The quality of the English department is just spectacular. I am very proud to have graduated from that program."
She also gives credit to UWG for preparing her for the educational experiences she will encounter after graduation.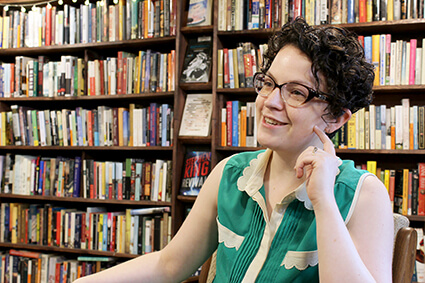 "The easiest part is continuing education, and UWG set me up in a major way," Bell said. "Even though I was studying alongside people who were from prestigious institutions, I was able to hold my own because of UWG."
After graduation, Bell received a scholarship from the Antiquarian Booksellers Association of America (ABAA) to go to the Colorado Antiquarian Book seminar. The ABAA southeast chapter also sent her to a rare book school last semester. There she was able to study under John Buchtel, head of Special Collections for Georgetown, and Mark Dimunation, chief of Rare Books and Special Collections for the Library of Congress.

"There's a really supportive community in our industry, which I think is one of the best things about book selling," Bell said. "There is a lot of mentorship and there is a recognition that we are all relying on each other; and there is an ecosystem, and that is a profession in the true sense of the word."

If there is one piece of advice Bell could give to current students, it would be to take advantage of the resources UWG has to offer.

"Do not view yourself as a customer of the university," Bell said. "View yourself as a student who is there to grow as much as you can and learn as a person. Talk to your professors. They have dedicated their lives to teaching you."
Posted on