by Emily Wurst
The University of West Georgia offers an accommodating environment for all students to succeed and thrive, both traditional and nontraditional. Thirty-five-year-old Christian Bryant, an undergraduate majoring in biology, is one example of the latter type of student, and UWG has become a place for him to plant his roots and explore his interests.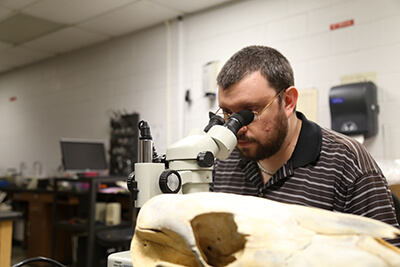 After graduating high school in 1999, Bryant was unsure of the exact path his life would take. He enrolled in an EMT program at a technical school and later spent one semester studying at UWG, which sparked his interest in the science field. Bryant then spent a few years working in the theme park industry in Orlando, Fla., before returning to UWG in the fall of 2014, where he found his passion as a biology major.
"I chose biology as my major because I love learning about all sorts of living things, how they work, how they interact with each other and their environment, and how they change," Bryant said. "I find the diversity of life to be incredibly interesting."
Bryant also has an interest in the close connection between biology and medical sciences. After graduation, he plans to attend graduate or professional school to pursue a medical degree or related research degree. His first step towards grad school is taking his MCAT. He is currently studying for the exam and plans to take it this May.
When he first returned to UWG, Bryant worried that his role as a nontraditional student would leave him feeling out of place. Much to his surprise, he found that his age would not hinder his experience. On the contrary, it has allowed him to utilize UWG's resources designed for students in his situation.
"I frequent the Center for Adult Learners and Veterans (CALV)," Bryant said. "The center is most certainly a hidden gem of the campus. The staff are all amazing and supportive. I have met some really nice people I would not have otherwise if the CALV wasn't here."
While Bryant has always had a love for learning, his experiences at UWG have propelled him to dig deeper into his studies. One aspect of his motivation has come from the professors he has encountered in his classes.
"I have been highly impressed by all of the faculty here at UWG," Bryant noted. "I have not encountered a single instructor who does not seem honestly interested in their students. I have engaged in in-depth academic discussions with almost all of my instructors during my time here, which has also increased the enjoyment of classes and college.
"Ultimately, I love learning for the sake of learning," Bryant said. "I find the pursuit of knowledge to be an incredibly worthwhile expression of who I am as a person."
Posted on