by Amy K. Lavender
University of West Georgia alumna Dawn Dininger, class of 1994, is living the Hollywood Dream – or, more precisely, the artistic version of the Hollywood Dream. Dininger has spent the last couple decades soaking up the sun in California and making some pretty memorable costumes as a special makeup effects fabricator. Her work includes the Pteranodon from "Jurassic Park III," the Minoboar in "Chronicles of Narnia: The Lion, The Witch and the Wardrobe," The Blob from "Wolverine" and the Sam Flynn suit from "Tron: Legacy."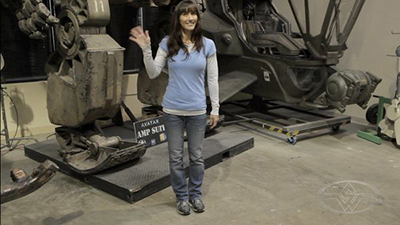 This October, Dininger will return to UWG for the first time since graduating with her bachelor's degree to share with students, faculty, staff and community members her journey from art geek and horror film fan to one of the most respected names in the business of creature creation, fabrication and special effects. She currently spends most of her time at Legacy Effects, and when she's not there she's helping out the Stan Winston School of Character Arts by making "how to" videos for students. Dininger recently took time out of her busy schedule to chat about her life behind the screen and share some memorable moments.
When did you realize that you wanted to pursue special effects fabrication as a career?
When I was 15, I met a special makeup effects artist, and it's funny because I work with him now. He came to see a friend at school, and I was like 'He does what?' I love art, and I love horror movies. So when I found out both of those things could go together, I knew that's what I wanted to do. I didn't know how to go about it though, so I went to college and got an art degree. I moved out to California and started calling up people and places trying to get started, and I ended up mentoring with Devon Ryan, who had retired from the business. I would drive an hour and a half up there and back every weekend to learn from him. He taught me everything: prosthetics, fabrications, mold making . . . just everything.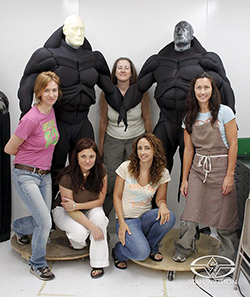 So have you been able to pass on some of that mentoring to the next generation?
Sometimes when new people work at the shop, we try to teach them stuff as we go. They already know a lot because most have gone to school for it, but it's always different when you're on the job. There is no one right way to do anything. As long as you get it done and it works like it's supposed to work in the end, then you're pretty good to do it how you think it should be done. So we try to encourage that independence and artistic freedom. But when they're newer, they'll come up to me and ask what I need them to do, and if they're helping me with a project, then I'll explain and them exactly how I would do it – just so the piece is consistent.
How do you feel your education at West Georgia helped you in your career?
I think it helped to have the foundation and basics of art. Even though I don't do painting here at the shop, it has still helped me with colors and just knowing what colors and materials work together.
What was West Georgia like when you were a student? What made you decide to Go West?
I loved West Georgia. I was there for five years since I picked a minor (mass communications). I didn't want to leave yet. I cheered all five years I was there and I was in the Alpha Gamma Delta sorority. I had a good time. I liked all my classes and my teachers were really good, and I picked West Georgia because they had a great art department. That was the main reason I chose UWG.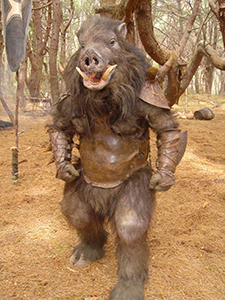 What are some of your favorite memories from working on movie sets?
I have a few, but I think especially working on the first Chronicles of Narnia movie because we made a ton of creatures. We made it so they had practical legs, and they didn't need green screens. When we went to New Zealand to shoot the film, and the first time we saw [the creatures] all out there on the field together, we couldn't believe we'd made all of them. Traveling is also a perk. I've worked in New Zealand, Australia, the Czech Republic, Colombia and several other places.
But my favorite memory of all time is working with Hugh Jackman. He is the nicest actor I've ever worked with – or anyone I've ever known, really. It was actually kinda funny because I had fabricated his Wolverine claws, and I had to follow him around the set so they'd be on hand whenever he needed them. He was just great to work with, and he was always very nice and perceptive. One day, he could tell I was struggling, so he asked me what was going on, and I ended up telling him the whole story of the relationship I was in at the time. He sat there and listened to every word, and when I was done he said, 'I'm not going to say anything, just that you deserve the best.' So about a month later, we were all together again for a photo shoot, and the first thing he asked me was, 'So, what happened?' I couldn't believe it, and I had to fill him in on everything!
Is there an aspect of the business you think students might not be aware of? Something they need to consider going into it?
Maybe how hard it is to get into the field and to work consistently because that could be a shock when you first get started. I still do freelance even though I'm at Legacy Effects most of the time. As a special effects artist, you may not have a job for months at a time. It's very inconsistent, and if you're the type of person who needs stability, this may not be the job for you. When I first started, I would waitress when I was laid off, and then it would be three months before I got another effects job. It could be more or it could be less. I know friends who've said they could not do my job simply because of that.
Posted on