by Julie Lineback
You never know where a University of West Georgia degree can take you.
Jesse Garbowski ended up in the middle of the Battle of Atlanta . . . sort of.

Play video
Garbowski is AHC's cyclorama digital interactive exhibition manager.
A 2015 alum, Garbowski was enrolled in the master's degree in public history program when he first started working at the Atlanta History Center (AHC). Today he plays a key role in the relocation of one of the city's rarest historic treasures—the Battle of Atlanta Cyclorama painting.
"I have this job specifically because of the curriculum at UWG," said Garbowski, who acts as AHC's cyclorama digital interactive exhibition manager. "We had onsite classes at the Atlanta History Center, and I was asked by the center to be interviewed for a position. It was all because of the work they had seen by UWG students."
UWG's museum studies program has worked with the Atlanta History Center since 2000. This opportunity allows students to learn from the museum staff and undertake real-world projects at the AHC.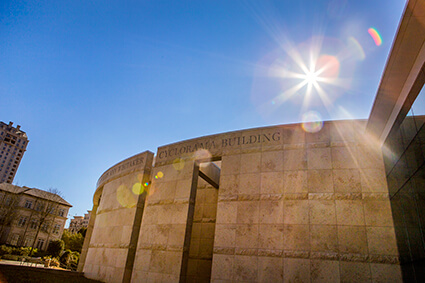 "I simply just followed the path that was laid out in the program for me, and out of that, I got hired," he recalled. "The opportunities that are presented within this program can lead to other opportunities for the future."
The Battle of Atlanta Cyclorama—a 42-foot-tall painting with a circumference of 359 feet that is estimated to weigh 12,000 pounds—depicts the Civil War's Battle of Atlanta. It attracted viewers in Grant Park from 1921 to 2017. Atlanta Mayor Kasim Reed announced on the battle's 150th anniversary in 2014 the cyclorama would be relocated to the AHC's newly constructed Lloyd and Mary Ann Whitaker Cyclorama Building.
"When you saw it in the 1980s, it was more or less like an attraction—there was a turntable you sat on that rotated while you listened to a recorded lecture," explained Garbowski.
The painting's natural hyperbolic, or hourglass, shape receded over time. The move allowed it to be restored and cared for properly in the future.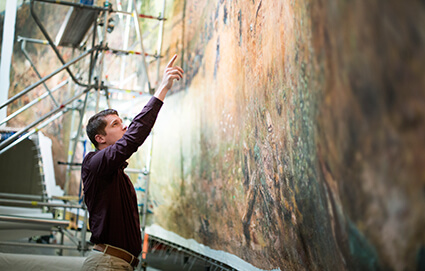 According to the AHC, natural tension applied at the top and bottom of the painting will allow it to assume its original shape. Viewers will have the experience of being enveloped by the canvas as they are lifted to the horizon line on a platform, creating one seamless view.
"Cycloramas were the major attraction before motion pictures," Garbowski described. "It created this experience of virtual reality as if you were in the scene. Right now, we're taking it back to the 1880s feel."
When the painting was originally unveiled in 1886, the Civil War was a recent history with fresh memories. Part of what Garbowski does is help transport modern visitors back in time to July 1864. Digital interactive components will allow them to view galleries and hear stories on the Battle of Atlanta, Civil War memory and how visuals shape our interpretation of the past and present.
Garbowski curates, produces and manages the digital exhibits that are a part of the Cyclorama experience.
"There's a plethora of history here that we can embed into these experiences to show how the painting looks and how its interpretations have changed over time," he explained. "There will be multiple galleries and a lot of different stories that can be told through this one single piece."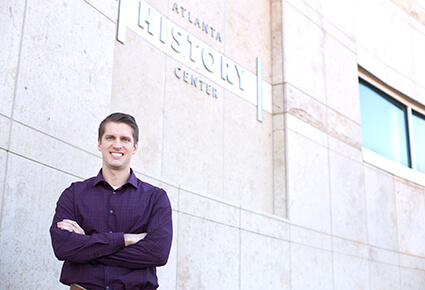 When the cyclorama opens to the public this fall, there still will be work to do.
"There are a lot of tiny pieces that come together to make this wonderful and giant experience," Garbowski said. "There's always work to be done because we continue to try and push ourselves to keep our galleries current and create new experiences for our visitors."
And Garbowski can say he has UWG to thank for his part in keeping history alive through the AHC.
"After seeing the opportunities the public history program had to offer graduate students such as working out in the field at an actual museum, it was quite obvious this was the school for me," he concluded. "Students, take those opportunities that are presented to you, because you never know who is out there watching."
Posted on