by Odera Ezenna
One of the many lessons taught here at the University of West Georgia is that practice and perseverance are keys to success. Just ask the three UWG music students who recently claimed victory in the Georgia Music Teachers Association State competition.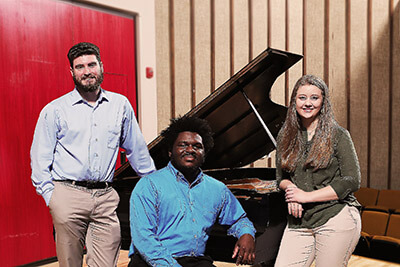 Ashlyn Dewberry, 19, Aaron Olinger, 22, and Justin Tarver, 21, each took home the highest honor of "Outstanding Performer" from the competition.
"It was a statewide competition held at UGA for all different types of instruments. We were, of course, in the piano division, and we had three pieces that we had to play from different time periods," Olinger recalled.
As the only UWG representatives at the competition, they faced off against students from schools all over Georgia, including University of Georgia and Georgia State University.
"There was a lot of stiff competition there. There were people who were playing pretty hard material, and it was nerve-wracking because it was our first competition," Olinger said.
The students competed in different class divisions based on how many semesters they had completed at the point of the competition.
"Aaron and I competed in the middle college division, and Ashlyn competed in the lower college division because of where we are in our years of study," Tarver said.
Unaware of what success awaited them, they fully dedicated to preparing for the competition, spending between two to three hours a day, seven days a week practicing.
"I remember on my sonata I took a little flashcard and I took each page, and I ticked off like I was in prison all the times I practiced. And I practiced each page, so I ticked them off on my flashcard: 1, 2, 3, 4," Dewberry said. "I had a flashcard full just from one page from practicing it again and again."
Dewberry described it as a way of learning saying, "I guess it's just a learning thing. If you're interested in doing something like that in the future, then you get to experience how it's going to go. It helps with nerves and the curiosity level was satisfied."
Although this is their first competition, these students aren't strangers to performing. Tarver is known to perform around West Georgia. His work includes recitals, ensembles and other instrumentals on campus. He is also a choir director at Our Lady of Perpetual Help church.
The three students also had recitals at the end of the spring semester.
"In the recital you have about 20-50 people in here watching you, but not judging you, they are there to listen to you. In the competition, you have one person who knows what he is talking about, judging you, and I was actually more nervous for that one person watching me than the 50 people watching me," Tarver laughed.
The students plan to use the feedback from competition as a tool to improve in their skills and build their career goals. They all plan to teach music in the future.
"I think it is already helping me," Dewberry said. "I tried some of the things, and I was like 'oh this guy knows what he's talking about!'"
Dewberry aims to continue her education until she earns her doctorate then teach students. Olinger plans to own and teach at a private teaching studio. Tarver intends to keep performing and eventually be able to teach at university level in piano, theory and any other music courses.
Dewberry, Olinger and Tarver want to express gratitude to Dr. Carol Gingerich and Dr. Kevin R. Hibbard, chair of the music department, for all their help, teachings and dedication to see them succeed. Dewberry would also like to thank Departmental Associate Justin Mayercik and Departmental Assistant Kari Ann Wester for all their help.
"We would like to thank Dr. Gingerich and Dr. Hibbard," said Tarver. "Dr. Gingerich is, of course, a good professor for piano, and Dr. Hibbard teaches us so much. So those two really helped us."
"He does a lot of administrative things for us as well," Olinger added. "If we ever have problems, he will go above and beyond to really help us out with that. They all have been very helpful."
Posted on