by Amy K. Lavender
A University of West Georgia fine arts graduate whose studies focused on painting and illustration has definitely taken the road less traveled to opening her own stationery company – Reyn Paper Co. A 2007 graduate, some would say Kristen Reynolds' business venture was a bit unexpected given her initial lean toward interior design. But her family, who know her innovative personality and love for art, weren't too surprised.

"She's drawn her entire life," said her mother, Pam. "So I think fine art is what she's always wanted to do."

Kristen has found a way to manifest that love of art into a business; however, she arrived at that decision in a somewhat roundabout way. After graduation, she operated Rome Street Gallery and Art Supplies with her mother. From there, she worked as a freelance graphic designer before moving on to a website company. But she said it just wasn't what she was looking for.

"I wanted something that I could create," Kristen said. "I wanted to use a lot of my education background and not just design something because somebody wants me to do a logo. I wanted to be able to draw all day and share what I'm creating with people."

Kristen said starting a stationery company (that also creates coasters) was an easy choice since her family already loves and uses these products.

"It's easy to sell something you believe in," said Pam. "All of us have always loved cards. When someone had a birthday you would get a lot of cards just from each other because we would go out and see who could get the best card and the funniest. And Jessica, Kristen's sister, always uses coasters because she doesn't want people getting rings on her magazines. So these are products that we're all passionate about."

As a small business owner, Kristen has to wear many hats. She says the variety of courses she took at UWG – everything from art history to drawing to sculpture – helped prepare her for various workplaces and the various tasks she performs for her business.

"West Georgia really encourages inter-disciplinary learning," Kristen said. "All of the different classes I took were really helpful, especially now that I'm out of college. I use my education of interior design when I'm doing booth layouts for the National Stationery Show; I use photography to take pictures of my products and post them online; I use my art background to design products. It's one of those things that you don't realize until much later. There was all this stuff that I was absorbing, and I didn't even realize it until I graduated."
Much like an artist, Kristen creates stationery collections using themes or color schemes, which often include a card, a note pad, a coaster, and a notebook. For example, their popular Herman the Whale birthday card comes with companions.

"I kind of work in sweeps and collections," Kristen explained. "With the whale, we have the birthday card, a thank you card, and then a birthday invite. So if you have a party, he can invite you to the party."

While this is common in the art world, it's pretty unique in the world of stationery. But it has worked to Reyn Paper Co.'s advantage.

"I wasn't sure about it in the beginning, because when I first got into the industry, I met with people who represent wholesale companies and they told me it's not something a lot of people do. But it ended up being really beneficial to us because people are like 'I love it!' and 'Others don't do that a lot, and we like that you have groups and collections!' So I've continued to do that because we've gotten a really good response from people."

Of course, the tendency to work in collections goes back to the training she received from the art department at UWG. It's a practice she enjoys, and Kristen says it allows her to be creative and push her own boundaries.

"We always were working with threads, colors, aesthetics and designs; and I'm always doing that now when I'm creating," Kristen said. "Our natural history collection is based off of natural history museum items, and we started using different crazy colored foils for this collection. We started using copper and blue foils, and we started seeing what I could do with natural history. Its how we worked in school, and it's how I like to work now."

Kristen started Reyn Paper Co. three years ago with about 25 products. Now, the company carries more than 100.

"We are still very small in the industry, but we're growing quickly," Kristen said.
A good deal of that growth has come from attending the National Stationery Show in New York and AmericasMart in Atlanta the past two years.

"Now we're venturing into new products," Kristen said, "like the tote we took to the show. And the shows give us a lot of direct feedback about our products.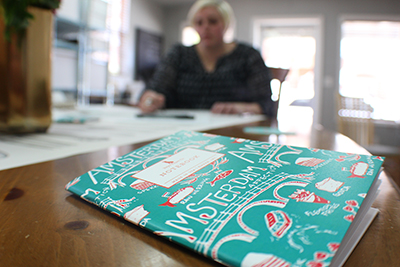 Kristen says, so far, owning her own business has been a great learning experience, both as a businesswoman and a designer. And her lessons as an art student are still serving her well today as she navigates the waters of stationery trends.
"It's just like with artwork," she said. "You have to have a thick skin, because you never know what people are going to like. Just because it's beautiful doesn't mean it's going to be popular. There were designs that I thought would be best sellers, but they didn't get much response. Then there were also designs that I thought no one would like, and it turns out that it's the one people love."
While Kristen and the rest of the team are winding down from their most recent show, they're also recharging their batteries for their next big push as a company: updating their website, launching a new line of products, and – like true artists – gathering inspiration.
To see more of Kristen's creations, visit www.reynpaperco.com. To learn more about majoring in art at UWG, visit our School of the Arts website at http://www.westga.edu/sota.
Posted on