by Emily Wurst
University of West Georgia Regents' Professor of Marketing Dr. Beheruz N. Sethna has recently hit a milestone in his teaching career: more than 100 of his students have had research papers accepted to national undergraduate research conferences. He has been working on this milestone for more than 14 years, since his first three students were accepted to a national conference in 2003.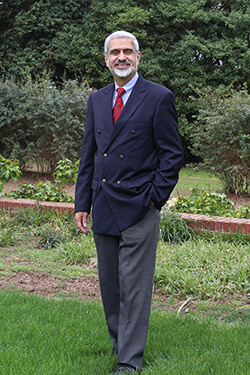 These research papers are written by students in Sethna's Business Marketing or Business Challenges course. Students are given the ability to select a research topic of their choice, then conduct research and prepare a paper and presentation. While the acceptance of these projects at a conference is not required for the course grade, students are expected to execute their projects at that level of excellence. They then have the opportunity to submit their papers to conferences, sometimes considerably after the course has ended.
"I was in Dr. Sethna's Business Marketing course in the fall of 2013, and it was the best thing that I could've ever done for myself," said Kel Carpenter, whose research project led to the opportunity to present her work at the National Conference on Undergraduate Research (NCUR) in Kentucky.
Sethna's students are required to conduct research that goes above and beyond what is typically expected of undergraduate students. The depth of their work makes these students stand out among their peers.
"I think what makes the projects click at a national level is that they are very solid, quantitatively, for an undergraduate research paper, they have a good sample size and, of course, the projects are diverse," Sethna said. "The products and the things that they can tie in make it meaningful, so the quality of the project is typically very, very good."
This high quality standard for projects has helped win awards for Sethna's students, including Ameen Kazerouni, whose research team won Best Student Paper at the National Social Sciences Association Conference in Las Vegas in 2010, beating out undergraduate and graduate students alike.
"We were not only published in the proceedings of this conference, but we were also published in the National Social Sciences Association Journal, which was amazing to put on my resume," Kazerouni said. "I was only 18 at the time, and I had a national award-winning paper and a publication in a journal alongside faculty members and Ph.D. students in the field. I think that had a lot to do with me getting into graduate school and furthering my career as a researcher. I have Dr. Sethna and the class to thank for that."
Kazerouni is not the only student to credit Sethna for success they have had in furthering their education. Chantal Akinson took Business Challenges in the fall of 2013 and reflects on it as being extremely beneficial.
"I took the class, and I'm pretty sure it's one of the best things I've ever done in my life," said Akinson. "Now, I go to the Stern School of Business at NYU, and I'm pretty sure that this class and the project I did helped me get here."
This kind of success is Sethna's goal in working with students. He hopes that each of these research projects will act as a tool for students to impress future employers or graduate schools and give them that "wow" factor, something that sets them apart from other applicants.
"If I were an employer looking at an undergraduate student who presented me with one of these projects, the look, the feel, the appearance and the content of that project, regardless of its acceptance to national conferences, is enough to elicit that 'wow' from me," Sethna said.
Sasha Gunter Bell, a double major in marketing and management, may well be the 100th student from Sethna's classes to be accepted to present at a national conference. Her team's project focused on improving the website for a company started by a UWG alumnus.
"I cannot explain the excitement and pride I felt once I read the message of our project's acceptance into NCUR 2017," Bell said. "I was proud of my team's efforts, proud of the effect this project had and proud to be representing UWG as well as Dr. Sethna in this research conference. This was an opportunity of a lifetime that we could have easily missed out on had it not been for Dr. Sethna's constant support and encouragement to apply for the conference."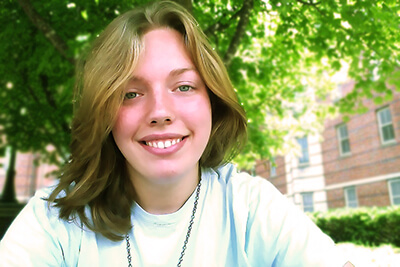 Students say they benefit from Sethna's class not only for its challenges and opportunities surrounding these projects, but also for the hard work Sethna himself was willing to dedicate to helping his students succeed. For any team of students accepted to a research conference, Sethna offers to collaborate with them in preparation for their presentations.
"It gave me an amazing relationship with the most phenomenal professor I've ever had the chance to take in my academic career," Carpenter said. "Dr. Sethna is amazing; there is not enough good things I could say about him."
Sethna's dedication to his students' success has left a lasting impact, not only on their own academic careers, but within Richards College of Business as a whole.
"His students are his first priority," Bell said. "He makes himself easily accessible to any student in need and goes the extra mile to make sure each student not only has the resources necessary to succeed in his class, but also to succeed in life. Helping Dr. Sethna reach this milestone is a tremendous honor. I believe he deserves all the recognition for his efforts, as he truly exemplifies the Richards College of Business' mission statement to transform lives through education, engagement and experiences."
When she heard of this milestone, Dean of the Richards College of Business and Sewell Chair of Private Enterprise Dr. Faye McIntyre said she was extremely proud of the accomplishment and it spoke to the caliber of faculty here at UWG.
"Dr. Sethna's students benefit greatly from his many years of business and teaching experience, as well as his dedication and commitment to their success," McIntyre said. "He sets a wonderful example for our students as they strive for excellence and quality in their work both in and out of the classroom. Dr. Sethna is a true asset to our college."
Posted on