by Gabriel Guzman and Amy K. Lavender
"Words are easy, like the wind; Faithful friends are hard to find." -Shakespeare
She was stage managing a rendition of Romeo and Juliet, and he played the controversial character, Tybalt. But unlike the tragic love story, this tale follows the lives of two University of West Georgia seniors and their friendship that blossomed from the fertile soil of the UWG theatre department.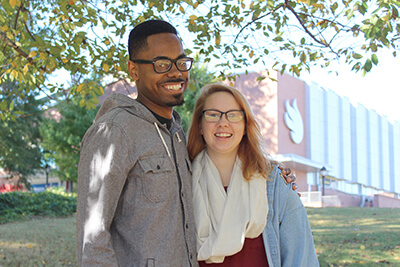 Seniors Jeremiah Davison and Wendy White have cultivated a friendship that few people experience. Some may even say they're like Siamese twins, "joined at the hip," because they're never too far from one another. They take mostly the same classes, they're both marketing student assistants for UWG Theatre Company, they both lead Improv West and they're constantly working together behind the scenes to direct, produce or perform in any number of the department's shows.
But upon their first meeting, they didn't immediately mesh. Before receiving a scholarship, Jeremiah was working in addition to going to school and rehearsing, which took a toll on him.
"I kind of became the sleeping actor," Jeremiah laughed. "If there was a role that required the person to sleep, that was me. I was just always so tired."
At first, Wendy didn't know what to make of the student who was always catching naps in the corner.
"But then I asked him what was going on, and he told me," she said, "and then I understood and from that time on we've been each other's shoulder to lean on, to cry on. Whatever we need, we're there for each other."
Separate Worlds
Jeremiah
Jeremiah, originally from Flint, Mich., and a transfer student, is pursuing a career in theatre. Although he is a transfer student, his first choice has always been UWG. He loved how the theatre company at UWG offered opportunities for students to do hands-on work, such as student projects.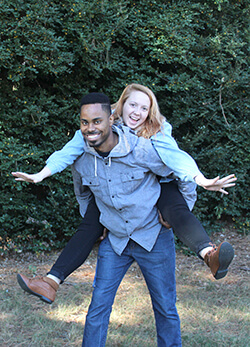 "At a larger university it can be more of a challenge to get these same experiences because you have to compete with more students for those slots," Jeremiah said. "Ultimately for me, UWG was a great stepping stone from where I came from."
He and Wendy took advantage of student organizations as well. After joining APO (Alpha Psi Omega National Theatre Honor Society), the two have had the opportunity to volunteer and offer their leadership skills to students and the West Georgia community.
Jeremiah recently interned at Kenny Leon's True Colors Theatre Company in Atlanta this past summer. The duo also participated in Mecca Fest with APO, hosting a booth at the annual juried art show. They say it can seem like a lot of extra work, but they see it as a way to grow a different skill set.
"A lot of times, students can get overwhelmed with classes and working and having rehearsals so that on top of homework and everything else can be a lot to deal with," Jeremiah said. "APO is a fun way to help students learn how to be leaders in the midst of all that craziness."
Jeremiah said his family is supportive, but they're still shocked that he has stood by his decision to pursue a career in the arts. He's noticed that the artists who started out in his family never tried to pursue anything within the discipline.
"In our journey to success we want to pull people with us," Jeremiah said, referring to the mentoring they do with underclassmen. "I come from a place where they get complacent and don't want to move forward with anything new. So we think it's great to be in a community like Carrollton and in this program at UWG where artists of all kinds are embraced and encouraged to grow and pursue their craft."
Wendy
A Georgia resident, Wendy based her decision to attend UWG on proximity. Like most students, Wendy wanted to be close to home. She wanted an easy transition into college, but even more common, Wendy was a little lost. She started UWG with several aspirations.
"When I started, I wanted to do everything," she laughed. "I wanted to study politics, marketing, and theatre. I was all over the place."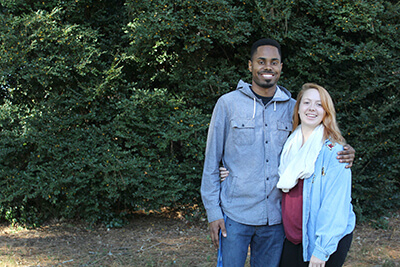 But after finishing the Disney College Program she realized it is best to do what makes you happy rather than what will make others happy.
"I got to go to Disney for the first time ever, and that program changed my life," Wendy said. "It was the best five months. I did the Disney College Program to get used to being away from home and I came back and decided to do what I love."
The program inspired Wendy to chase after her dreams, rather than the dreams of others. Thanks to a few scholarships through UWG, she also had the opportunity to study abroad in France, where she submersed herself in the culture.
"I think that's something that every student should do, because you grow so much as a person and you gain so much confidence," she explained.
As a UWG theatre major, Wendy also has had some other unique opportunities as well, such as the chance to stage manage five shows in three years.
"The faculty built an independent study for me to take just because we aren't big enough to offer classes in what I really wanted to focus on," Wendy said. "But I was blown away that they were willing to create courses for me so that I could get what I needed out of the program."
As a result, she not only got a broad education, but also individualized lessons that ran the gamut from scene shop, costume shop and acting to design and playwriting.
"I got to hone a craft that I don't think I would have gotten the opportunity to do in a larger department or at a different university," Wendy said. "That's why I'm so excited about my experience here. I got to do all these things with all these faculty members who have connections with other alumni and professionals, so I got the experience that I wanted."
"Parting is such sweet sorrow"
While Wendy and Jeremiah have journeyed through UWG together, they admit they've been great compliments to each other's personality. They've also seen each other grow and have been able to work together to make learning at UWG the best experience possible for each other as well as upcoming students.
Together they've reformed Improv West and led the Omicron Kappa chapter of Alpha Psi Omega to new membership. They say they're comfortable that they've reached their goal to help shape underclassmen into leaders so they can assume leadership roles.
Jeremiah and Wendy have inspired each other to be the best version of themselves. Ultimately, they both want to start their own company. But soon their paths will part ways when they graduate this year; and although their senior year is gradually coming to a close, no distance could keep these two apart.
"We call each other all the time, just to talk or if we need a friend for support," said Jeremiah. "I mean, people tease and say we're attached at the hip. We'll definitely be staying in touch."
Posted on