by Amy K. Lavender
What's on your bucket list? Going on a safari? Perhaps a trip to Iceland? Or maybe a pilgrimage to Jerusalem?
Well, Cory Lee Woodard has a bucket list, too. But he's already crossed all those items off his list. In fact, the 26-year-old has been to five continents, met Jimmy Carter, seen the Aurora Borealis and graduated with his bachelor's degree in marketing from the University of West Georgia. That's a pretty impressive list for any young adult, but Cory Lee has completed all of this and more in a wheelchair.
Diagnosed with Spinal Muscular Atrophy at the age of two, Cory Lee has never taken more than a few steps. But he has never let that stand in the way of doing what he loves: traveling.
Finding a Passion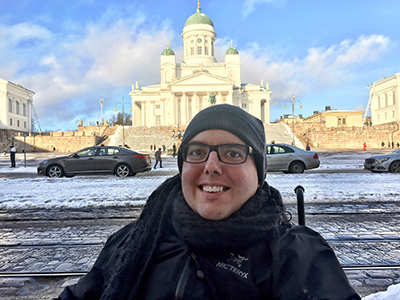 "My passion for traveling started after a trip to the Bahamas when I was 15 years old. This was my first time ever traveling internationally. Seeing a different culture, trying new foods and meeting new people sparked something inside of me that made me want to explore further. I thought that if there was that much beauty that I didn't even know about just on one little island in the Caribbean, imagine how much there must be in the whole world to discover."
Since then, Cory Lee has traveled to Africa, Australia, the Caribbean, Europe, the Middle East, Mexico, Canada and all over the United States. And he documents every trip on his blog, Curb Free With Cory Lee, which he uses to challenge perceptions of what wheelchair users are capable of.
Cory Lee admits that traveling can present some challenges. In fact, on his first trip to Europe, his wheelchair charger literally blew up—despite coming prepared with the requisite converter and adapter.
"Sparks were flying, and the power in the entire hotel went out for about 15 minutes!"
He says it's important to go with the flow, embrace the unexpected and, most importantly, problem solve.

"I found a wheelchair repair shop online and went and bought a new European charger the next day. I ended up having a fantastic trip and barely even remembered the charging fiasco by the time I got back home."
But it's experiences like this that make his blog so helpful to others. It's not just an interesting read, it has travel tips and plenty of resources for those interested in accessible traveling.
"I hope that after reading my blog, people feel like it's completely possible to travel. Trust me, if I can do it, anyone can. It might not be easy, but it is possible if you have enough determination."
Creating a Career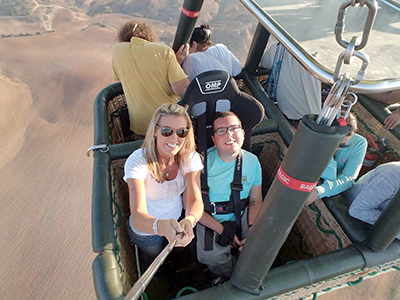 Since its creation, Curb Free With Cory Lee has become a destination itself. His blog has nearly 50,000 page views each month, and he has 28,000 followers on Twitter alone.
"I never imagined that my blog would become this successful. I started it as a way to share my travel experiences and photos as sort of a personal journal, but I hoped that it would reach other people as well and help them. I certainly never thought that I'd be writing for Lonely Planet and interviewed for publications such as the Los Angeles Times and in a national CBS News segment. Sometimes I wonder 'How did this even happen?!' because it's so surreal. All of this goes to show that if you follow your passion, good things will come."
Cory Lee says his education has helped him develop his blog into something more than a way to share his experiences.
"I really believe that it's helped me tremendously in growing my blog and social media. Some of my favorite classes were International Marketing and Social Media Marketing, and I use what I learned in those classes on a daily basis."
Never Stop Learning … and Growing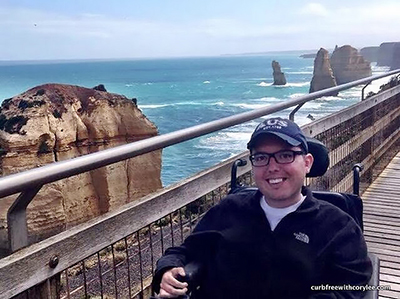 As a result, Cory Lee and his blog have been featured in USA Today, CBS News, The Huffington Post and Trivago. But Cory Lee says he won't be slowing down any time soon. He will be visiting his sixth continent this year—getting him one step closer to his life goal of visiting all seven—and leading an accessible group trip to Morocco in April of 2018.
"Group trips have been something that my followers have wanted for a long time, and I'm so excited to finally start them. I have so many plans and ideas for Curb Free, and I truly believe that the potential is unlimited."
Cory Lee also hopes to host a television show featuring his worldly travels to show viewers that anything is possible. In the meantime, he hopes to continue to encourage others to step outside their comfort zone and try new experiences.
"I am a big believer that traveling is the best teacher, so yes, I think everyone should try it."
Now that he's an alumnus, Cory Lee also had some advice for UWG students.
"If I could tell students at UWG anything, I would tell them to follow their passion. When I started college, I had no idea what my future held, and that's okay. It's okay to not have a full plan for your life and it's okay to try something that maybe isn't 'the norm.' Once you find your passion, put everything into it and you'll accomplish more than you ever thought possible."
Posted on